2022 Election Day in North Texas: Live updates, results
After months of political sparring and lots of ads, Election Day is finally here!
Polls opened at 7 a.m. and closed at 7 p.m.
FOX 4's Election Coverage: FOX4News.com/election
Live election results for races across Texas: FOX4News.com/election/live-texas-2022-election-results
We will update this story as counties provide us with more information throughout the day.
---
Races to Watch:
---
12:13 a.m.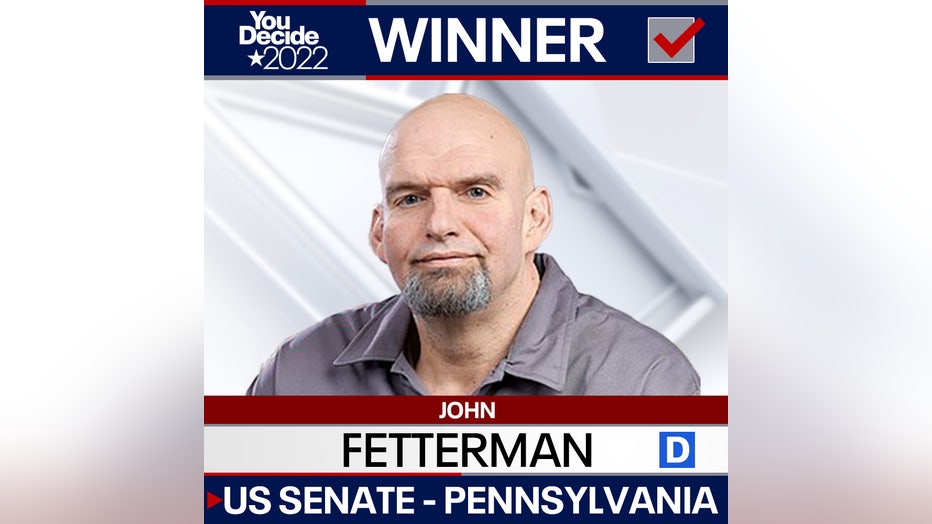 The FOX News Decision Desk called the Pennsylvania senate race for John Fetterman early Wednesay morning.
Fetterman defeated former daytime TV host Mehmet Oz.
Fetterman replaces retiring Republican Senator Pat Toomey.
READ MORE: 2022 Midterms: John Fetterman defeats Dr. Mehmet Oz in Pennsylvania's U.S. Senate race 
12:08 a.m.
South Texas Democrat Vicente Gonzalez holds off Republican Mayra Flores to win a Congressional seat for Texas' 34th District.
Earlier in the night, Texas Gov. Greg Abbott said he believed the numbers showed Flores was going to win the race.
Flores won a historic special election in June.
The Republican took to Twitter to complain about potential voters who did not make it to the polls.
11 p.m.
Republican Dan Patrick has been re-elected to another term as Texas lieutenant governor.
Patrick defeated Democrat Mike Collier for the second consecutive election cycle.
Patrick, who received the backing of former President Donald Trump, spent a great deal of time campaigning in rural areas of Texas, typically a stronghold for Republicans.
Patrick will be sworn in for his third term in office on January 17, 2023.
READ MORE: Dan Patrick elected to third term as Texas Lieutenant Governor
10:55 p.m.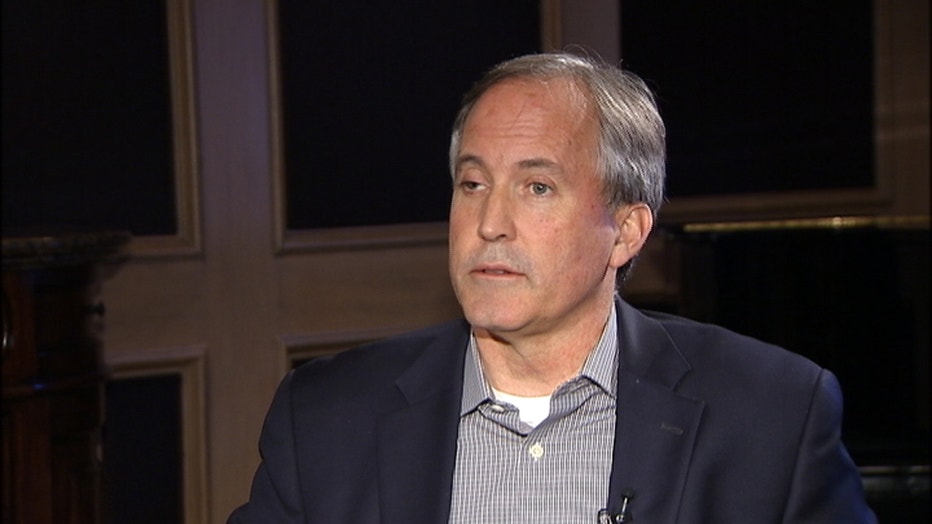 Texas AG Ken Paxton has declared victory over Democrat Rochelle Garza.
Many believed Paxton to be vulnerable due to legal and personal issues. But Paxton proved them wrong just like when he beat George P. Bush to win his party's nomination in a landslide in the primaries. 
This will be Paxton's third term. He was first elected in 2014 and won a second term in 2018.
READ MORE: Ken Paxton holds off Rochelle Garza to win third term
10:50 p.m.
Republican Beth Van Duyne wins re-election to U.S. House in Texas' 24th Congressional District, according to AP projections.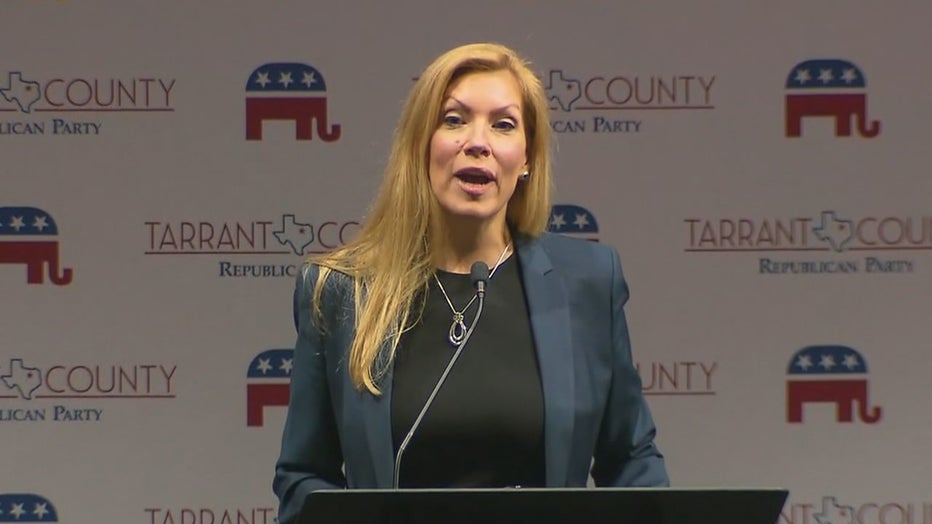 10:30 p.m.
Dallas voters hit the polls for Prop A, which would raise the hotel occupancy tax by 2% in order to fund a new convention center complex and renovations to historic buildings at Fair Park.
With about 30% of precincts reporting, results so far show that 70% voted for the proposition.
READ MORE: Dallas voters pass $1.5B Prop A for new convention center, Fair Park renovations
10 p.m.
It appears Denton voters decided to pass a proposition to decriminalize small amounts of marijuana.
With about 50% of precincts reporting, 70% of voters were in favor of Proposition B.
Proposition B will end citations and arrests for misdemeanor possession of marijuana, as law enforcement  in Denton would be directed to ignore low-level marijuana possession, up to four ounces.
Read more about what this proposition will do.
9:30 p.m.
Tarrant County, which was won by Beto O'Rourke in the 2018 U.S. Senate race and by Joe Biden in 2020, was won by Republicans in the high profile state races.
After early voting numbers and about 30% of precincts reporting, Greg Abbott, Dan Patrick, and Ken Paxton all lead in their races in Tarrant County.
In the Tarrant County Judge race, Tim O'Hare leads Deborah Peoples with 53% of the vote.
MORE: Tarrant County Election Results
8:50 p.m.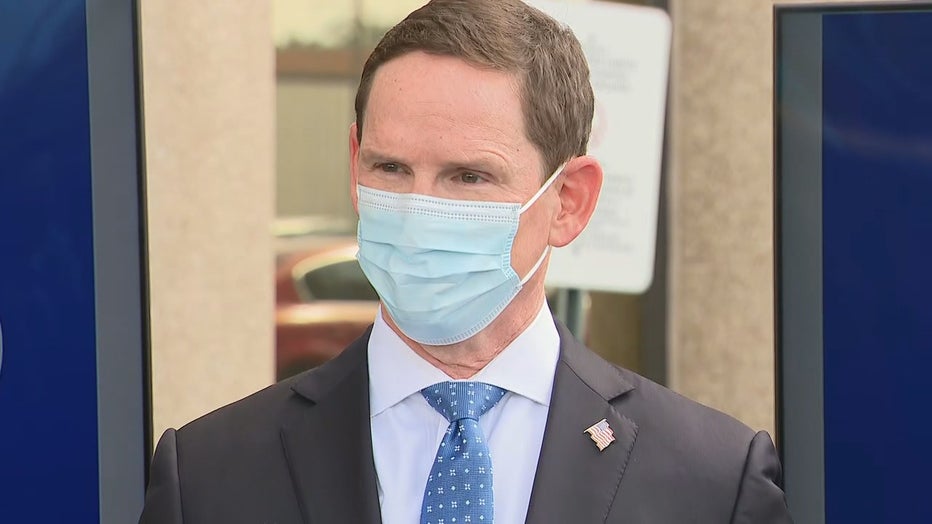 Dallas County Judge Clay Jenkins has claimed victory in his race with Lauren Davis.
Dallas County has only released early voting totals so far, but Jenkins has received 64% of the vote.
MORE: Dallas County Election Results 
8:45 p.m.
The Associated Press has projected that Democrat Colin Allred has won re-election to U.S. House in Texas' 32nd Congressional District.
8:10 p.m.
Gov. Greg Abbott has fought off Democratic challenger Beto O'Rourke in the race for Texas governor, according to FOX News projections.
Abbott was first elected in 2014 to the position that Republicans have held in the state since 1995.
The governor's race highlighted issues like school safety, gun laws, border security and abortion. 
7:30 p.m.
Democrat Jasmine Crockett has won election to U.S. House in Texas' 30th Congressional District, which includes Dallas.
It's a changing of the guard in a historically blue stronghold in Dallas. Crockett will take over the seat long-held by Congresswoman Eddie Bernice Johnson, who is stepping down after serving her 15th term in Congress. 
Crockett was chosen as the Democratic nominee after a contentious primary challenge from Jane Hope Hamilton.
READ MORE: Jasmine Crockett elected to Congress to replace longtime representative Eddie Bernice Johnson
7:15 p.m.
Early voting results have started to come in for the North Texas counties. In the race for governor, Beto O'Rourke is leading over Greg Abbott in Dallas County, but Abbott is leading O'Rourke in Collin and Tarrant counties.
Tarrant County was won by O'Rourke in the 2018 Senate race and by Biden in 2020.
7 p.m.
Polls have officially closed in North Texas, though anyone who is in line by 7 p.m. will be able to vote.
There are some polling locations across the state that will stay open until 8 p.m. due to not opening on time or other issues, including all Harris County locations.
Click here for the latest election results as they come in.
6:50 p.m.
A court ruling issued on Tuesday night has ordered that all 781 Harris County polling locations remain open until 8 p.m. tonight.
According to a release from the Harris County Elections Administrator, anyone in line after 7 p.m. will need to vote on a provisional ballot. 
Voters will be allowed to cast their ballot as normal, but place their paper voter record in a sealed provision ballot envelope instead of inserting into the scanning machine. 
Earlier today, a lawsuit was filed in court as 10 locations in Harris County did not open on time at 7 a.m. 
Read more about this story here.
5:43 p.m.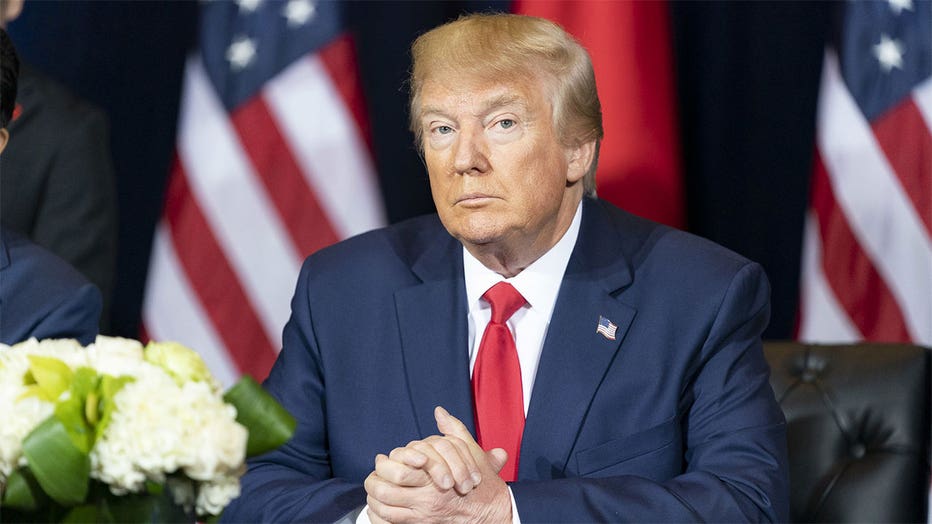 Former President Trump said if he formally announces a 2024 White House bid and is re-elected, he would return to the nation's capital with experience and a new perspective, without having to rely on Washington insiders, and would build on his "unbeatable" America First record.
The former president sat for a wide-ranging interview on Trump Force One, a Boeing 757, Monday night with Fox News Digital and four other reporters after teasing during a rally in Dayton, Ohio that he plans make a "major" announcement from Mar-a-Lago on Nov.15, likely regarding the launch of his possible third presidential campaign.
Trump is calling for a GOP leadership change in Congress, specifically pointing to Senate Minority Leader Mitch McConnell, R-Ky. He also warned potential Republican presidential candidates, like Florida Gov. Ron DeSantis, against running against him in 2024, saying it would "be good for the party."
Read more of what Trump said here.
5:00 p.m.
While Gov. Greg Abbott has the luxury of not having any events Tuesday, that is not the case for Beto O'Rourke. 
The Democratic challenger has been down in every poll and needs Democrats and Independents to have an election day surge. 
5.4 million Texans have already voted before Election Day.
O'Rourke's Election Day stops included San Antonio, Houston and Dallas. 
It was a crowd of hundreds, and O'Rourke has continued to keep true to his campaign strategy of criticizing Gov. Abbott on abortion, the failed response to the mass shooting in Uvalde and other issues. 
"Are you ready to live in a state where we are not divided based on our differences but brought together to do great things that we are truly capable of?" he said. "Not as Democrats, not as Republicans, but as Texans, as Americans, as human beings."
O'Rourke will be in his hometown of El Paso in a few hours.
4:46 p.m.
Gov. Greg Abbott was at the Potter's House" in Dallas Sunday and made another stop in McKinney. He also paid a visit to voters in Lubbock, trying to rally support ahead of Election Day.
Abbott says he's winning support from Hispanic voters all across the state, but especially in the Rio Grande Valley due to the issue of border security. 
Over the past year alone, Abbott says 2.2 million immigrants have crossed over the southern border illegally. Abbott says many republicans and democrats are fed up with the Biden administration's approach to the issue.
"Ranches are being ripped apart. Homes are being invaded. Communities are being overrun, so they're angry and they know it's only Republicans who are stepping up to secure the border," he said. "And that is one of the reasons that myself and other Republicans will be getting a larger percentage of the vote in counties along the border."
Abbott says he has spent more time in the Rio Grande Valley than any other Texas governor in the state's history. He believes the Latino vote will help win him a third term in office.
4:12 p.m.
Bell County in central Texas just received a court order to extend the voting time, according to FOX 4 reporter Steven Dial.
Polls in Bell County will stay open until 8 p.m. due to delays this morning.
4:10 p.m.
 Judge Clay Jenkins now says over 130,000 Dallas County voters have cast their ballots on Election Day.
Polls close at 7 p.m.
According to the unofficial results from the Dallas County Elections Department, 391,328 votes were cast during the 12 days of early voting.
Jenkins is facing a challenge from Republican Lauren Davis for the Dallas County Judge seat.
Jenkins has held the role since 2011.
More on the race for Dallas County Judge here.
4:06 p.m.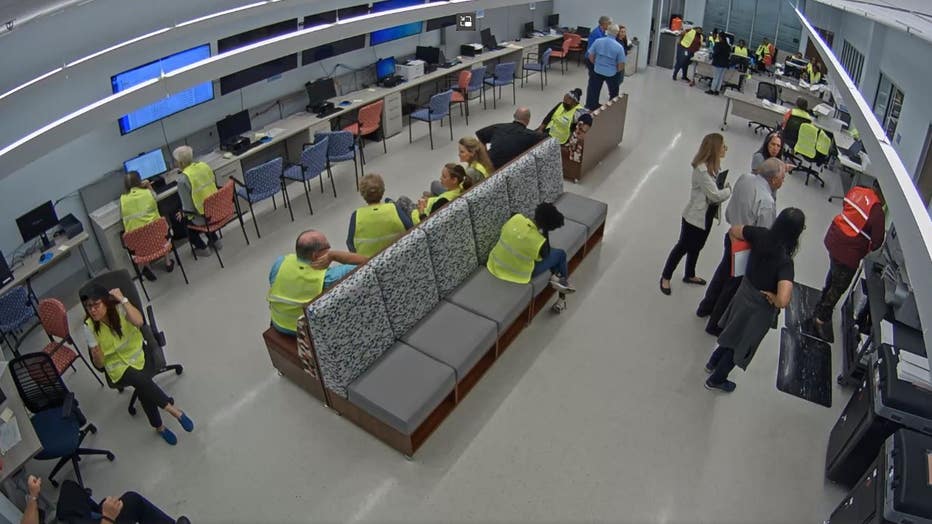 As the votes are counted in Texas for the 2022 General Election, you can watch the process as it happens live.
As part of Texas law any "county with a population over 100,000 must establish a video recording system that captures all areas containing voted ballots."
The recorded areas must show everything "from the time that the ballots are delivered to the central counting station, early voting ballot board, or signature verification committee until the local canvass of election results."
READ MORE: 2022 Texas Election: How to watch ballot counting livestreams, track county results
3:22 p.m.
Arizona's Maricopa County has dealt with issues all throughout election day.
More than 20% of polling locations have seen problems.
Election officials called the error a "printing issue."
"Maricopa County has identified the solution for the tabulation issues at about 60 Vote Centers. County technicians have changed the printer settings, which seems to have resolved this issue. It appears some of the printers were not producing dark enough timing marks on the ballots. This solution has worked at 17 locations, and technicians deployed throughout the county are working to resolve this issue at the remaining locations," the county said in a statement.
Maricopa County says they have figured out the issue and are working to make the changes needed.
Election officials say they do not believe anyone was disenfranchised.
At this time the state still plans to close the polls at 7 p.m.
Arizona has a very contentious governor's race between Democrat Katie Hobbs and Republican challenger Kari Lake.
Read more about the issues here.
3:04 p.m.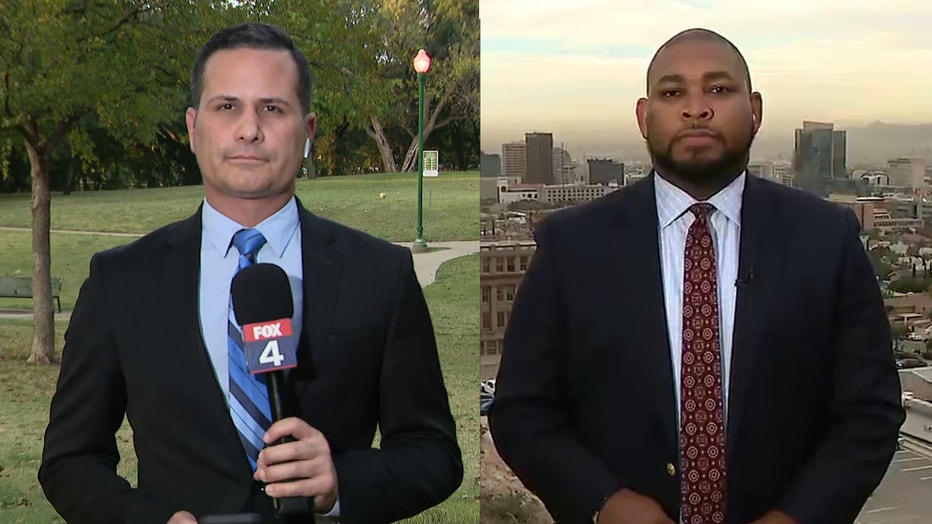 FOX 4 will be bringing you live results and reaction from across the state on this election day. Alex Boyer is in McAllen, where Governor Greg Abbott is holding his election watch party. Steven Dial is El Paso where Beto O'Rourke and his supporters will be gathering.
We will also have reporters across North Texas with the latest results from the races closer to home.
FOX 4 News starts at 5 p.m. You can watch on TV or stream it right here on our website.
2:30 p.m.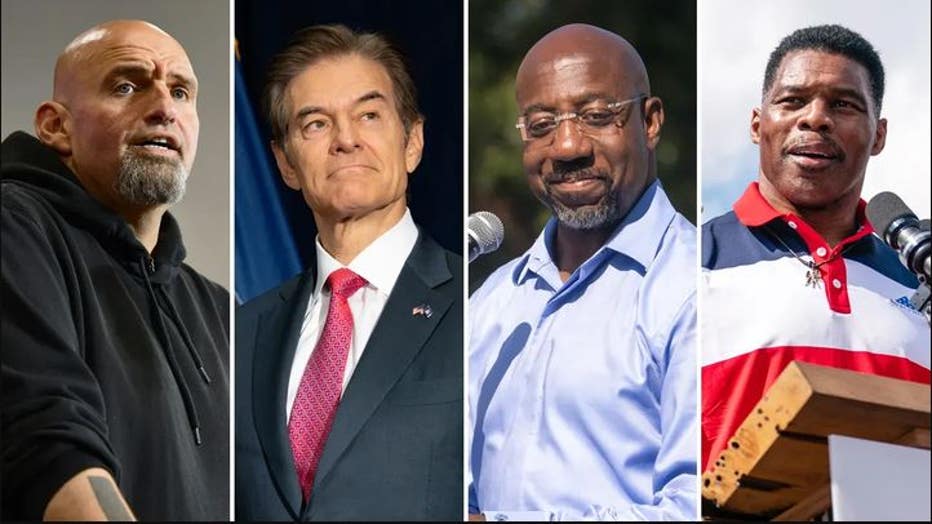 The amount of money being spent in this year's political campaigns is pretty eye-popping.
The Democrat and Republican political machines spent over $1 billion on the top five Senate races this midterm cycle, according to data from Open Secrets.
The parties, candidates and their affiliated political PACs spent $312,131,203 in Pennsylvania; $254,668,614 in Georgia; $202,332,538 in Arizona; $186,750,730 in Nevada, and $185,811,066 in Wisconsin. The spending adds up to a staggering total of $1,141,694,151.
Read more here: Dem, Republican political machines spent staggering $1B+ on just five Senate races
2:09 p.m.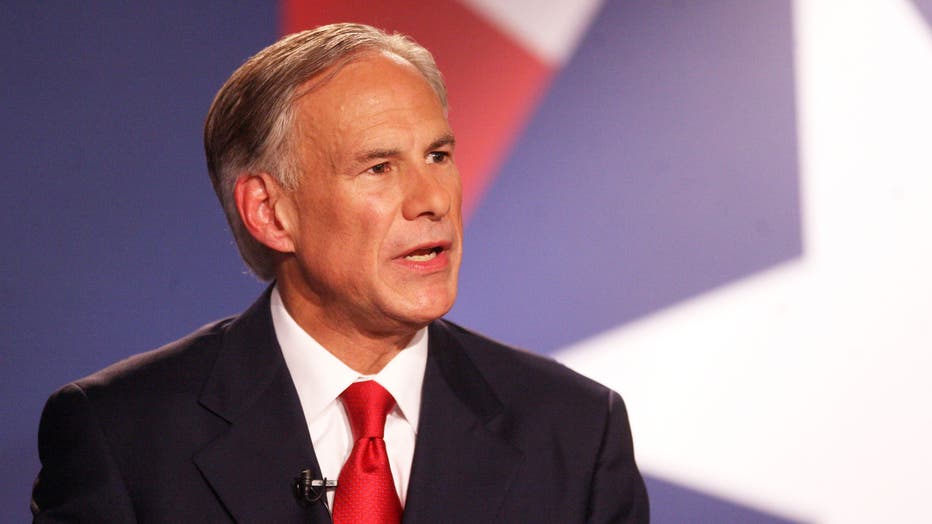 Governor Greg Abbott will not be making any public appearances prior to his election night party in McAllen, his communication director tells FOX 4.
The governor will make his way to McAllen later in the day on Tuesday.
Gov. Abbott's strategy is much different than his challenger, Beto O'Rourke, who spent the day criss-crossing the state with stops in San Antonio, Dallas and Houston before returning to his hometown of El Paso for his election night event.
Abbott's lack of last minute campaigning may show his confidence in a victory on election night. A number of recent polls showed Abbott leading O'Rourke heading into election day.
More on the governor race here
1:53 p.m.
Dallas County judge Clay Jenkins says nearly 100,000 voters have voted in the county on election day so far.
According to the unofficial results from the Dallas County Elections Department, 391,328 votes were cast during the 12 days of early voting.
Jenkins is facing a challenge from Republican Lauren Davis for the Dallas County Judge seat.
Jenkins has held the role since 2011.
More on the race for Dallas County Judge here.
1:30 p.m.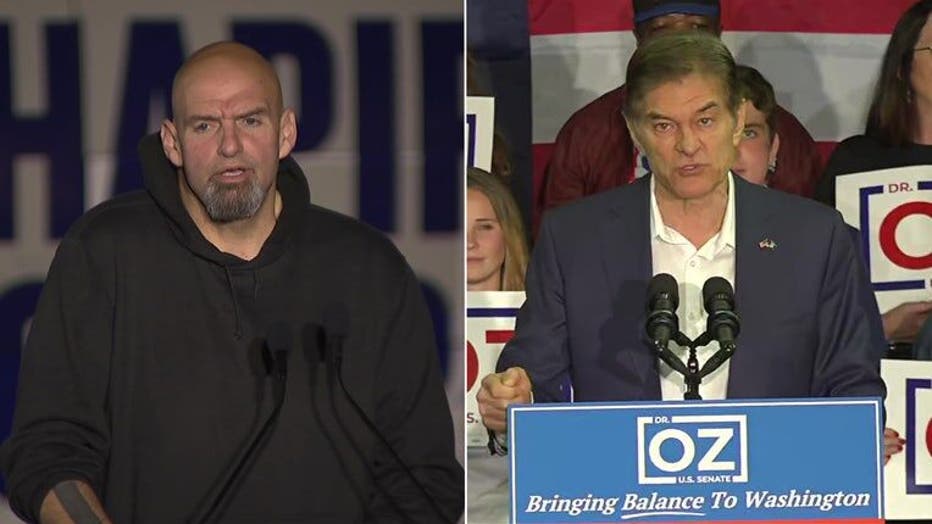 John Fetterman (L), and Mehmet Oz (R)
It may be a long time before we learn who will win the Senate race between Mehmet Oz and John Fetterman for Pennsylvania.
The battle is playing out in both in state and federal court against the backdrop of a very close U.S. Senate race that may decide control of the upper chamber. On one side are Democrat officials and activist groups who want to allow mail-in votes to count despite "minor errors." On the other are state, local and national Republican committees insisting on strict adherence to state law on how to fill out these ballots.
Election Day in Pennsylvania: All eyes on high-profile US Senate race between Fetterman, Oz
The most high-profile ongoing litigation is a federal lawsuit from the NAACP and other groups – represented by the ACLU – that seeks to force officials to count mail ballots with incorrect or missing dates, despite a Pennsylvania Supreme Court ruling mandating they be sequestered. Democratic U.S. Senate candidate and Lt. Gov. John Fetterman, who is running against Republican Mehmet Oz, later filed a similar federal suit.
"In the event of close elections, there will be numerous challenges across the state of Pennsylvania to any of these ballots that were processed in this way," Pennsylvania Republican Party general counsel Tom King told Fox News Digital.
R Street Institute resident elections fellow Matthew Germer told Fox News Digital it is possible court cases related to Pennsylvania's elections continue for days or weeks after Election Day, and could potentially make it to the Supreme Court.
READ MORE: Pennsylvania ballot fight could drag on long after Election Day; thousands of votes in limbo
12:55 p.m.
Former president Donald Trump voted in Palm Beach on Tuesday.
Reporters shouted questions at the former president.
Trump said he did vote for Florida Republican governor Ron DeSantis, a possible Trump opponent in 2024.
The former president also teased an announcement for another potential run for the White House.
He told reporters, "stay tuned I'll see you at Mar-A-Lago."
On Monday night in Ohio Trump said he will make a "big announcement" on Nov. 15.
12:51 p.m.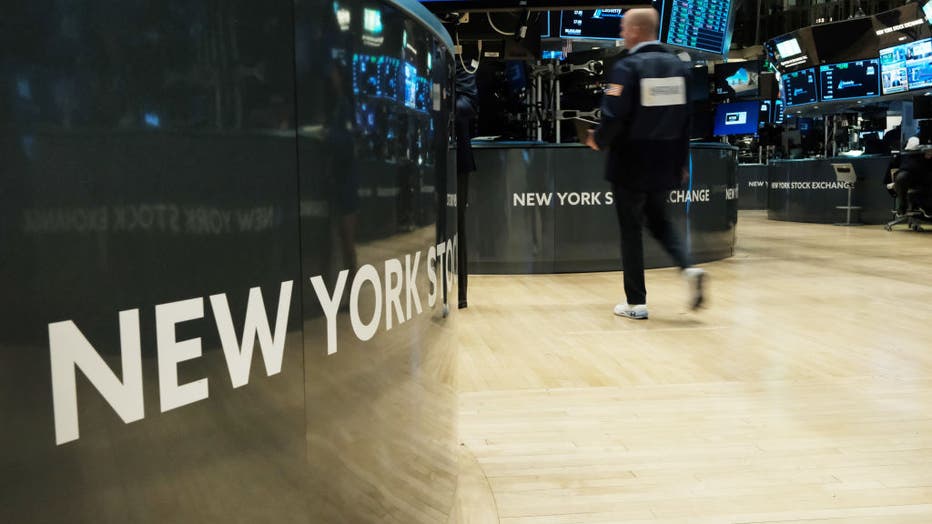 NEW YORK, NEW YORK - OCTOBER 27: Traders work on the floor of the New York Stock Exchange (NYSE) on October 27, 2022 in New York City. Stocks continued their upward gains Thursday with the Dow rising nearly 400 points following a new GDP report that
Stocks rose in afternoon trading on Wall Street Tuesday as Americans head to the polls to vote in midterm elections that are being heavily influenced by inflation and the threat of a recession.
The elections taking place in the U.S. could leave the government split between Democrats and Republicans, which could be positive for markets. A divided government would likely bring gridlock rather than big, sweeping policy changes that could upset tax and spending plans. Historically, when a Democratic White House has shared power with a split or Republican Congress, stocks have seen stronger gains than usual.
Analysts say a strong performance by Democrats in the elections could lead to increased spending to help the economy that might fuel inflation, which is currently the highest in four decades. Wall Street will get more data on inflation later in the week with the government's October report on consumer prices.
The Associated Press contributed to this report.
11:36 a.m.
Beto O'Rourke is making appearances across the state on Tuesday as he is pushing to upset Greg Abbott and become Texas' first Democratic governor since 1995.
On Tuesday morning he made a stop at Fretz Park Library in Dallas to talk to voters.
He urged his supporters to reach out to everyone they know and urge them to get to the polls.
Earlier in the day, O'Rourke made a stop in San Antonio. 
He will then head to Houston to talk to voters before going to his election night party in El Paso.
Some polls show O'Rourke trailing Gov. Abbott by as much as double digits, but O'Rourke's push to bring young, first time voters to the polls could close the gap.
Read more on the race here: https://bit.ly/orourkeabbott 
10:44 a.m.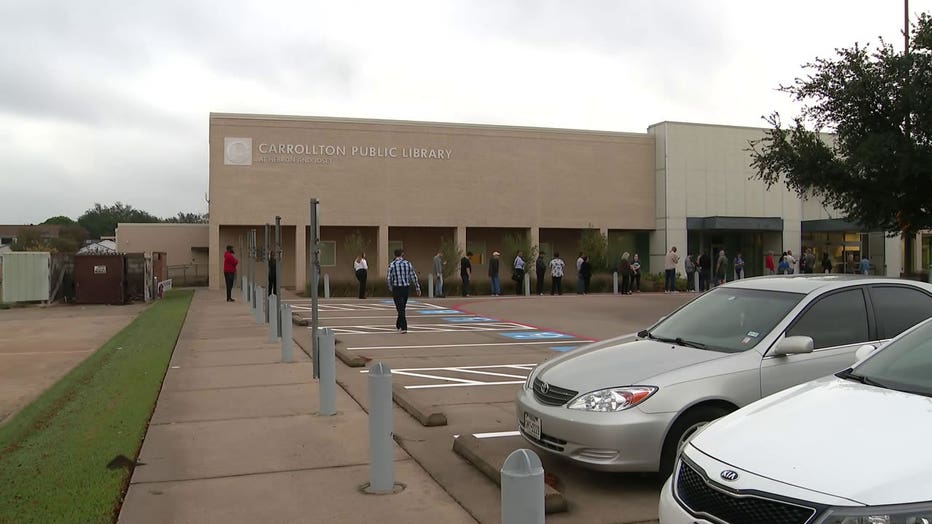 As voters head to the polls on election day, things are moving quickly for many.
According to Dallas County's Election Website, there is no polling place with longer than a 30-minute wait in the county.
9:56 a.m.
Don't be surprised if you see federal election monitors today at the polls.
The U.S. Department of Justice announced Monday it will send election monitors to three Texas counties — Harris, Dallas and Waller — to keep an eye on local compliance with federal voting rights laws on Election Day.
Monitors from the Justice Department are regularly deployed across the country for major elections, with Texas counties making the list for at least the past decade under both Democratic and Republican administrations. The three Texas counties are among 64 jurisdictions in 24 states that will have a federal presence Tuesday.
Read More: U.S. Justice Department will again have election monitors in Dallas County
9:47 a.m.
The balance of power in Congress is on the line in this year's midterms. Democrats and Republicans have made the rounds pushing for people to get out and vote.
9:06 a.m.
You can get a free ride to the polls today from DART. 
Here's what you need to do: DART offering free rides to polling locations on Election Day
8:57 a.m.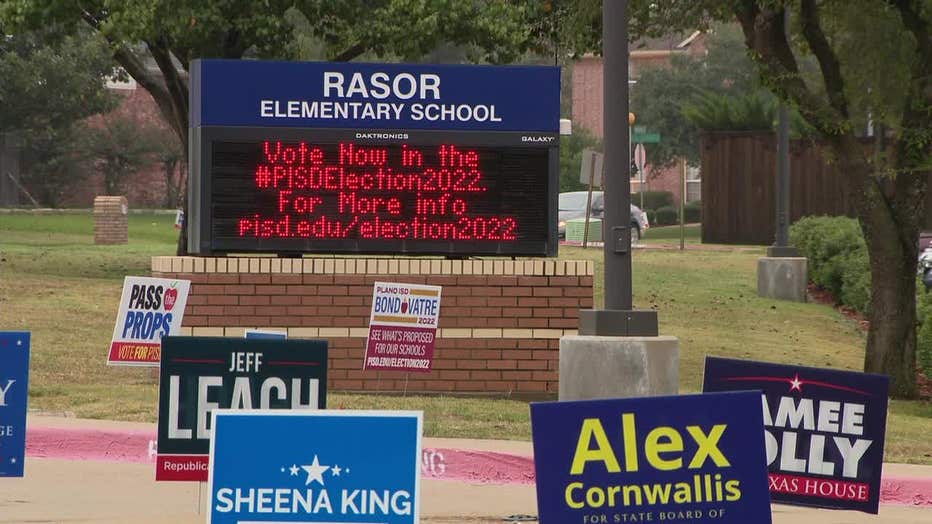 Some North Texas students are getting a day off for election day. At least five North Texas school districts including Dallas ISD and Fort Worth ISD canceled classes Tuesday because of all the people who will be coming onto the school campuses to vote.
READ MORE: Some North Texas schools closed for election day
8:33 a.m.
Some North Texas high school seniors are gaining real-world experience this election day. They're working the polls, and some are even casting their own ballot for the first time.
The government students from Trinity Christian Academy in Carrollton are volunteering at a public library to get real-world and first-hand experience in the voting process. 
READ MORE HERE: Carrollton students work the polls for real-world voting experience
7 a.m.
Polls are open now! 
There are plenty of things you should know before you head out to vote today. Be sure to check out our 2022 Midterm Election Guide and go over the rules for the polls.