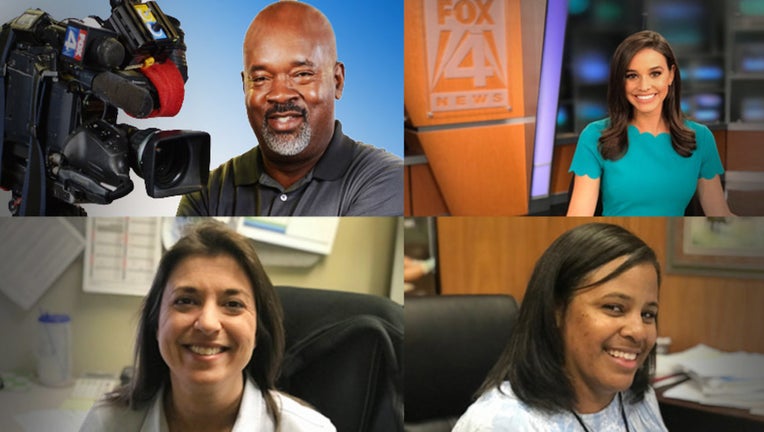 The following represents brief/broad position descriptions. It is not intended, nor should it be construed, to represent a comprehensive and/or exhaustive description of all duties/responsibilities and requisite skills for each position.
Federal law requires employers to provide reasonable accommodation to qualified individuals with disabilities and disabled veterans. Please tell us if you require a reasonable accommodation to apply for a job. Examples of reasonable accommodation include making a change to the application process or work procedures, providing documents in an alternate format, using a sign language interpreter, or using specialized equipment. Please call (214) 720-3149, or visit our readily accessible station located at 400 N Griffin Street, Dallas, TX 75202, and a member of our recruiting team will assist you.
WHEN APPLYING, PLEASE MENTION WHERE YOU SAW THE AD FOR THE POSITION.
NO PHONE CALLS PLEASE.
EOE/M/F/Veteran/Disabled/Federal Sub-Contractor
Organizations that regularly distribute information about employment opportunities to job seekers or refer job seekers to employers may request KDFW/KDFI to provide them with information about full-time openings at the station. Such requests must include the organization's name, mailing address, e-mail address if applicable, telephone number and contact person, and identify the category or categories of job openings for which it requests notices. Requests should be directed to Director of Human Resources, KDFW/KDFI, and 400 N. Griffin St., Dallas, TX. 75202. We appreciate your organization's help in publicizing our job openings! KDFW/KDFI is an Equal Opportunity Employer.
The history of KDFW is rich and ground breaking!  We produce the most local News in Dallas-Fort Worth, we rank #1 in the majority of these newscasts and have for quite a while.  We are the Television Station North Texans turn to as their most trusted source.  We make hits of network and syndicated shows and present Sports like no other. Our community is important to us and if you are intrigued with what you have read so far it may be the ideal time to join our team. 
If you are a self-starter, well-organized, and results-driven individual, then read on!
News
DIGITAL CONTENT DIRECTOR: Oversee team that creates compelling, UX-focused news and event-based content relevant to local users and beyond, including text stories, photos/graphics, live streaming content, breaking news, and social media elements. Prioritize allocation of digital resources to cover the most important stories, based on data derived from real-time analytics and trends. Guide digital team's editorial decisions. Serve as Digital leader and resource in the Newsroom to ensure Station's digital and social media dominance. Follow group standards for digital publishing. Maintain continuous communication with other FTS digital teams and Group Content Team. Proficient in content management systems, video publishing, live streaming, and digital analytics tools. Video and photo editing experience (Adobe products a plus).
Bachelor's Degree in Journalism or Communications required. Five (5) to Seven (7) years' news/digital experience in a medium to major market. Excellent communication skills, superior news judgment and strong writing and copy-editing skills required. Strong research/data recovery skills. Must be capable of using news computer systems and be familiar with television and digital production techniques. Must be capable of working and thrive under deadline pressure.  Click here to apply.
ASSOCIATE PRODUCER: Responsibilities include writing stories and teases, editing video, and creating graphics and supers for newscasts, FOX4news.com, social channels and associated news partners.  The position works closely with Producers to help develop and format newscasts and communicates continuously with Reporters, Photographers, the Assignment Desk, Managers and other applicable employees or outside sources regarding story developments and changes.  Must possess the ability to write stories and post video for social media platforms in coordination with Producers and Managers. Must facilitate communication during newscasts regarding live shots and story development. Associate Producers must have the ability to overcome anticipated and unexpected changes when putting together newscasts.
Bachelor's degree in Journalism or related field required. Two (2) to three (3) years' experience as a TV Newscast Associate Producer in a small to medium to major television market required. Ideal candidate must be able to work under tight deadlines and have the ability to communicate clearly and concisely. Strong writing skills required. Strong knowledge of legal and ethical parameters for mass media is essential.  Strong working knowledge of the technical aspects of television news production required, including digital and web-based newsgathering tools. Ideal candidate must be able to use newsroom video and computer systems, editing, and graphics programs. Click here to apply.
NEWS EDITOR: News Video Editor must edit video, sound, and other visual elements for newscasts, including reporter packages, newscast elements, special projects, and other projects as assigned.  Must have strong understanding of the script and editorial process and the responsibilities of the position. Must be proficient in the operation of digital non-linear editing equipment. Must be proficient in using other digital newsroom tools, including ingesting and transcoding visual elements for use in edited material. Must be able to produce graphics and other visual elements for newscasts. Must maintain video archives and monitor, maintain, and organize content in digital content system. Ability to create and post material to digital and social media platforms is a plus. Must be familiar with other aspects of newscast production.  Other duties as assigned. 
High school diploma required.  College degree preferred.  Three (3) - Five (5) years' experience in a medium to major market newsroom required. Must be able to work in a team environment and thrive under a deadline driven system.  Good interpersonal skills with a strong emphasis on communication with Producers, Directors, Managers and other members of News and Engineering is required. Must be able to adapt to changing situations, especially during breaking news.  Must be able to adapt to changes in technology and workflow.  Must understand the legal and ethical environment of the mass media industry and be able to apply that knowledge in a dynamic environment. Click here to apply.
NEWS PRODUCER: Strong writing and show production skills are required.  Must have strong editorial knowledge and be an active decision maker, including working with Reporters, Associate Producers and on-air personnel. Responsible for producing all elements of newscasts-- including leads, stories, teases and breakouts. Experienced in mining social media information.  Must be involved in coverage of news events and participate in selection and development of stories.  Perform other duties as appropriate and assigned.
Four (4) year college degree required. Five (5) or six (6) years' experience as a TV Newscast producer in a medium to small market.  Must have strong news judgment, good writing skills, knowledge of current events, and excellent communication and people skills.  Must handle pressure well including the ability to handle breaking news.  Knowledge of TV Production techniques and newsroom computer systems required.  Click here to apply.
NEWS REPORTER: The candidate in this role will perform duties that include studio and field reporting, live reporting, interviewing, research, writing, story and segment setup and special reports.  Proven experience with enterprising local and original content for broadcast and digital.  Must execute daily stories with creative storytelling.  Skilled at mining and posting to social media channels.
Bachelor's Degree in Journalism or Communications required.  Five (5) to Seven (7) years television news experience in a medium to major market.  Excellent communication skills, solid news judgment and strong writing and performance skills required.  Must understand legal parameters pertaining to news and digital content and must have a thorough knowledge of current events and governmental, court, police, and other agency procedures. Strong research/data recovery skills.  Must be capable of using news computer systems and be familiar with television and digital production techniques.  Must be capable of working and performing well under deadline pressure.  Click here to apply. 
METEOROLOGIST: The position must be able to execute active and severe weather tracking and forecasting on TV and Digital by using tools such as radar, WSI system and other sources. Must have deep knowledge of weather science and forecasting. Must have a dynamic, conversation and engaging presentation. On days with no active weather, must be able to differentiate and vary forecast and presentation - on TV and Digital. Will create and operate graphics for TV and Digital segments and posts. Must be able to team with Meteorologists during daily, active and severe weather. Ability to broadcast from remote locations and be active in Station and community events.
Degree in Meteorology required.  AMS or CBM Seal preferred.  Work as part of a team.  Must be proactive in communication with the Weather team and the Newsroom. Works well under pressure in time-sensitive environment. Must have proven experience in using weather technology and proven experience and success in all Digital platforms.  Must have a flexible schedule to respond to operational needs created by team's schedules, severe weather coverage and other needs.  Five (5) years on air weather forecasting experience in medium to major TV market required.  Click here to apply.
Engineering
ENGINEERING TECHNICIAN: Must perform the duties of Television Technician, including operating a SONY MVS8000 switcher, audio boards, robotic cameras (including shading), floor directing, and News Transmission and Master Control operations.  The Technician will install and perform routine maintenance and repair of ENG, SNG, Studio, Control Room and Master Control equipment. Periodically must code and direct newscasts with the use of the SONY ELC production automation system. Must work with Directors and other Technicians in Studio and Control Room operations to execute fast-paced newscasts and ensure reliability of equipment. The candidate must have the ability to handle multiple technical responsibilities and changes in a fast-paced environment.
Two-year technical degree in Electronics or IT required.  Bachelor's degree preferred.  Two (2) or more years' experience in one or more of the roles listed: SONY ELC Technician, Production Technician, Master Control Technician, or Broadcast Maintenance Technician.  Position requires the ability to effectively multi-task.  Must possess strong communication skills, be a team player, and maintain professionalism.  Working knowledge of Windows OS, iNews, and various broadcast software applications preferred. The candidate must be flexible and willing to work nights, weekends and holidays, as necessary.  Performs other duties as assigned.  Click here to apply.
Programming
DIRECTOR PROGRAMMING & RESEARCH: The Director of Programming & Research is responsible for creating and maintaining program schedules and the presentation and interpretation of ratings data for KDFW/KDFI that will produce maximum sales results.  The Director will participate in programming pitch meetings and stay up to date with competitive programming changes and events.  The Director will be responsible for the local oversight of all FCC compliance issues.  The Director must be proficient in understanding and analyzing Nielsen and Digital data and must possess the ability to present stations' ratings metrics to produce maximum results.
Four (4) year college degree required with an emphasis in Marketing, Business, Advertising preferred.  Five (5) to seven (7) years' experience in major television market research and programming. Must have excellent oral and written communication.  Must possess strong organizational and presentation skills. Must be knowledgeable of the market, business and industry news and trends.  Must be proficient in Excel, PowerPoint and Wide Orbit.  Must possess a strong interest and curiosity in the media business, specifically broadcast and digital.  Must have strong leadership skills and be a team player.  Click here to apply.
Sales
ACCOUNT EXECUTIVE: The successful Account Executive (AE) is someone that can bring together all our resources (Top Rated Local News, FOX Network, FOX Sports, My Network TV, and multiple digital platforms) in a creative manner to achieve high level results. Primary responsibilities include but are not limited to, strategically negotiating existing business, building strong client relationships, and consistently prospecting and generating new business across all platforms.  The ideal candidate must be able to identify qualified targets, use strong communication and presentation skills throughout the sales process, and maintain a high closing ratio. The successful candidate will consistently package all platforms together and routinely present the benefits of integrating linear and digital advertising (OTT, mobile, livestream, and display) in order to create a truly multi-platform campaign.
Candidate must possess a proven track record of success in sales.  A four-year college degree is preferred.  Media sales experience is strongly preferred.  Knowledge of media math, TV ratings and web metrics is a plus. Candidate must be a self-starter with strong verbal and written communication skills.  We are looking for someone who is energetic, positive, creative and passionate to succeed in the highly competitive environment of media sales. Strong analytical skills and strategic thinking are critical to the position.  Working knowledge of Microsoft Office Suite required and knowledge of Wide Orbit is a plus. Knowledge of digital media is a must - this position is required to produce multi-platform revenue. Click here to apply.
Traffic
COPY COORDINATOR: KDFW/KDFI has an opening for Copy Coordinator in the Traffic Department. The candidate will be responsible for ensuring that advertiser schedules air with correct commercial material. Compile listing of schedules that need copy material attached for the logs. Gather and organize materials provided by advertising agencies in order to properly schedule commercial rotations. Input commercial rotations into computer system. Check, verify and virtually file all input schedules. Backup fellow Copy Coordinators.  Work displaced spots on future logs as part of daily routine. Maintain copy materials file within Wide Orbit. Must be experienced in working in a fast-paced work environment. Must be able to effectively communicate with sales management, sales personnel, and other station personnel as required. Must be able to effectively communicate with advertising agency personnel to ensure that materials are received in a timely manner. Attention to detail is critical for effective completion of daily tasks.
Four-year college degree or equivalent broadcast traffic experience required.  Candidate must have excellent communication, multi-tasking, and organizational skills as well as excellent math skills.  Must be able to effectively work remotely. Must have excellent computer skills with knowledge of Zoom, Amazon Workspace and Slack. Previous Traffic experience and knowledge of Wide Orbit Software preferred.  Click here to apply.
FOX 4 Internships
KDFW FOX 4 offers an academic credit internship program for college/university junior, senior and graduate students. For more information, click here.
Fox Stations Sales
For job opportunities at FSS across the United States. To apply, click here.
Other
For opportunities at other Fox Corporation companies, please visit www.foxcareers.com.