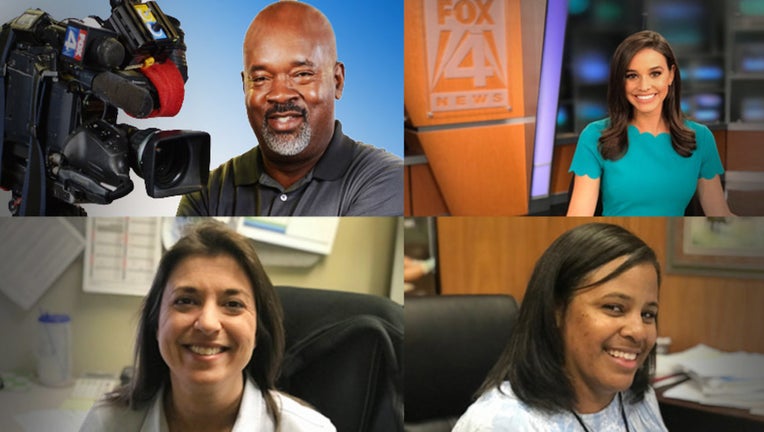 The following represents brief/broad position descriptions. It is not intended, nor should it be construed, to represent a comprehensive and/or exhaustive description of all duties/responsibilities and requisite skills for each position.
Federal law requires employers to provide reasonable accommodation to qualified individuals with disabilities and disabled veterans. Please tell us if you require a reasonable accommodation to apply for a job. Examples of reasonable accommodation include making a change to the application process or work procedures, providing documents in an alternate format, using a sign language interpreter, or using specialized equipment. Please call (214) 720-3149, or visit our readily accessible station located at 400 N Griffin Street, Dallas, TX 75202, and a member of our recruiting team will assist you.
WHEN APPLYING, PLEASE MENTION WHERE YOU SAW THE AD FOR THE POSITION.
NO PHONE CALLS PLEASE.
EOE/M/F/Veteran/Disabled
Organizations that regularly distribute information about employment opportunities to job seekers or refer job seekers to employers may request KDFW/KDFI to provide them with information about full-time openings at the station. Such requests must include the organization's name, mailing address, e-mail address if applicable, telephone number and contact person, and identify the category or categories of job openings for which it requests notices. Requests should be directed to Director of Human Resources, KDFW/KDFI, and 400 N. Griffin St., Dallas, TX. 75202. We appreciate your organization's help in publicizing our job openings! KDFW/KDFI is an Equal Opportunity Employer.
News
ASSIGNMENT EDITOR: Must be aggressive and thorough in responding to breaking news.  Research and select news stories through multiple sources including, news wires, websites, social media, newspapers, scanners and email.  Responsible for daily communication with police and government officials and agencies.  Must develop reliable sources to help in obtaining and confirming information for newscasts. Secure and organize elements for newscasts such as electronic audio and video files, photos and documents.  Must have broad working knowledge of online databases as well as broad working knowledge of court and police procedures. Write and publish stories for station website. Must consistently publish to social media channels. Coordinate, dispatch and communicate with crews to planned and breaking news events. Work closely with reporters, producers and managers to develop stories and story ideas.  Answer viewer calls and emails and speak with community contacts.  Perform other duties as assigned.
Bachelor's degree required with emphasis in Communication and/or Journalism. 7-8 years in a medium to major market experience required.  Must possess strong phone skills and etiquette. Must have strong knowledge of legal and ethical parameters for mass media.  Ability to work under tight deadlines. Strong working knowledge of the technical aspects of television news production required, including digital and web-based newsgathering tools. Must be able to use newsroom computer systems, including editing and graphics programs. Strong communication skills are a must. Must complete required administrative tasks in a timely and accurate manner.  Click here to apply
ASSOCIATE PRODUCER: Responsibilities include writing stories and teases, editing video, and creating graphics and supers for newscasts, FOX4news.com, social channels and associated news partners.  The position works closely with Producers to help develop and format newscasts and communicates continuously with Reporters, Photographers, the Assignment Desk, Managers and other applicable employees or outside sources regarding story developments and changes.  Must possess the ability to write stories and post video for social media platforms in coordination with Producers and Managers. Must facilitate communication during newscasts regarding live shots and story development. Associate Producers must have the ability to overcome anticipated and unexpected changes when putting together newscasts.
Bachelor's degree in Journalism or related field required. Two (2) to three (3) years' experience as a TV Newscast Associate Producer in a small to medium to major television market required. Ideal candidate must be able to work under tight deadlines and have the ability to communicate clearly and concisely. Strong writing skills required. Strong knowledge of legal and ethical parameters for mass media is essential.  Strong working knowledge of the technical aspects of television news production required, including digital and web-based newsgathering tools. Ideal candidate must be able to use newsroom video and computer systems, editing, and graphics programs. Click here to apply.
DIRECTOR: Experience with newsroom computer systems and studio automation required.  Experience with ELC is a plus. Excellent communication skills and a passion for news content and eagerness to collaborate and innovate with Producers, Supervisors, On-Air personnel, Directors and Production staff.  Must have the ability to handle multiple technical responsibilities and changes during fast-paced live newscasts and programs, including ELC, video and CG playback. Requires someone with a creative eye who recognizes opportunities to showcase big stories and has the ability to explain and execute the vision.
Bachelor's Degree or equivalent required.  Five (5) or more years full-time experience in a medium or large television market directing daily live newscasts.  Position requires the handling of multiple demands with professionalism, positive leadership and results. This person must have clear verbal skills. Ability to work under pressure as part of a cohesive team. Click here to apply.
NEWS EDITOR: News Video Editor must edit video, sound, and other visual elements for newscasts, including reporter packages, newscast elements, special projects, and other projects as assigned.  Must have strong understanding of the script and editorial process and the responsibilities of the position. Must be proficient in the operation of digital non-linear editing equipment. Must be proficient in using other digital newsroom tools, including ingesting and transcoding visual elements for use in edited material. Must be able to produce graphics and other visual elements for newscasts. Must maintain video archives and monitor, maintain, and organize content in digital content system. Ability to create and post material to digital and social media platforms is a plus. Must be familiar with other aspects of newscast production.  Other duties as assigned. 
High school diploma required.  College degree preferred.  Three (3) - Five (5) years' experience in a medium to major market newsroom required. Must be able to work in a team environment and thrive under a deadline driven system.  Good interpersonal skills with a strong emphasis on communication with Producers, Directors, Managers and other members of News and Engineering is required. Must be able to adapt to changing situations, especially during breaking news.  Must be able to adapt to changes in technology and workflow.  Must understand the legal and ethical environment of the mass media industry and be able to apply that knowledge in a dynamic environment. Click here to apply.
NEWS PRODUCER: Strong writing and show production skills are required.  Must have strong editorial knowledge and be an active decision maker, including working with Reporters, Associate Producers and on-air personnel. Responsible for producing all elements of newscasts-- including leads, stories, teases and breakouts. Experienced in mining social media information.  Must be involved in coverage of news events and participate in selection and development of stories.  Perform other duties as appropriate and assigned. 
Four (4) year college degree required. Five (5) or six (6) years' experience as a TV Newscast producer in a medium to small market.  Must have strong news judgment, good writing skills, knowledge of current events, and excellent communication and people skills.  Must handle pressure well including the ability to handle breaking news.  Knowledge of TV Production techniques and newsroom computer systems required. Click here to apply.
Sales
FLX Sales Assistant: The Sales Assistant works in a fun, fast-paced and fluid environment.  This position will be working on the FLX OTT platform along with Sales Leadership, Account Executives (AEs) and marketing on all aspects of the pre and post sales process.  The position is responsible for working on a team with 2-3 Account Executives in the FX Local Extension (FLX) Sales department.  (OTT/Digital Ad Sales) The person in the role will also handle order processing and assist AEs on prospecting, research gathering, sales planning, and invoicing.  The FLX Sales Assistant will also act as a liaison between AEs, agency buyers and clients.
High School diploma required. College degree and digital experience preferred but not required.  The FLX Sales Assistant must have excellent communication, organization, and prioritization skills.  Knowledge of local TV marketplace is a must.  Willingness to learn and grow.  Must have a customer (internal and external) focus. Wide Orbit experience a plus.  Must have the ability to work under pressure and be a team player.  Click here to apply.
FOX 4 Internships
KDFW FOX 4 offers an academic credit internship program for college/university junior, senior and graduate students. For more information, click here.
Fox Stations Sales
For job opportunities at FSS across the United States. To apply, click here.
Other
For opportunities at other Fox Corporation companies, please visit www.foxcareers.com.