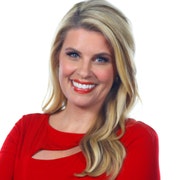 Country singer Pat Green said it best in his song, Southbound 35, "I've got Texas in my soul."
During my journalism career I have had the good fortune to have traveled the world and I can honestly say there is no place like Texas! It is great to be home and to be part of the FOX 4 GOOD DAY team!
I was born and raised in North Texas where I graduated from Grapevine High School. I attended Baylor University majoring in Journalism and minored in Biology. I love animals and thought for a moment that I wanted to be a marine biologist, but a professor introduced me to the news business and I was hooked.
Before arriving back home in Dallas I spent 5 years in Boston. I was lucky enough to get there right before the Red Sox reversed the curse in 2004 by winning the World Series. A few months later though I found myself right in the middle of a nor'easter surrounded by snow....boy was that a wake up call.....I was a long way from home!!
I have also anchored for television stations in Abilene and Albuquerque and have made several appearances on the Today Show, MSNBC, CNN and The Weather Channel.
One of my very first live shots as a rookie reporter was in a snake pit surrounded by more than a hundred rattlesnakes! My station didn't tell me where I was going; they just told me to follow the photographer. When I got there I found out it was a Rattlesnake Roundup in Sweetwater, TX! There was a snake handler there to make sure I would be ok... but still it was quite an experience! I thought, "Hey, at least I will never be this nervous again!"
When not at work my husband and I love spending time outdoors, trying new restaurants and traveling.
In April of 2013 we had a baby girl named Landry Elizabeth... and in October of 2016 our son Beck Matthew was born.  We fall more in love with them everyday!  We also have two dogs - Mattie and Deuce.  They both shed like crazy, but we love them!!  
The answers to the two questions I'm asked the most: I wake up at 2am for work and yes, "y" is the only vowel in my last name. I often hear, "Would you like to buy a vowel?" Przybyl is Polish, but I am actually an American mix of Polish, Italian and Irish.
The Good Day team would love to hear from you! Follow us at twitter.com/fox4lauren or send me an e-mail at lauren.przybyl@fox.com.
The latest from Lauren Przybyl