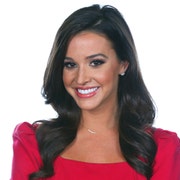 Hanna Battah
Anchor/Reporter
In elementary school, I was the student who consistently got in trouble for talking too much during class. I still talk too much, but at least now I get paid for it.
I always felt passionate about current events and politics, so I attended the University of Missouri to study broadcast journalism and political science. I quickly learned that reporting allowed me to cover many topics in my wide range of interests. Most importantly, it's encouraged me to never stop learning. I look forward to learning about all there is in the Dallas-Fort Worth area and the kind-hearted people who have welcomed me here.
Viewers can catch me anchoring Fox 4's Good Day newscasts from 4-6 am with Shannon Murray. I also work more in-depth on a different story every day, reporting for Good Day from 6-10 a.m. I started at Fox 4 in June of 2018 as a weekend morning anchor on the Good Day team and 3 months later, I became part of the weekday Good Day team.
I landed in Texas from Bakersfield, California, where I worked as an afternoon Anchor and evening Reporter at KBAK/ KBFX.  My job often involved many different roles each day, like producing newscasts, shooting video and editing my own stories.  There I covered local politics, breaking news and statewide stories.  In 2017, I traveled to Ventura and Santa Barbara Counties to cover what became the largest wildfire in state history.  There I worked alongside fire crews in full gear to get first-hand glimpses of the flames.  I'd covered several previous brush and wild fires, but had never witnessed the devastation caused by the inferno that burned for months along the coast.
Before I moved to the central valley of California, I got my start in news in Missouri.  But I didn't start on television.  I covered state politics in Jefferson City for radio outlets in St. Louis, Kansas City and Springfield.  I enjoyed chasing down lawmakers for assignments and learning from the veteran Reporters who consistently pushed to dig deeper on stories.  In college, I worked for the campus television station— MUTV— for a short time covering sports.  My first story was about the Mizzou volleyball team featuring the newest players.  I didn't know it at the time I put the story together, but one of the teammates I covered later became my best friend.
Later on, I worked for the NBC-affiliate in Columbia, Mo. as a general assignment Reporter and Anchor.  I continued covering occasional stories out of the state Capitol and went on to work on a few projects across the state like former President Obama's visit to Kansas City, the 2015 World Series and the recovery process following the devastating Joplin tornado in 2011.  Reports I worked on about the city's rebuilding after the deadly event went on to win the Heart of America Gold Award from the Kansas City Press Club.
I grew up in the Twin Cities, which meant hibernating during the bitter cold Minnesota winters.  I'm an avid swimmer and runner so I'm looking forward to enjoying the outdoors year-round in Texas.  I'm also eager to be surrounded by Cowboys fans.  As a Minnesota native and Vikings fan, we can bond off a mutual dislike for the Green Bay Packers.
I'm excited to now call the beautiful state of Texas home. Feel free to say "hi" or send me story ideas to hanna.battah@fox.com.
The latest from Hanna Battah