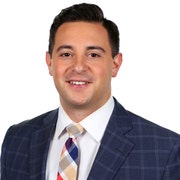 Jeff Kolb
Sports Reporter
Jeff Kolb is an award-winning sports storyteller and anchor who is part of the FOX4 Free4All team in Dallas.
Jeff has been a part of all areas of FOX4's sports coverage, regularly hosting and co-hosting the station's nightly half hour sports show, Free4All; anchoring the station's more traditional weekend sportscasts; traveling to report on the Dallas Cowboys and telling enterprise sports feature stories.
Jeff was on the forefront of reporting on the historic shutdown of the sports world in March and covered several key moments of leagues and teams returning to action. He reported on an unprecedented NFL Draft and Cowboys season with fans allowed inside AT&T Stadium; the opening of the Texas Rangers brand new ballpark without fans and a neutral site World Series at Globe Life Field with fans; historic NBA and NHL bubble seasons including virtual reporting on the Dallas Stars' run to the Stanley Cup Final; the PGA holding its first event back in Fort Worth; FC Dallas being sent home from the MLS is Back Tournament following a COVID-19 outbreak; and a college and high school football season weathering constant postponements and cancellations.
Born and raised in Rhode Island, Jeff graduated from Emerson College in Boston where he pitched for four years on the baseball team and left the program second all-time in wins. From Emerson he took his first job as a sports writer and video storyteller at a small town newspaper in Chambersburg, PA. Since then he's made TV station stops in Alpena, MI, Providence, RI, Tulsa, OK and Dallas, TX. Through the years Jeff has had countless opportunities to tell sports stories at the recreational, youth, high school, college and pro levels.
His storytelling has been recognized with multiple awards including an Edward R. Murrow regional award for best sports reporting following an investigative story on how two football teams were using helmet sensor technology to try and make the game safer. He won the Oklahoma Association of Broadcasters award for best feature reporting, telling the story a woman who went to great lengths to donate a kidney to prominent college basketball coach and Texan, Billy Gillespie.
In his free time Jeff still loves playing baseball as well as tennis and basketball, enjoys cooking and eating, traveling and spending time with his friends and family.
Feel free to reach out on Twitter and Facebook at @JeffKolbFox4.
The latest from Jeff Kolb
It was another busy night for high school football in North Texas, and one of the biggest games in Dallas County was the match-up between rivals Duncanville and DeSoto.
To SMU tight end Grant Calcaterra, his comeback story doesn't come with a ceiling.
Now that student athletes can make money off their names, images and likenesses, one SMU football player might earn some cash as an artist.
Leslie Adindu made the incredible journey from living in a Fort Worth homeless shelter to moving to Missouri to play college football on a full scholarship.
Former Mansfield Lake Ridge track superstar Jasmine Moore qualified for the Olympics in triple jump this June. She opened up to FOX4's Jeff Kolb about the new perspective she's found as an athlete after struggling with depression in the two years since she moved away to the University of Georgia.
Southlake's Hailey Hernandez shocked the diving world, qualifying for Team USA at 18-years old, fresh off of graduating from Carroll High School.
A mix of fun and talent has made Dallas Baptist University's lone Division 1 program a self-admitted diamond in the rough. It's kind of like a hidden gem in the field of college baseball's postseason regulars.
Blindness, hearing loss haven't stopped Graham Palmer from going all in as Brewer Bear.
After beating cancer, former Frisco Reedy soccer star Nahla Turner made an inspiring comeback to play goalie for the University of Central Florida women's soccer team.