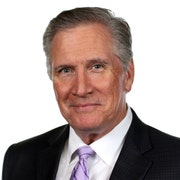 Hi everybody! I'm Mike Doocy, weeknight sports anchor here at FOX 4. I've been lucky enough to bring you the latest in sports in North Texas for more than two decades. I now host "Free 4 All" every weeknight at 10:30 p.m. It's a show like no other -- blending interviews, unscripted, opinion, entertainment and sports.
I also anchor "Sports Sunday," our weekly 30 minute broadcast, and some sports specials throughout the year.
During my time here, I've seen some amazing developments in the local sports landscape. I've had the privilege to cover a Cowboys Super Bowl win (remember when?), a Stars Stanley Cup celebration, plus Rangers playoff appearances (a long time ago!) and the amazing 2011 NBA Finals run of the Dallas Mavericks.
But that's only part of the local sports story. In the past decade-plus, we've seen NASCAR storm into North Texas. I've covered Tiger at the Nelson, and Annika at Colonial. Plus, I've watched some of the nation's finest high school athletes, right here in the Metroplex.
Every day here in the FOX 4 Sports department, our team of producers determines the top stories of the day. Our talented photojournalists record the action and interviews. My job? Simple. Show up and deliver the sportscasts in a way that's fair, interesting and enthusiastic.
Thank you for your kindness and support through the years. And I hope you'll keep on watching FOX 4 News!
E-mail me at mike.doocy@foxtv.com.
The latest from Mike Doocy