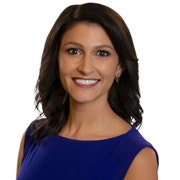 My journalism career has been Texas through and through and reporting the news in Dallas brings it all full circle.
I grew up in DeSoto and graduated from Duncanville High School. That's where it all started.  I anchored our school newscast, Eye of the Panther News, and we won the state competition for broadcasting and even went on to place 2nd in nationals my senior year. My teacher, Mrs. Nancy Noyes, is the woman who encouraged me to pursue journalism in college and she is one of the main reasons I'm still doing it today.
I graduated from the University of Texas at Austin with a degree in broadcast journalism. In college I held an internship with a local news station and spent a summer in Los Angeles where I interned for The Ellen Degeneres Show. Working at Ellen showed me while television can be fun, it takes a lot of work behind the scene to make it happen! I was also president of my sorority, Alpha Phi, and got involved with the UT television station, Texas Student Television.
After graduation I landed my first job as a reporter for KOSA in Midland/Odessa. I'd never been there but made the six hour drive west and didn't think twice. That's where I learned to do it all – shoot video, edit, produce, report, anchor, sometimes I even ran the teleprompter. I also picked up a few skills at KCRS Radio, where I learned to run the control board and filled in as host for a political talk radio show.
I was then offered a job as a reporter for KVUE in Austin and spent the next three years embracing everything the capital city had to offer – live music, the outdoors and tacos (lots of tacos). At work I primarily covered crime and courts, sometimes spending weeks inside a courtroom on a high profile case. I also had the chance to cover fun events like the Austin City Limits Music Festival and Longhorn football (hook 'em!). Austin will always have a special place in my heart but when the opportunity at FOX 4 came up, the drive up I-35 didn't seem so bad all of a sudden.
You can now catch me anchoring and reporting for FOX 4's top-rated Good Day from 4-10 am. I wouldn't have a job without the viewers, so thank you for watching! That includes all my elementary, middle and high school teachers who have sent messages and commented on Facebook.
In my spare time I enjoy traveling and visiting the dog park with my blind rescue pup, Boo Boo. I am a runner and I love checking out different trails around DFW. My first distance race was The Dallas White Rock Half-Marathon with my dad in 2008. Since then I've finished a couple full marathons, a hand full of half marathons and a sprint-triathlon in Austin. I serve as a coach and ambassador for Girls on the Run, a mentorship program that helps 3rd – 5th grade girls build confidence through running. I'm also a member of the YMCA Healthy Living Advisory Committee. 
Story tip? E-mail me at Shannon.murray@fox.com. You can follow me on Twitter too @ShannonMFox4.  I'd love to hear from you!
The latest from Shannon Murray