Texas schools urged to review security measures following Timberview High School shooting
ARLINGTON, Texas - Public and charter school districts in Texas are being told to review safety and security procedures and how they would respond to a campus tragedy following last week's school shooting at Mansfield ISD's Timberview High School.
The School Safety Center at Texas State University gives holistic guidance to school districts around best practices to try to prevent but also respond to an on-campus crisis.
This is not the first time they've had to send out these safety measures email.
One week after a classroom fight and shooting left four injured on the second floor of Timberview High School in Arlington, a guidance email was sent out Wednesday to more than 1,000 Texas school districts urging them to review safety and security plans.
"When you think about safety and security procedures, you are looking at your emergency operations plan and integrated into that is what is going to be our response if something like this happens," said Dr. Kathy Martinez-Prather, president of the Texas School Safety Center.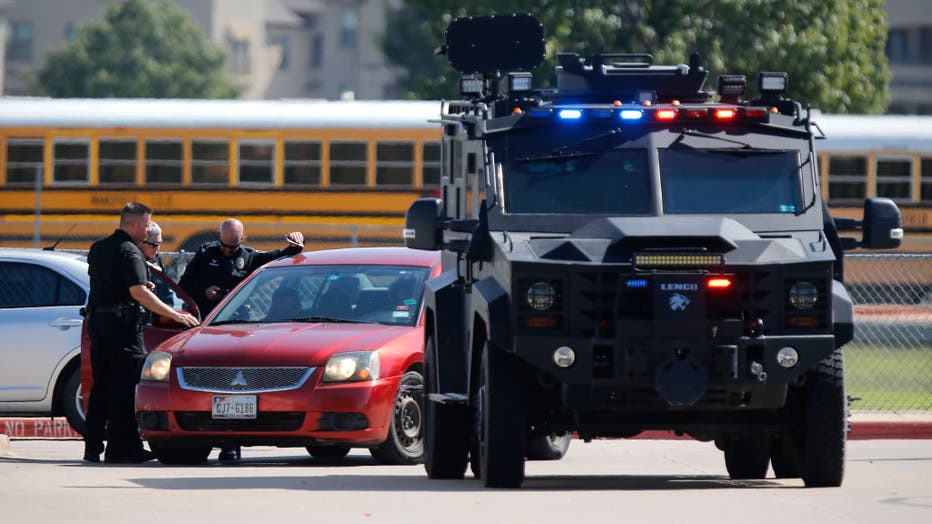 ARLINGTON, TX - OCTOBER 06: Emergency personnel work the scene in the parking lot at Timberview High School after a shooting on campus on October 6, 2021 in Arlington. (Photo by Stewart F. House/Getty Images)
Mansfield ISD responded with increased security measures that are part of the safety center's guidance.
The superintendent's letter to parents saying the school district police department is partnering with other law enforcement to have more officers on its 46 campuses.
MORE: Timberview High School adds metal detector wands following shooting
"One of the main reasons you want law enforcement in schools is not as a deterrent necessarily to impact crime," said Craig Miller, a school security consultant. "You want them to be there as someone that students feel safe giving information providing information." 
And trained security staff will monitor high traffic and common areas through video surveillance to better have control over campus access.
Metal detector wands will be randomly used to check for weapons at Mansfield ISD middle and high schools.
"I think that wands are more effective in this effort than metal detectors are," Miller said.
The recommendations also encourage districts be prepared to quickly communicate to school parents and the community if something happens.
The safety center also cautions districts should expect what it calls the "contagion effect," an increase in rumors of violence and threats against other schools, like what was seen on the day of Timberview's incident.
"And so all of those threats should be taken seriously," Dr. Martinez-Prather said. "But it's something that school districts need to think about in the coming days and weeks and months."
Districts have to do all they can to make the schoolhouse a safe house.
"Students will be successful academically when the foundation of a safe and healthy school district climate is in place," Dr. Martinez-Prather said.
Every school district in Texas is required to have what's called behavioral threat assessment teams made up of administrators and law enforcement who are supposed to try to identify students that may have a problem before it develops into something that ends in a bad decision. 
TIMBERVIEW HIGH SCHOOL SHOOTING COVERAGE:
Timberview High School students return to class for first time since shooting
Timberview High School shooting leaves four injured; suspect arrested
Family of Timberview High School shooting suspect says he was being bullied
Timberview High School shooting suspect bonds out of jail
Family of 15-year-old Timberview High School shooting victim asks for prayers