Gov. Abbott signs disaster declaration to help Texas flood victims
DALLAS - Gov. Greg Abbott signed a disaster declaration in Dallas Tuesday as people in the city and across the area swept water and mud from their homes. 
Gov. Abbott met with Dallas Mayor Eric Johnson and other officials to get an update on Monday's severe weather and flooding.
"It's our understanding what happened yesterday was the second worst flooding in Dallas since 1932," Abbott said.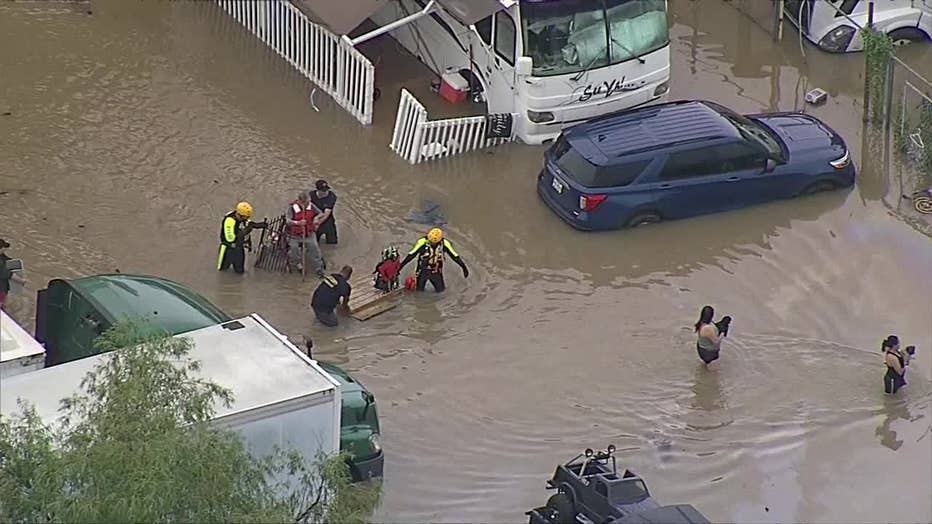 The declaration frees up more state resources for 23 counties including Dallas, Tarrant, Ellis and Kaufman counties. Additional counties could be added.
"The effect of this storm has been dramatic here in Dallas and Fort Worth, but across multiple regions around the state of Texas," Abbott said.
The state also introduced a tool, called iSTAT, where people can report the amount of damage they sustained. The state will use that data to help determine if the damage qualifies the state for federal assistance.
In order to qualify for federal help the state would need a total of $50 million in damage to uninsured public property and damage to 800 homes without flood insurance.
Gov. Abbott said the state has reports of damage to 100 homes and that the number is expected to climb. He encouraged everyone to report the damage they sustained whether they are insured or not.
Terry Lowery, the director of Dallas Water Utilities, the city's infrastructure held up well considering some parts of East Dallas reported 15 inches of rain.
"The quantities of rain that fell in the time frame, I don't care what system we had in place, there was going to be flooding," she said.
Lowery said measures passed in a new city bond program will help improve the Mill Creek Tunnel, which should help flooding issues around the Baylor, Scott and White Medical Center.
Dallas Police chief Eddie Garcia noted that 28 patrol vehicles were damaged during the flooding. The Dallas Police Department was already dealing with a shortage due to production issues. He called for the state legislature to push car manufacturers to prioritize emergency vehicles during times of supply chain issues.
"Losing 28 patrol vehicles is not positive. We will double up 2 person patrols until help is on the way," he said.
FLOODING CONTINUED COVERAGE: