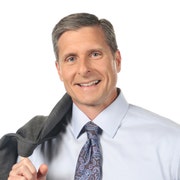 In February of 1979, my family moved from California to the East Coast and I was excited to see 'real' snow for the first time in my life. The Philadelphia meteorologists said that there would be 1 to 3 inches of snow on the 11 p.m. news. But…when I woke up the next morning, there was 2 feet of snow on the ground. The Presidents' Day Blizzard left me in awe and ignited my interest in meteorology and forecasting.
My passion for watching the weather eventually led me to Penn State University where I earned a B.S. degree in Meteorology and became a football fanatic. While at Penn State, I completed a 3-semester internship at the National Weather Service that landed me a job as a research meteorologist upon graduation.  After two years of number crunching, I was ready to give television a try. I sent a tape to a small station in Wilmington, North Carolina, and as they say, the rest is history.
Over the past 30-plus years, I've witnessed just about everything Mother Nature can dish out: hurricanes and heat waves, blizzards and ice storms, floods and hailstorms, and quite a few tornadoes.  But, over the years, I have rarely gotten to speak with people who were 'IN' the storms while I reported "ON" the storms.  Two years ago, several severe weather events in North Texas inspired me to track down these survivors and interview them. Their harrowing stories, combined with an explanation of the science that caused the deadly events they survived, are collected in my newly published book, "Menacing Skies: Texas Weather and Stories of Survival."
Since coming to FOX 4 in January 2003, I've had the privilege of leading Fox's Weather Team in North Texas. I'm honored to have been awarded five Emmys, including three for Best Television Weathercaster in Texas. I earned the American Meteorological Society's Seal of Approval in 1992, and I was the first meteorologist in the DFW area to earn the prestigious Certified Broadcast Meteorologist Seal in 2007.
When you're away from your television, you can keep up to date on the latest forecast by checking me out on Twitter @WxManDanHenry, @DanHenryWeather on Instagram, and my Meteorologist Dan Henry page on Facebook.  If you have a weather question or a speaking request, feel free to e-mail me at: dan.henry@fox.com.
Thanks for watching FOX 4.
The latest from Dan Henry