North Texans dealing with ice and snow, bitter cold temperatures
DALLAS - The sleet, ice, snow, and bitter cold are now here in North Texas.
People woke up Thursday morning to temperatures in the 20s or colder in some areas, as sleet and snow came down, before moving out of the area after noon. But that was not the worst of it.
Some neighborhoods saw ice build up on trees and power lines causing outages, even though the state promises this year won't be a repeat of last year.
A Winter Storm Warning remains in effect for all of North Texas through 6 p.m. 
RELATED: Oncor closely watching North Texas power lines as icy weather settles in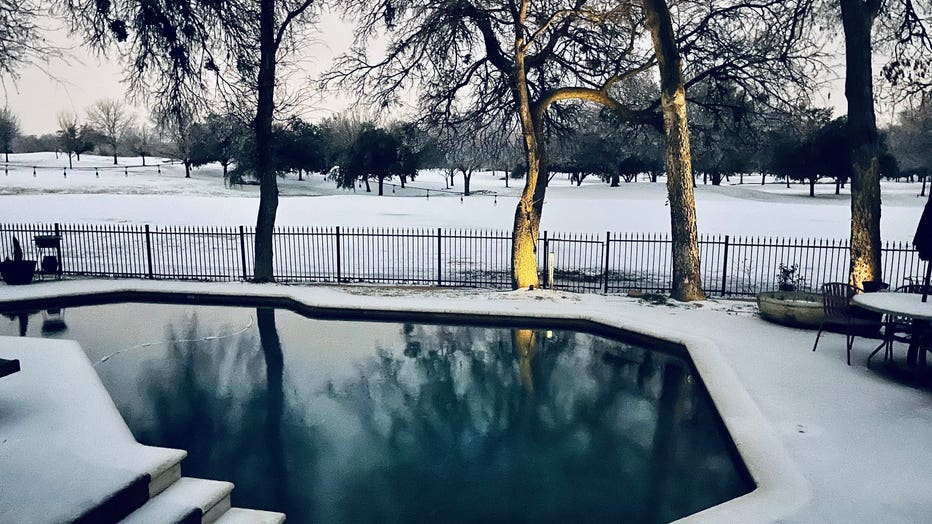 Sherrill Park Golf Course in Richardson
Driving conditions deteriorated as the temperatures dropped and freezing rain turned to sleet and snow.
Arlington's police officers hope most people will stay home and avoid the roads. But they added traction cables to their vehicles to respond to accidents just in case. 
DART suspended its light rail service. DFW Airport issued a ground stop and all Southwest Airlines flights in and out of Dallas Love Field were canceled.
As of 2:30 p.m., DFW Airport had two runways open and operational. They are continuing to work to clear others.
Most North Texas school districts made the call early to cancel school for Thursday and Friday because of the weather.
FULL LIST: School Closings & Delays
Ice weighs down trees and power lines in Collin County
There are some roads, especially side streets in Collin County, where there are sheets of ice.
But one of the biggest problems in Collin and Hunt counties was not the impact of the ice on roads, but the impact on power lines and equipment that's left some in the cold.                       
While the coating of ice was enough to keep most people inside, even some who stayed inside could not escape this storm's reach.
"It is so cold in our house that the bottled water felt like it was freezing," Victoria Davis said.
Davis and her husband found a hotel room to check into by late afternoon.
The Hunt County couple said they lost power around 1 a.m.
It became so cold Thursday that they started to worry about their two young children.
"Part of the reason why my husband was kind like, 'Hey, we need a bug out,' was because they were both just shivering. We had them layered up, but they were just shivering," Davis said.
Not far away, near Greenville, the Morris family said they lost power late Wednesday night.
By early afternoon, the temperature inside was already in the 40s.
"We started out probably somewhere around 68 to maybe 70 degrees [Wednesday] night. We have been slowly dropping throughout the day," Chris Morris recalled.
The Morris' were hopeful to get power back early, but estimated repair times they received from Oncor kept getting pushed back. 
"I mean, I know that things cost money and those power lines don't just run themselves and you've got to run crews and stuff and act of God happens and stuff. But the fact that we're constantly missing deadlines. If it was my job, I'd be in trouble," Chris said.
Hunt County, and other spots north and east of Dallas, saw some of the biggest impacts to power.
SKY 4 was overhead in Princeton as crews there braved the elements to try and get equipment working again.
Oncor officials noted that even after the storm passed, ice-covered branches would continue to fall, potentially complicating repairs.
Beyond the impacts to power, quite a few North Texans got a jolt overnight when the storm took down branches or whole trees.
Allen officials said crews responded to more than 100 calls of trees or branches in roadways.
On the surface it was a picturesque scene playing out in Frisco Thursday.
Neighborhoods turned into a winter wonderland overnight as sleet and then snow descended on the area.
The sidewalks and streets turned white.
Nearby kids took advantage of the snow day to take part in a rare Texas activity, sledding.
They used laundry baskets to zip down the hill.
But it wasn't all fun and games.
The ice weighed down several trees, with some branches and limbs snapping in half.
The driver of one car was no match for the icy roads, ending up on top of a median.
A buddy with a heavy-duty truck tried to pull him out, but the rope didn't hold. He was eventually able to get his car out.
The city of Frisco said there were no major weather-related problem reported Thursday.
In fact, the parks and recreation team has time to shovel the ice and snow at city buildings, ready to get back to business.
Ice accumulated on trees, power lines and other elevated surfaces in Collin County.
In Plano, there were many trees covered in ice, with a lot of ice forming on branches.
The extra weight made some trees go down and cause some damage. 
Around 12:45 a.m. Thursday, Kasey Pool and her family woke up to the loud sound of a tree crashing down onto their home.
"It sounded like a bomb went off honestly," Pool recalled. "This is my bedroom window right here. My husband and I, our bed is literally right here on this wall, and then our one-year-old, the nursery is right here, this is where she sleeps."
The tree caused some damage to the roof and a fence, but thankfully, no one was injured. 
"Playing it over and over in my head thinking, 'Gosh, what if it had not missed our bedroom, it could've crushed us,'" Pool said.
The city of Plano received more than 100 calls from residents about fallen trees and limbs. 
City officials gathered at the city's emergency operations center monitoring conditions and the roads.
But so far, emergency responders have only responded to one car accident, and no serious injuries reported. 
"I think the reason why is schools are closed, people are heeding the advice to stay at home, stay put," said Steve Stoler, with the city of Plano. "So if you drive around Plano, you're not seeing many cars out. To have one traffic accident with these kinds of roads at this point is miraculous."
Around 5:30 a.m. Thursday, Sandy Strenger was having her morning coffee when she heard a sudden crash.
"And I heard a big BOOM, and I thought a car hit something," Strenger said. "But it was a shock, I looked outside the window when I heard that noise and I thought, 'Woah, what is all that tree doing down,' and I came out and looked."
She said a neighbor's tree came down onto her tree, which then toppled onto her late husband's car. 
She hasn't gotten a chance to fully assess the damage yet.
"I don't know, you can't get in that side and the other side's frozen," she said. 
The city of Plano is working to remove trees blocking roadways and alleys, but officials are telling homeowners it may take some time for crews to get out due to the volume of calls.
FOX 4's Shannon Murray was in Melissa where several tree service trucks were ready to go out and cut down frozen limbs before they could fall on power lines.
A man who lives in the area said he saw several limbs that had already fallen as he was leaving his neighborhood to drive his wife to work.
"There's a lot of trees that are hanging over fell down. Actually, in our neighborhood there's no power. The power's out. We couldn't cook anything for breakfast or anything," said Fred Martinez, a Farmersville resident. 
Plano resident Brandon Smith shared video of a large tree falling in his front yard. He said he believes the tree that feel was about 30 years old.
"The dog started barking and the tree fell on the ground. A loud thud woke us all up," he said. "I moved here just for the trees, so it's kind of sad to see it fall."
Carport collapses in North Richland Hills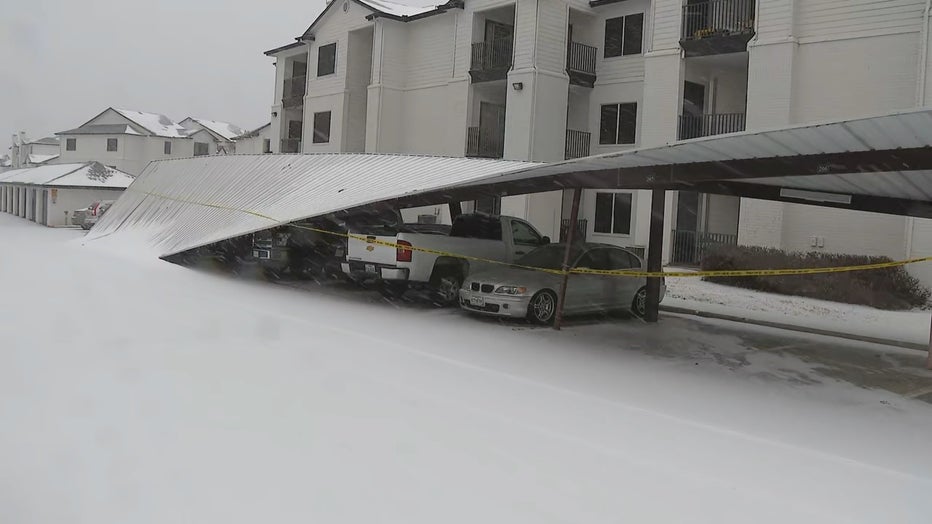 The weight of ice and sleet caused a carport to collapse in North Richland Hills. 
Several cars are still trapped underneath the structure at the Tides Apartment Complex on Harwood Drive.
Those who live there said they heard it come down with a loud bang in the middle of the night. 
Thankfully there were just empty parked cars underneath and no one was hurt.
Traffic troubles on icy overpasses
Traffic reporter Chip Waggoner said the traction got pretty bad on North Texas' roadways and truck, buses and other big vehicles couldn't handle it.
A charter bus full of Mexican tourists got stuck on an ice-covered ramp on Interstate 35E to Woodall Rodgers in Downtown Dallas. 
Traffic cameras showed dozens of people getting off the bus as a truck tried to pull it past the ice, but it was unsuccessful.
The whole intersection was shut down while the bus and its passengers waited for a heavy-duty wrecker.
They eventually made it safely off the ramp and are back on their way to their final destination in Arkansas.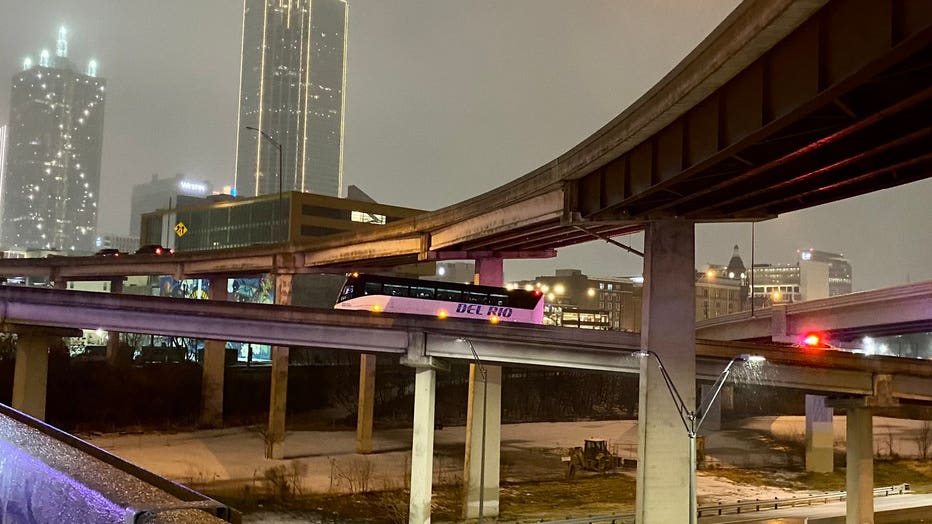 Texas Department of Transportation spokeswoman Kenna Mitchell said most bridges and overpasses in the Dallas-Fort Worth area were pre-treated but that can only help so much. 
"Crews do have our plows out right now. They're clearing a lot of the slush that's accumulating and also still continuing some of those brine treatments," she said. "So right now crews are making progress but as these additional accumulations come down we know we have a very long day ahead of us."
Photos from around North Texas
Thanks to the FOX 4 viewers for sharing their winter weather videos and pictures. Share your own by sending them to FOX 4 News on Facebook and Twitter.