Southwest, American Airlines cancel flights because of Texas winter storm
DALLAS - The winter weather is impacting air travel nationwide.
Southwest Airlines was proactive and canceled all its flights in and out of Dallas Love Field for Thursday. The Dallas-based carrier said it is watching the weather and more changes may be needed for later in the week.
Ice on the runways kept planes from landing and taking off at DFW Airport Thursday morning. The airport shut down until about 11 a.m. after crews were able to clear one and reopen the first runway.
The airport expects stoppages throughout the day as the runways are treated for now and ice.
American Airlines said it had canceled 46% of its arrivals at DFW Airport because of weather across the country. 
Travelers are urged to check with their flight status and check with their individual carrier before heading out to the airport.
RELATED: What to Expect: Ice, sleet and snow in the forecast for Dallas-Fort Worth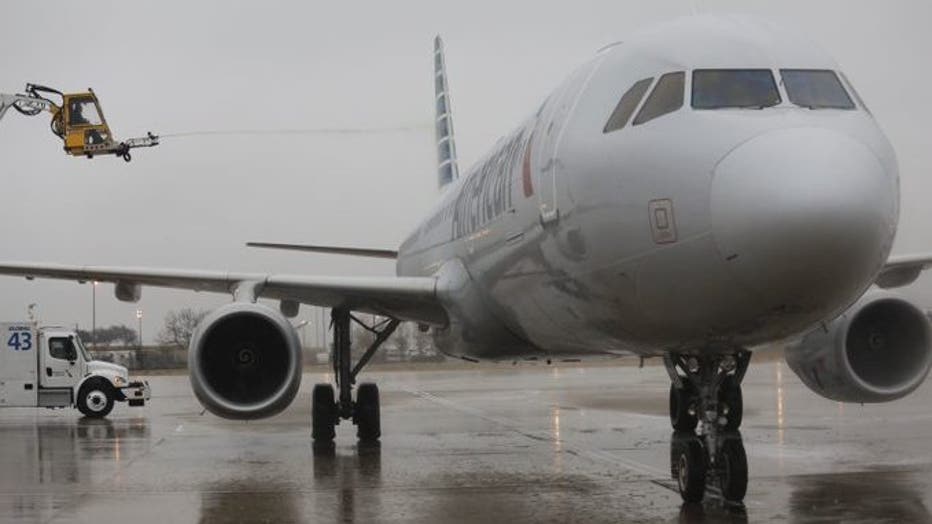 Some travelers were still able to catch a flight in and out of our two North Texas airports Wednesday.
"It's very worrisome because if I don't make it on the 4:30 flight then I may be stuck in Dallas," said traveler Livia Mehr.
There were minimal crowds at Dallas Love Field since Southwest already canceled all Thursday flights.
"I'm glad they were doing things in advance and staying on top of it instead of waiting for the storm to hit and realizing it couldn't go," said traveler Joy Moore.
Still, the airport remains operational. Delta and Alaska Airlines operate a few flights out of the airport, too. 
Dallas Love Field Spokesman Chris Perry said crews will focus on keeping the one open runway operational.
"Our director made the decision that we will go into our snow and ice prevention plan removal plan," he said. "Going into Friday as our carriers try to ramp back up, we want to make sure that we're ready to go."