Billy Chemirmir trial: Testimony from alleged serial killer's surviving victim played
DALLAS - Jurors saw video from the woman who survived an attack at her Plano apartment in the trial of a suspected serial killer.
Billy Chemirmir is accused of killing at least 18 elderly people. All but one of them were women and most lived alone at senior living centers in Dallas and Collin counties.
Prosecutors said 48-year-old Chemirmir posed as a health care or maintenance worker, suffocated the women and then stole their jewelry.
RELATED: Alleged serial killer Billy Chemirmir to go on trial Monday in Dallas County
He is currently on trial for the murder of 81-year-old Lu Harris in Dallas County.
During opening statements in the capital murder trial, prosecutor Glen Fitzmartin said the case revolves around three key points.
"Ladies and gentlemen, this a case about stalking, smothering and stealing," he said.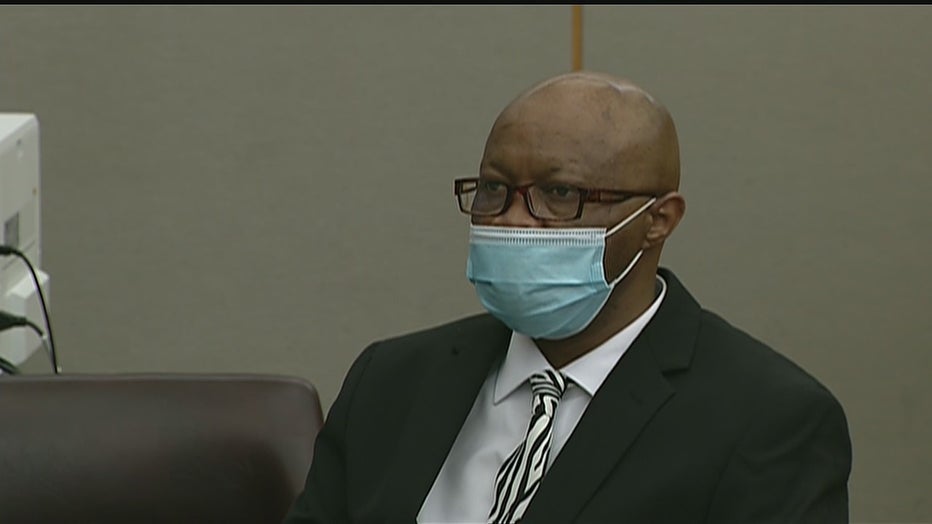 The defense team opted not to make an opening statement on their client's behalf. 
Defense attorney Phillip Hayes, arrested earlier this month on a charge of solicitation of prostitution while on another capital murder trial in Tyler, was not present in court on Monday. Co-counsel Kobby Warren was leading the defense.
Defense attorneys declined to speak with the media about if Hayes will appear at any point during the trial.
Jurors then heard from the Plano 911 dispatcher and the police officer who responded to calls about another woman who was injured in a similar attack. Then, taped testimony was played.
RELATED: Jury selection complete in trial of Billy Chemirmir; defense attorney facing solicitation charge
Mary Bartel told police a man forced his way into her apartment in 2018, tried to smother her and stole her jewelry after she passed out. She survived but has since passed away. Her testimony was recorded before her death and played in court.
"I knew instantly when I saw those two green rubber gloves, number one I knew I should not have opened the door, and number two, my life was in grave danger," Bartel said in the taped 2018 deposition. "He just smashed a pillow down hard over my face and chest and I couldn't breathe. I tried to move this left hand under the pillow to get the medical alert button, but there was no way I could even move my hands."
Friends found Bartel unconscious on her bed and called 911. Bartel told investigators three rings were missing from her hands.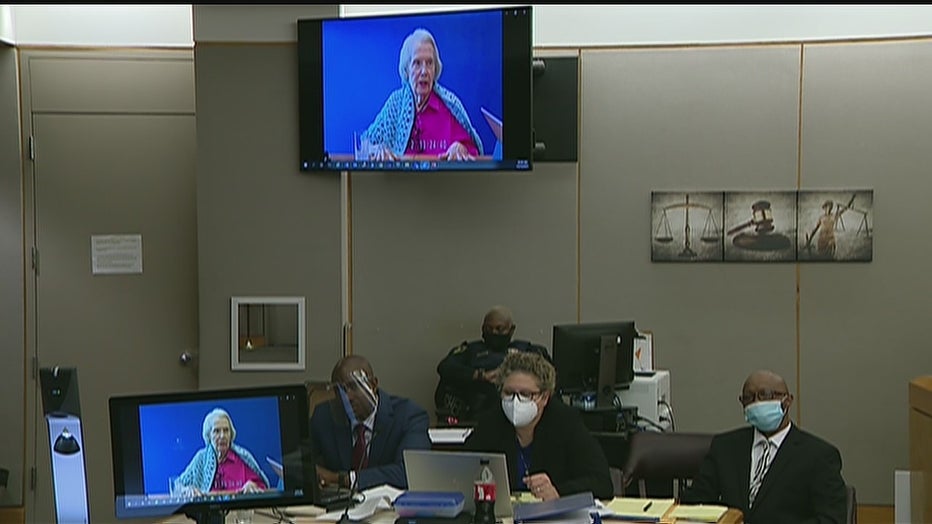 Investigators developed Chemirmir as a suspect based on her account and a suspicious vehicle seen prowling around nearby senior communities. The next day, Chemirmir was tracked to his apartment.
Photographs were shown of Chemirmir being taken into custody. 
Detectives say he had in his possession an envelope with cash and jewelry. A jewelry box police say he had just thrown away led them to a Dallas home, where Harris was dead in her bedroom, lipstick smeared on her pillow. Chemirmir is on trial for her murder. Prosecutors say he followed Harris home from a Walmart and smothered her.
After her death, investigators re-opened several cases initially classified as "natural causes," leading to the 18 counts in Dallas and Collin counties.
Family members representing 11 of those women were in the courthouse Monday watching from another room due to COVID-19 safety protocols. Among them was Dallas Cowboys star and Pro Football Hall of Famer Cliff Harris. His mother-in-law is believed to be one of the victims.
"Here we are sequestered up in a room where we can't do it and I think it's completely unfair," Harris said.
"To know that is what your mom went through as well yeah it's hard. It's horrifying to know that's what our dear moms went through," said Cheryl Pangburn, Marilyn Bixler's daughter.
If convicted, he faces up to life in prison. Prosecutors are not seeking the death penalty.
There are plans for at least one other trial. If Chemirmir is not convicted, there could be as many as 18 different trials. One former prosecutor believes there's a clear path to conviction in this case.
READ MORE:
Dallas serial killer suspect indicted on 18th murder charge
Dallas County won't pursue death penalty for alleged serial killer Billy Chemirmir
Source: Dallas murder suspect linked to other home health care deaths
Suspected serial killer linked to 3 more murders at North Dallas nursing home
Police: Murder suspect may be linked to more elderly deaths in North Texas
Police working through tips in serial murders investigation
Healthcare worker charged in Dallas woman's death accused of killing 6 others