North Texas gets several inches of snow, single digit temperatures Monday morning
DALLAS - North Texas got a couple rounds of snow Sunday and now there are single-digit temperatures Monday morning, with subzero wind chill values.
The FOX 4 Weather team said most of North Texas got several inches of snow, but the highest total of accumulation was to the northwest and southeast of the Metroplex.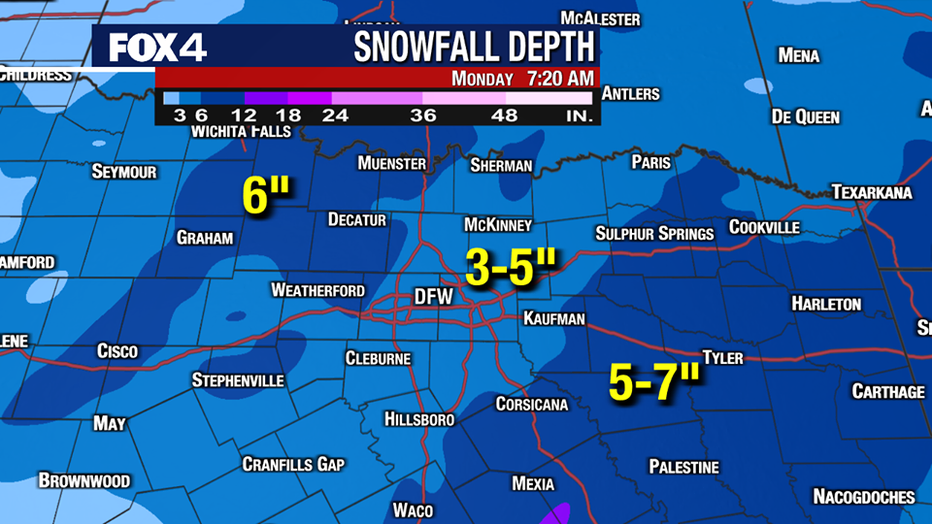 Single digit temperatures and gusty northwest winds will keep the wind chills below zero Monday morning. Even as the temps climb into the teens in the afternoon, the wind chills will still only be near zero.
The subzero wind chill values will be "life-threatening," and North Texans are reminded to check on the four P's: People, Pets, Plants, and Pipes.
A Wind Chill Warning has been issued for most of North Texas until Tuesday at noon, due to wind chills as low as -20 expected.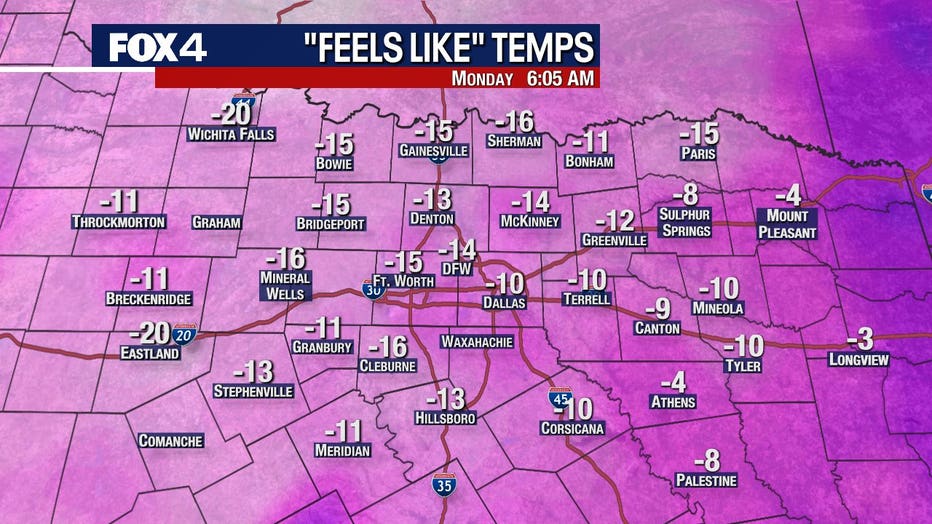 A Federal Emergency Declaration has been issued for Texas as the entire state deals with the severe winter weather.
There are more than a million power outages reported across North Texas, as ERCOT has asked Texans to conserve energy due to record electric use during the winter weather and extreme cold temperatures.
RELATED: Rolling power outages ordered across Texas as energy demand reaches record high
Every county in Texas was under a Winter Storm Warning from the NWS.
The Winter Storm Warning for North Texas is in place through Monday at 6 p.m.
Overnight, the temps will drop back into the single digits with many areas close to zero by Tuesday morning. It will be a record low.
Tuesday will start off with a bit of sun but the next storm will be gathering steam to the west. Fortunately, the winds will be fairly light and the temps will return back to the low 20s later in the day.
Even with temps well below freezing, the ground temps will get back to 32 to 34 degrees. That means sleet and freezing rain will be possible. Areas to the north and west may stay cold enough for all snow.
A wintry mix Wednesday morning could turn to snow in the afternoon with highs in the upper 20s.
Gusty northwest winds will return behind the storm at night into Thursday morning dropping temps back into the teens with chills near zero. At least the clouds will clear out Thursday and the sun will return so temps will get back into the 20s.
After one more very cold morning Friday under clear skies and light winds, sunshine should be around to finish the week. By Friday afternoon the temperatures will finally head above freezing.
RELATED: Federal Emergency Declaration issued for Texas due to severe winter weather
Travel is expected to be "heavily impacted, if not impossible," starting on Sunday, according to the National Weather Service.
RELATED: Crews out monitoring North Texas roadways as more winter weather expected Sunday night
TxDOT crews are busy making sure North Texas roads are as drivable as possible with winter weather making driving conditions tough.
The winter weather has also forced nearly 1,000 flights to be cancelled at area airports Sunday.
RELATED: Hundreds of flights cancelled at Dallas airports due to the winter weather