Rolling power blackouts turn into lengthy outages in Texas as energy demand reaches record high
DALLAS - Rolling power blackouts happening across North Texas and the state since early Monday will continue into Tuesday, officials with Texas' electrical grid operator said Monday.
The Electric Reliability Council of Texas or ERCOT ordered them because there was too much demand for electricity in the record cold. Rolling outages began around 1:30 a.m. Monday when it reached its highest emergency alert level.
ERCOT says there were about two million Texans without power as of Monday afternoon, including 9000,000 in the four big North Texas counties.
LINK: Texas Power Outage Map
But what was supposed to be 10 to 45 minutes in the dark turned into hours.
Overnight, multiple generators tripped off-line and reduced the state's power supply. As demand continued to increase, more power generators went out.
To preserve the reliability of the grid as a whole, ERCOT activated level three of their energy emergency alert plan and turned to transmission companies like ONCOR and asked them stop delivering power where they could in an effort to force conservation.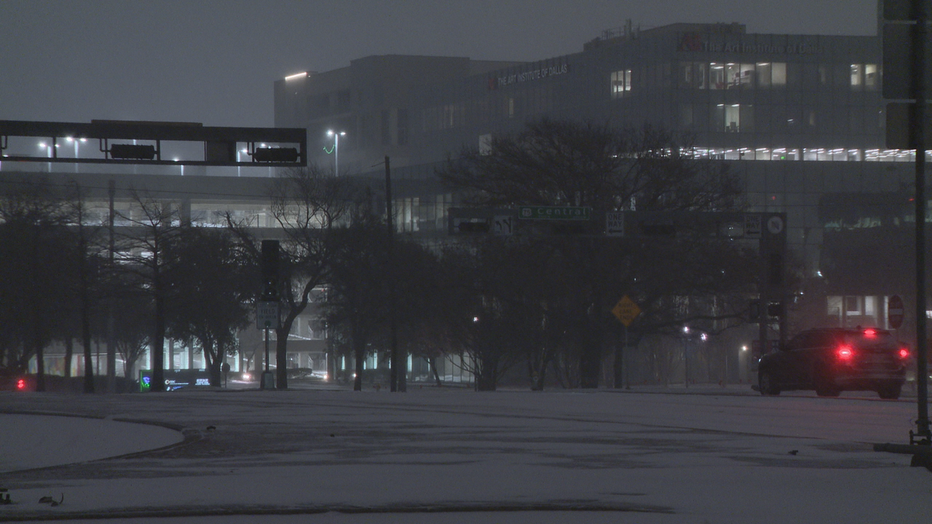 Oncor has only been giving vague answers about the rolling outages, saying it's a combination of the extreme cold and high demand for power.
"The increased demand and the load has resulted in some of our transformers having equipment failures because they are having to run like it's a 100+ summer day here in February," said Oncor spokesperson Kerri Dunn.
Many without power want to know why the rolling outages do not appear to be evenly shared among households or why, with the forecasts of dangerous storms temperatures out there for days, in a span of about 12 hours Sunday the lengths of the rolling blackouts announced went from an estimated "less than an hour" to an "extended period of time."
ERCOT, which does not own the power plants or energy generation systems, ordered the blackouts which Oncor is executing.
ERCOT says the escalation of the outages happened because of that weather that, again, had been in the forecast for days.
"It was this extreme cold weather that came in overnight and forced those units to go offline," said ERCOT spokesperson Leslie Sopko.
Oncor says people that do not lose power at all may be by a hospital or first responder facility, even though many without power say that is not the case.
"For you to not lose power, you might be next to a critical facility or on the same line as a critical care facility," Dunn said.
The Dallas skyline also looked different Monday. Reunion Tower and other buildings shut their lights off to help conserve energy.
The Dallas Stars postponed Monday night's game at the American Airlines Center to conserve energy.
Oncor says its focus is shortening the length of time the additional rolling outages still to come.
"Our goal is for them to not last as long as they have," Dunn said.
ERCOT said the supply of natural gas to power plants is being limited and some wind turbines are frozen. So, keeping up with the amount of power being used across Texas is even more difficult.
Texas set a new winter record for energy demand Sunday night breaking a record set three years ago.
With temperatures hovering in the low teens and single digits during Monday and plunging near zero overnight, demand will stay high. ERCOT urged people to conserve as much power as possible.
RELATED: Tips for conserving power and what to do if you lose power during North Texas snowstorm
There are some crucial things you can do like keeping your thermostat set at 68 degrees, avoid using large appliances like dishwashers, washing machines and dryers and turning off non-essential lights and appliances
If you do lose power, some things you can do to conserve heat are closing blinds and curtains, stuffing towels or rags in cracks under doors and closing off rooms that aren't being used.
Along with bundling up in several layers, eating is important to stay warm. 
RELATED: Zero degree temperatures possible for some in North Texas early Tuesday