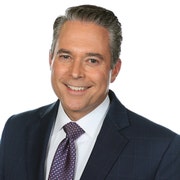 Brandon Todd
Anchor/Reporter
"Everyone has a story to tell."  And, I have been honored to cover these stories at FOX 4 for more than two decades. I started out as a Reporter on the morning shift and was part of several award-winning breaking news stories. Now, after several years of reporting across the metroplex, state, and country covering stories for our evening newscasts, I'm back on Good Day each weekday. I co-anchor the 4-6 a.m. newscasts with Hanna Battah and then I report on the news of the day which can be anything – including breaking news events, politics and I might even end up tossing footballs at The Star.
My story began in the Midwest where I grew up, transitioned to Florida where I worked in newsrooms in Sarasota and Ft. Myers until eventually making the trek to Texas and my home right here at KDFW.
In my more than two decades here, I have covered the shuttle disaster in east Texas, various hurricanes over the years, the explosion in West, and hundreds of local stories here in North Texas.  Thousands of people have shared their lives and hearts with me on camera, and I am thankful.  It is a pleasure to give back to the local community, and I give my time to various local DFW events such as the March of Dimes March for Babies in Ft. Worth, CONTACT Teen Program, and many others. And, some of the best questions I've been asked have come from students during my career day presentations.
God's greatest blessing to me though is the time that I get to spend with my wife and sons.
I love this station and the talented folks with whom I work, and every day I am proud to call Texas home.
Thank you for trusting me to tell your stories.  You can e-mail me at brandon.todd@fox.com. Thanks for watching FOX 4.
The latest from Brandon Todd
A couple from Carrollton is stuck in Mexico right now after both tested positive for COVID-19. Their three-day getaway has turned into a weeks-long medical ordeal.
The FEMA vaccination hub at AT&T Stadium and is expected to be open seven days a week for at least the next couple of weeks.
Food expert Trey Chapman had some extra time to be together an update to one of his most popular lists focused on barbecue. Here's a sample of what he shared with Brandon Todd
A North Texas family that was among thousands experiencing power and water problems during the winter storm got help from 1,500 miles away.
Texas is facing an influx of migrants at its southern border. Gov. Greg Abbott is attributing the surge to the White House's immigration policies.
ERCOT said the power could return to normal as early as Thursday, but the CEO said it's not likely.
There is still no indication when power will be restored for millions of people in Texas.
As of Tuesday evening, more than 500,000 Oncor customers are without power in North Texas and many of them spent most of Monday in the dark.
There are serious questions about whether a Fort Worth highway that was the scene of a huge pileup accident was treated for ice before the calamity.