Southwest Airlines cancellations: Dallas-based carrier offers 25,000 reward points to affected travelers
DALLAS - Southwest Airlines is doing damage control after canceling thousands of flights during the holidays.
The travel troubles also left the Dallas-based carrier facing a class-action lawsuit. 
Southwest Airlines operations have returned to normal a week after their holiday travel failure. 
Hundreds of thousands of travelers were stranded at airports for days due to canceled flights. 
Cole Sanford and his girlfriend Ashlyn Beadel's flight back to Dallas from New York was canceled the day after Christmas. They got engaged on Christmas Eve.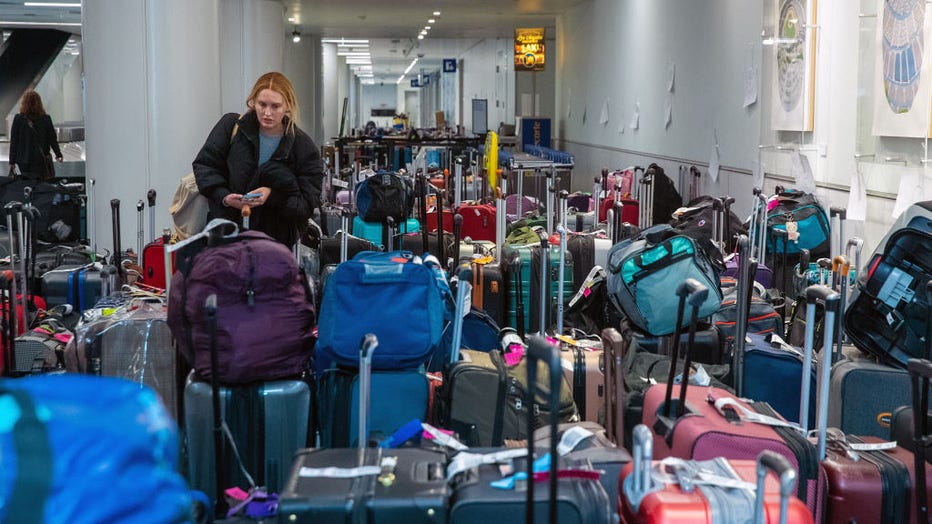 A traveler, after Southwest Airlines flight from Dallas cancellation, drove 22 hours non-stop to Los Angeles and looks for her luggage at baggage claim in LAX Southwest Terminal 1 on Tuesday, Dec. 27, 2022 in Los Angeles, CA. (Irfan Khan / Los Angele
Because of the cancelation, the two rented a car in Philadelphia and drove back to Texas. 
"There was limited cars," Sanford said. "We were lucky to get a car."
This week, the Dallas-based airline is doing damage control.
Customers Tuesday got an email from the company apologizing, saying it is processing refunds and reimbursement requests. Affected passengers were also given 25,000 Rapid Rewards points. 
Wayne Taylor teaches marketing at SMU. He says in this situation the best thing for Southwest to do to retail customers is to communicate often and effectively and also bite the bullet on reimbursing customers. 
"We know the points don't cost them as much as hard cash that some people have paid for these flights," he said. "So they really have to think carefully about if that's the best move for them to build a real loyal customer base."
The Rapid Rewards email didn't impress passenger Ashlyn Beadel.
"I'd rather have my money back," she said. "I appreciate the gesture and I get it, but Rapid Rewards points isn't going to do anything to fly with Southwest again."
In the email, Southwest told customers, "It's important to point out that this gesture is in addition to customers' reimbursements and refunds on flights and incidental expenses related to their recent disruption in travel." 
Beadel, who often travels for work, still is not flying with the airline anytime soon. She had a regularly scheduled January flight with Southwest but isn't going to fly with them.
At least two people are starting the process of a class action lawsuit against Southwest. More could soon follow.