Southwest Airlines dealing with sea of lost luggage, what you should do if you can't find your bag
DALLAS - The crowds may be starting to thin out at Dallas Love Field, but hundreds of bags sit waiting to be claimed at Dallas Love Field after mass Southwest Airlines cancellations at airports across the country.
"We received one bag with the flight, but four others were missing," said Southwest passenger Chris Olson.
Olson arrived in Dallas on Christmas Eve, and found one of the bags from his Denver flight on Wednesday.
Other passengers haven't been so lucky.
"They said don't worry your bags will get to Dallas before you, and I was like, 'that don't make no sense,' but when we got here our bags weren't here. We had a connecting flight to Houston," said Jailon Welch.
Welch later found out his bags never left Chicago.
"So we've been here for 3 days with no clothes," he said.
If your luggage is lost because of a canceled flight, here's what you should do.
A Southwest Airlines representative said customers can find information about lost baggage and file a claim by visiting www.southwest.com/help/baggage/lost-damaged-baggage.
READ MORE: Southwest Airlines flight cancellations continue; USDOT to examine airline's role in holiday travel nightmare
Customers are urged to file a report at the airport's baggage claim office before leaving the airport. 
At Love Field it is a couple hours wait.
"It's been rough we have our children with us, it's their first time flying," said Aqua Jones.
Those who have already left the airport can call the airline's customer service hotline at 1-800-435-9792. But the airline rep admitted phone lines will be busy because Southwest is receiving a high volume of customer service calls right now.
"Our team is utilizing its standard procedures for returning baggage during irregular operations. We will make every attempt to reconnect customers with their baggage at no cost to the customer – we will use shipping partners to return baggage, where appropriate," Southwest Airlines said in a statement.
"I say that this situation is as unprecedented as it is unbelievable," said Gabe Saglie, a senior editor with Travelzoo.
He says stranded Southwest Airlines passengers have been hit with a double whammy.
"Airports have become baggage purgatory really across the country. And just another way that that travelers have been completely separated from a travel experience that was supposed to be memorable, that was supposed to be heart-warming," said Saglie.
TWU Local 555, the union that represents more than 17,000 Southwest Airlines ground workers said crews have been working 16 to 18-hour days during the holiday season.
According to the union president, some have gotten sick, and even gotten frostbite, over the past week while working outside in dangerously cold conditions.
Southwest hasn't given a clear answer why bags arrived as scheduled and others remain missing. Apparently another casualty of the airline's complicated point-to-point scheduling system.
Passengers we spoke to are frustrated to say the least.
"It's been a nightmare. It really has been. No doubt about it."
Rebooking a Southwest Airlines flight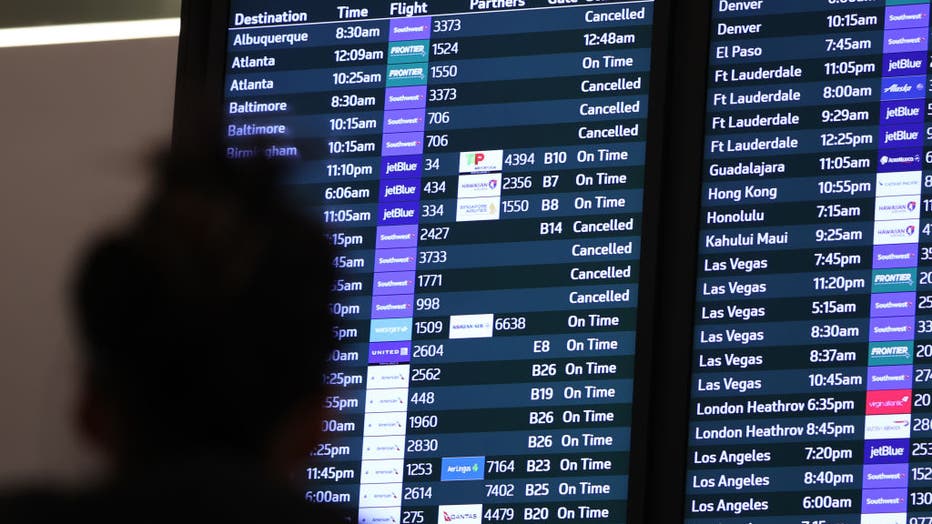 An information board is seen by the Southwest Airlines counter at San Francisco International Airport (SFO) in San Francisco, California, United States on December 26, 2022 as Southwest cancels more than 2,800 U.S. flights on Monday amid fierce winte
Travel expert Troy Petenbrink said the travel mess with Southwest Airlines will be one for the history books. More than 5,000 flights were canceled by Southwest on just Monday and Tuesday.
"As soon as you find out your flight is canceled, you want to see if you can get rebooked," Petenbrink said. "That means going to the customer service desk, getting online, getting on the phone."
READ MORE: Southwest Flight Cancelations: What you may not know about rebooking flights, lost luggage
He said it helps to have the numbers for the airline you're traveling with pre-programmed onto your phone because, in situations like this, seconds count.
Petenbrink also said it helps to be proactive and already know some solutions available to you when you get in contact with customer support.
"Suggest a different airline…suggest a different airport," he says.
Another alternative to think about is getting reimbursed by your credit card company.
"Many credit cards have built-in travel protection that most people are unaware of," Petenbrink said. "But oftentimes, you can call up your credit card company and say, 'Hey, can you help me out? Can you book me on another flight?' And they'll pay for that."
Petenbrink said this solution depends on your credit card, and you must have purchased your original flight with that credit card. Your credit card may also have benefits pertaining to lost luggage, so make sure to ask about that as well.
READ MORE: Flight canceled? Can you get a refund? Here's how to find out if you're owed money
If your situation gets to the point where the airline cannot book you on any flights and they offer you a travel voucher, Petenbrink said do not take it.
"It oftentimes comes with restrictions or even an expiration. Take the cash. That's your money – get it back," he said.
Petenbrink said airlines won't always offer you the cash up front, but if you ask for it, you will get it.
To prevent the headache of delays and cancelations in the future, Petenbrink said spending the extra dollars on travel insurance when you buy your ticket is worth it.
Southwest Airlines refunds and reimbursements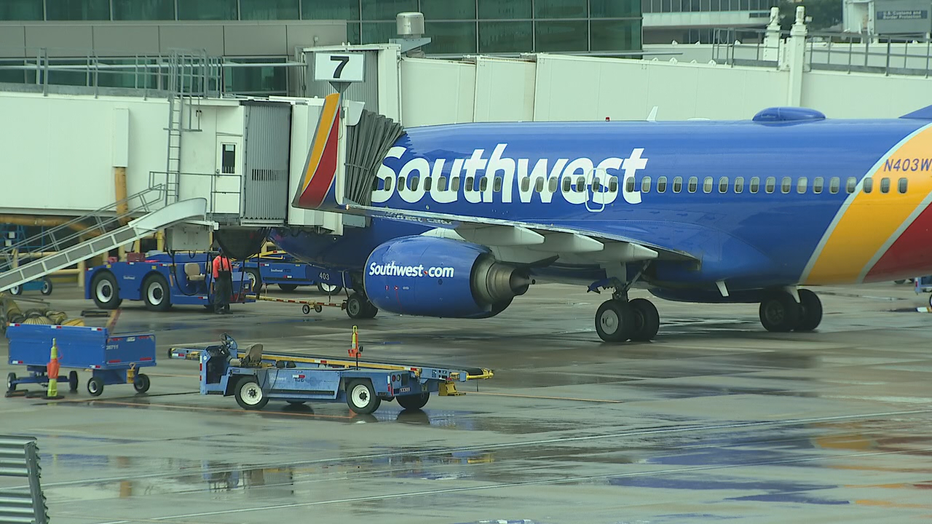 Southwest Airlines gate at Dallas Love Field
If your flight got canceled, you are entitled to a refund or some type of compensation.
The U.S. Department of Transportation's Airline Customer Service Dashboard lists the policies of various airlines, including Southwest.
Southwest has also created a website for people affected by the holiday travel meltdown. 
Customers can request a Southwest Airlines refund for canceled flights or submit a Southwest Airlines reimbursement claim for additional expenses such as hotel stays or a rental car. 
Remember to make copies of all receipts for those additional expenses in case you are asked to provide proof.
FOX 5 DC contributed to this report.