Parents of Plano teen who died from fentanyl hope sharing Sienna's story will help others
PLANO, Texas - The parents of a Plano Senior High School cheerleader said their daughter died after taking just one pill that was laced with fentanyl.
They added there's still so little known about the dangers of drugs laced with fentanyl.
Sienna Vaughn thought it was a common painkiller, instead, it had a deadly dose of fentanyl.
The DEA says fentanyl is typically made in powder form in China. It's then pressed into pills in Mexico and smuggled across the U.S. border. It's been killing people, including kids.
"She was just living her 16-year-old life," Sienna's mother, Stephanie, said.
RELATED: Senate passes bill opening door for prosecutors to charge fentanyl distributors with murder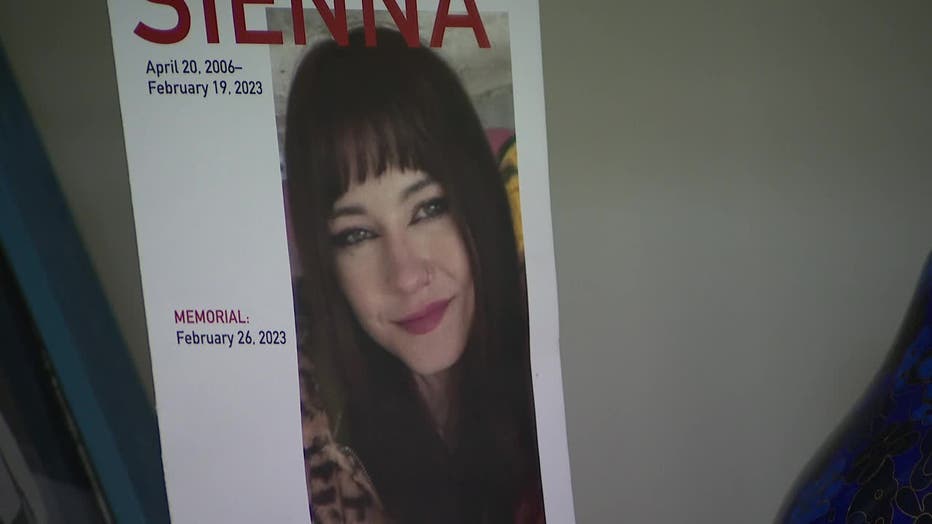 "We would go to concerts. That was our like bonding activity," Sienna's father, Ryan, added. "She loved thrifting. She'd go out with her friends all afternoon and thrift and get fast food. Just typical teenage stuff."
Sienna was home with a friend on Sunday, February 19.
"They were just like having a great time downstairs, eating snacks, goofing off," Stephanie said.
The kids went upstairs. Later on, Sienna's mother went to check on them.
"And so I walked up to her room, knocked on the door…she didn't answer, opened the door, and I found her and her friend laying on the bed. Her friend was making this weird gurgling noise and I saw Sienna and she was just so pale. Her lips were already turning blue," she recalled. "I immediately said, 'Call 911, call 911.' I jumped over her friend. I tried to do a couple compressions on the bed, and it wasn't working, so I picked her up, put her on the floor and I just started doing CPR."
Medics rushed the kids to a hospital. Sienna's friend survived, but Sienna did not. 
"They tried everything they could," Sienna's mother said.
The teen's official cause of death was fentanyl poisoning.
READ MORE: Man arrested in Plano after officers find 6,000 fentanyl pills in his car
"It's not for lack of parenting. It's just lack of knowledge, lack of knowledge," Stephanie said.
Sienna's parents said they later learned their daughter bought a pill from someone who told her it was Percocet, a prescription pain med.
"They didn't know what they had. They didn't know it was fentanyl," Stephanie said.
In 2022, the Drug Enforcement Administration said it seized more than 11 million deadly doses of fentanyl.
They are also being sold on school campuses.
This year, in Carrollton-Farmers Branch ISD, three people were arrested for using students to sell deadly drugs on the campuses of RL Turner High School and two middle schools.
RELATED: Carrollton-Farmers Branch ISD takes steps to address student fentanyl abuse following overdose deaths
Three students died, including a 14-year-old student at Long Middle School.
Recently, a fourth alleged fentanyl dealer was arrested.
Those drugs were tied to overdoses in Lewisville ISD.
RELATED: Carrollton man charged after allegedly using arrest of fentanyl suspects to advertise his own drugs
"It's in their schools. It's being sold in their schools," Stephanie said.
"We think that there's a lot of information that's being collected by the police and the hospitals, and even doctors, you know, school people, that is not really getting rolled out to the community fast enough," Sienna's father added.
Sienna's parents said her death still doesn't seem real.
"We were involved. We were here," her mother said.
They want parents to talk to their kids, and kids to talk to their parents.
"It can happen to you. It can happen in your house with you downstairs, just doing what you're doing," Stephanie added.
It's painful for them to share Sienna's story, but they believe it's important to not hide from conversations about fentanyl.
"She was a good kid. She was caring. She was beautiful. She had a bright future," Stephanie said of her daughter.
Fentanyl Overdose Awareness Resources
Plano ISD Drug Awareness and Prevention Alert
Community event from Plano ISD scheduled for March 21 at 6 p.m.: Facts About Fentanyl and THC
Plano Police Department is hosting a Fentanyl Drug Forum on Thursday, March 30 at the Plano Event Center — 2000 E. Spring Creek Pkwy. — at 6:30 p.m.