Grapevine Weather Damage: Probable tornado hits businesses near Hwy. 114
GRAPEVINE, Texas - The city of Grapevine was hit hard by a probable tornado that touched down Tuesday morning.
Five people were injured in the storm, but none of the injuries were life-threatening.
Grapevine Police Captain Todd Dearing said people in the Sam's Club parking lot off Hwy. 114 reported seeing the tornado.
Krystina Clark rode out the storm in an RV in the store's parking lot.
"We started seeing debris flying everywhere," she recalled. "We didn't see the actual semi take off. We heard the boom. We seen the light flash, and that's all. We started getting a little worried about it."
Sam's and several neighboring businesses suffered damage. 
Grapevine police also tweeted a photo of an 18-wheeler that overturned in the Sam's parking lot.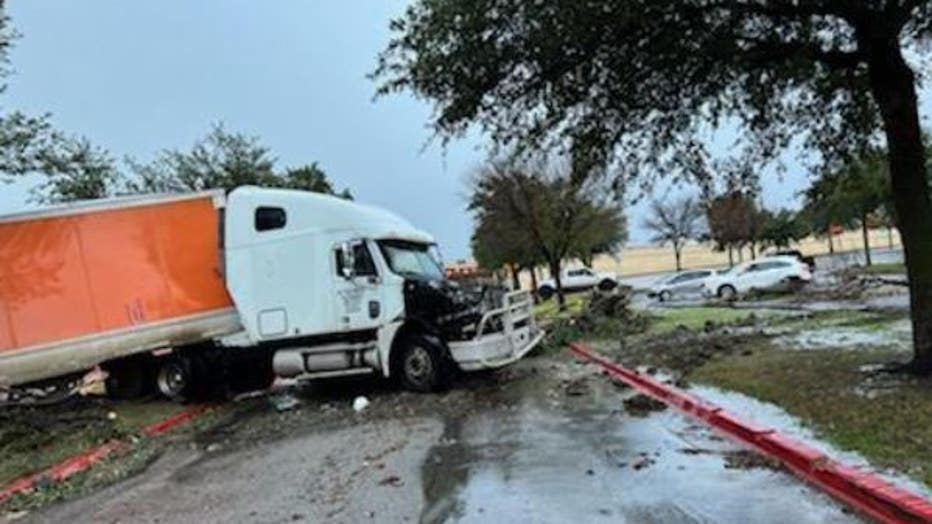 Twitter user Blondies_77 shared a photo from inside the store showing a collapsed roof.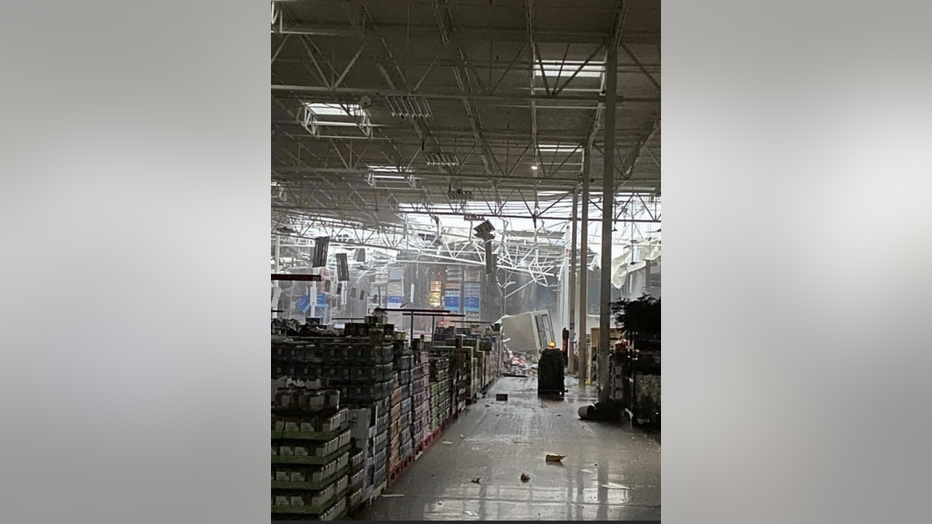 (Source: Twitter/Blondies_77)
Two car washes located across the street also suffered some damage. A service bay was shredded.
Natasha Thompson owns Waffle Way.
"It was just like craziness," she said. "That's the window that blew out, and we had a Christmas tree."
Thompson and her daughter were inside the restaurant, along with one customer, when heavy winds tore through.
"Our side door swung open. And then the next thing I know, he's yelling at us to take cover," she recalled.
"The whole experience lasted about 30 seconds from us running to get back there and it ending," said Thompson's daughter.
Across the street, another restaurant under construction suffered minor damage.
Bohemian Bull owner Dennis Johnson is determined to open next month as planned.
"Thank goodness no one was working at the time of the weather this morning," Johnson said. "We'll be welcome back quickly."
FOX 4 viewer Miles Abbott shared video from inside Discount Tire as the possible tornado moved through the area. A couple of employees were injured from flying debris.
SEVERE WEATHER COVERAGE:
Dearing said debris that was tossed onto the roadway damaged cars that were on Hwy. 114 at the time.
Up to 8,000 customers lost power in the morning. The REC of Grapevine opened as a shelter for people without power. It will stay open until 10 p.m. or later if it is needed.