Carroll ISD addresses Holocaust controversy at latest school board meeting
SOUTHLAKE, Texas - Carroll ISD's school board president addressed the latest in a series of controversies plaguing the district.
Her remarks were made at the start of a packed school board meeting Monday night.
Last week, a secret recording involving an administrator using the Holocaust as an example to explain a new law launched the district back into the spotlight.
The district has been plagued by controversy for years over racist videos, a now-delayed diversity program and teachers being punished over books in their classrooms.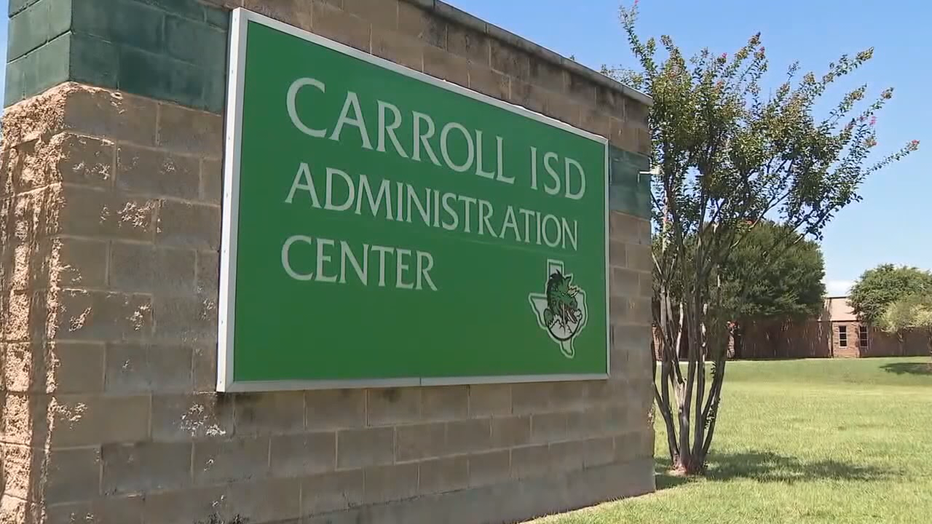 Dozens of parents, students and teachers lined up to speak about it at Monday night's school board meeting. 
For more than two hours, many parents, teachers and alumni took to the podium to share opinions over the latest controversy out of Southlake, calling the district divisive. 
Dozens filed into the school board to speak just days after a Carroll ISD administrator was recorded suggesting to teachers if they have a book on the Holocaust then they should offer a book with an opposing view.
MORE: Southlake Carroll ISD teachers told Holocaust lessons need 'opposing viewpoints'
On the secret recording obtained by NBC News, the administrator, identified as Gina Peddy, referenced HB 3979, a bill passed over the summer requiring Texas teachers to include multiple perspectives when discussing controversial social events in history. 
"Make sure that you have a book on the Holocaust that you have one that has an opposing that has other perspectives," she said in the recording.
"How do you oppose the Holocaust?" Peddy was asked.
"Believe me, that's come up," she said.
While some in attendance Monday night didn't necessarily agree with the example given, they took the time to praise the person who gave it.
"I do not believe she is racist or anti-Semitic," one parent said.
"I feel there must be more to the story or some sort of misunderstanding," another parent said.
Others called for the administrator to be fired. 
"Being a decedent of Holocaust victims, this is completely unacceptable," one parent said.
"I am ashamed and disgusted by what is going on here," another parent said.
Monday night, School Board President Michelle Moore promised to work with teachers on clarifying the law, which takes effect in December. 
"Together, we are identifying areas we continue to excel and those that need improvement," she said.
President of Alliance American Federations of Teachers Rena Honea calls the law vague, causing stress and confusion among districts. 
"Unfortunately, this is a real effort to politicize our educational system," she said. "You are talking about a law that is put in place that calls for interpretation. And it doesn't always have an opposing viewpoint, and they are creating that."
Earlier this month, a Southlake teacher was reprimanded after having a book titled "This Book is Anti-Racist" in her classroom. At first, she wasn't reprimanded after a student brought it home and upset a parent.
Parents appealed that decision and won.
Monday night, some teachers say now they do not feel safe.
"I do not feel supported as a teacher or a professional," one teacher said.
"Please help restore my faith in this district," another teacher said.
Controversy at Carroll ISD has been ongoing ever since a cultural diversity plan was delayed. It was developed after an offensive video involving students made headlines in 2018.
"Three years later and you've done nothing. Nothing has been done," one parent said. "The media will keep coming until you keep your promise."
The diversity plan was halted after parents alleged board members violated the Open Meetings Act while discussing it. 
In May, two board members won their seats campaigning against the drafted plan. 
MORE: Frustration continues in Southlake over Carroll ISD's delay of new diversity plan
Now, some parents are questioning if Southlake will stay as their home. 
"It's just a shame, and I know many constituents are in the same boat now," one parent said.
As of Monday night, Peddy is still employed with the district.
CARROLL ISD COVERAGE:
Group of Southlake parents meet with the mayor over Carroll ISD's delay of new diversity plan
Carroll ISD board considers $400K plan to address racism, diversity
Carroll ISD School Board to vote on cultural competence action plan
Carroll ISD trustees arrested, accused of violating Texas Open Meetings Act