Blood Shortage: North Texans asked to give blood amid nationwide shortage
DALLAS - The American Red Cross said it is in need of blood donations across the country.
When natural disasters hit, like Hurricane Idalia, it puts a further strain on the supply.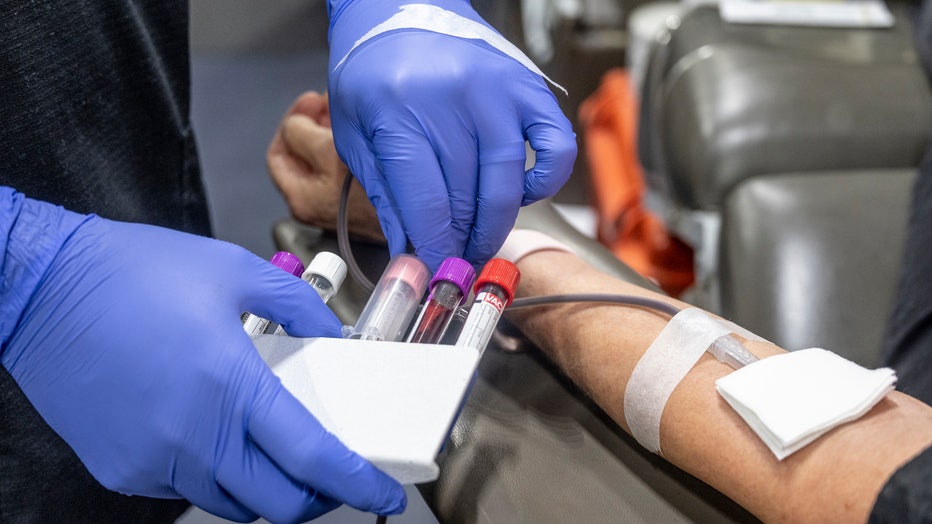 A nurse fills test tubes with blood to be tested during an American Red Cross bloodmobile in Fullerton, CA on Thursday, January 20, 2022. (Photo by Paul Bersebach/MediaNews Group/Orange County Register via Getty Images)
There are several opportunities across North Texas to give blood this month.
The North Texas region, like the nation, is in the middle of a blood shortage.
One whole blood donation can save up to three lives.
The American Red Cross is once again in desperate need of blood donations. 
"We're seeing a shortage of blood nationwide. Part of that was from the summer, a really busy travel season, back to school, all of that, but especially because of Idalia, Hurricane Idalia. We were unable to, we had to cancel about 12 blood drives," said Linda Braddy, CEO of the American Red Cross North Texas Region.
Nationwide, the blood supply has fallen by about 25%.
"As of August, we were 30,000 units short from this summer," Braddy said. "And Idalia made it worse and exacerbated the problem."
Braddy said, daily, to meet the needs of 2,500 hospitals and transfusion centers across the country, the American Red Cross needs to collect 12,500 donations every day to meet the need. 
Blood type O is the most common type and O-negative is a universal donor.
"Everyone can accept O-negative. So we have a shortage of all blood types, but in particular, we have an emergency need for platelet donors, and type O blood donors," Braddy said.
She said donating only takes an hour out of your day.   
"I always thought I wanted to try and save someone," blood donor Jennifer Strong said.
Strong donates blood three or four times a year, and has been giving blood for the last 20 years.
"It makes me concerned about all the people that are struggling and suffering, so I just want to do what I can," Strong said.
It's also easier for more people to donate. 
This year, the Red Cross changed how it screens donors.
Now, all potential donors are asked the same screening questions, regardless of their gender or sexual orientation. 
Emily Wiles said she donates to make sure hospitals don't run low on critical supplies. 
"I think it's really important to recognize that there wouldn't be a national shortage if we donated regularly," Wiles said. "It's one way we can make sure that hospitals and doctor and nurses and people are not in crisis."
Click here for more information on how to donate blood with the Red Cross.