North Texas man gets longest sentence yet for role in Jan. 6 Capitol riot
DALLAS - Guy Reffitt of Wylie was sentenced to more than seven years in prison for his actions during the January 6 attack on the Capitol. 
Judge Dabney Friedrich handed down the 87-month sentence Monday afternoon in federal court in Washington D.C. It's the longest sentence for a defendant charged in the attack so far.
The prison time will be followed by three years of supervised release.
The Collin County man stormed the Capitol with a holstered gun. Jurors found him guilty of five charges, including obstructing congress and interfering with police.
The Justice Department was pursuing a 15-year sentence for Reffitt. His defense attorney asked for no more than two years.
Federal prosecutors did not get the terror enhancement against Reffitt or the sentence they were pushing for.
RELATED: Capitol riot trial: Guy Reffitt guilty on all charges in Jan. 6 insurrection
Former U.S. Attorney Paul Coggins said Reffitt's own words came back to haunt him.
During his trial, prosecutors played voice recordings and showed text messages of Reffitt bragging about the violence.
"The biggest thing that convicted Reffitt were his own words. That is going to come back and haunt these Jan. 6 defendants is their own words. I mean, this guy took video of himself as he was going to Washington basically taking weaponry and zip ties to storm the Capitol," Coggins said. "Obviously, the government is trying to send a message that some real time is coming down. This is not going to be a slap on the wrist if you're found guilty."
Prosecutors say Reffitt planned the attack on the Capitol and drove from Wylie to Washington, D.C. to carry it out.
Reffitt, a former member of the far-right militia group the Texas Three Percenters, told the judge he "regrets" his actions on January 6 and said he acted like a "f****** idiot". He went on to apologize to Capitol Police officers, Congress and the judge.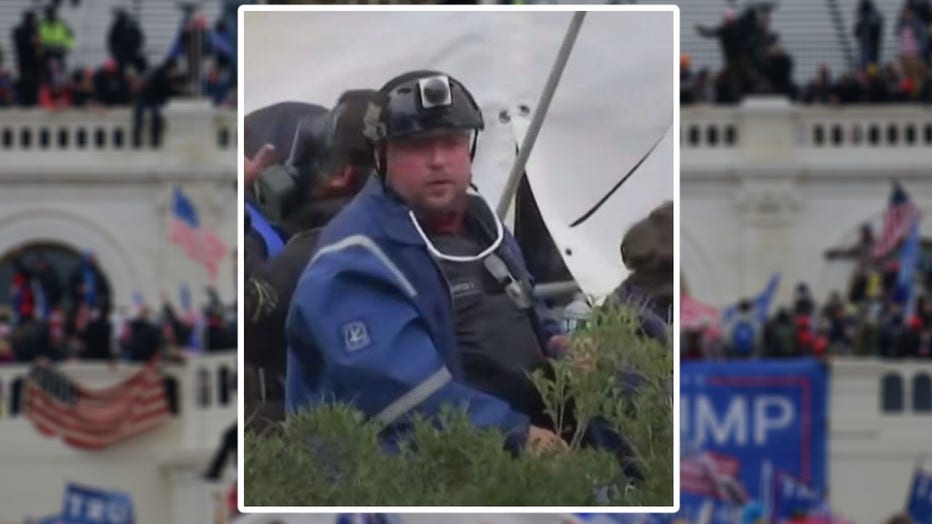 WASHINGTON, DC, JANUARY 6: Supporters of President Donald Trump storm the U.S. Capitol and surrounding statues and scaffoldings set up for the inauguration for President-elect Joseph Biden in Washington, D.C., January 6, 2021. (Photo by Astrid Riecke
"I think it was important for a lot of reasons. I think it helped get some things off his chest," said Reffit's attorney, F. Clinton Brioden. "I think it sends a message to other people who thought the actions on January 6 of some of these rioters were appropriate. I think it serves a lot of different purposes."
That includes maybe helping the judge in her decision to depart downward from the guidelines/
Reffitt's wife, Nicole, was indignant after the hearing telling reporters not to trust the House select committees report and to go find, in her words, patriots to talk to about what she says really happened.
"What Guy said under duress in there is one thing," she said. "My husband was a patriot. Roseanne Boyland was a patriot. And all I can say is that y'all can all go to hell, and I'm going back to Texas."
Reffitt's own 19-year-old son also testified that he and his sister were threatened by their father if they said anything about his actions.
RELATED: Son of Wylie man charged in Capitol riot talks about why he contacted FBI about his father
His wife has not held back on how she feels, saying that the Justice Department is just trying to make an example of her husband.
More than 800 people have been charged with federal crimes connected to the riot in 2021. Of that number more than 200 have been sentenced so far.
Reffitt's case was one of the first January 6 cases to go to trial. 
During the hearing, the judge said had Reffitt accepted a plea, he likely would have gotten a shorter sentence.