Dallas weather: Winter Storm Warning issued for North Texas through Wednesday morning
DALLAS - A Winter Storm Warning has been issued for most of North Texas with the possibility of freezing rain and icy roads in the forecast Monday through Wednesday morning.
According to the FOX 4 Weather team, temperatures are below freezing for most of North Texas and those temperatures will linger through at least Wednesday morning.
That means any precipitation that falls between now and Wednesday morning could turn icy.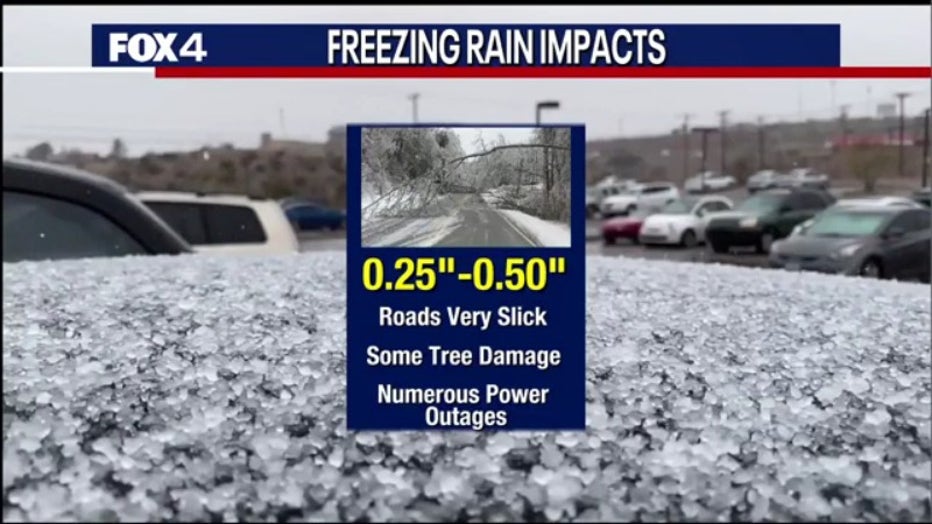 Ice accumulations from 0.25" to .5" are possible, meaning many roads will be slick and very dangerous.
MORE FROM THE FOX 4 WEATHER TEAM HERE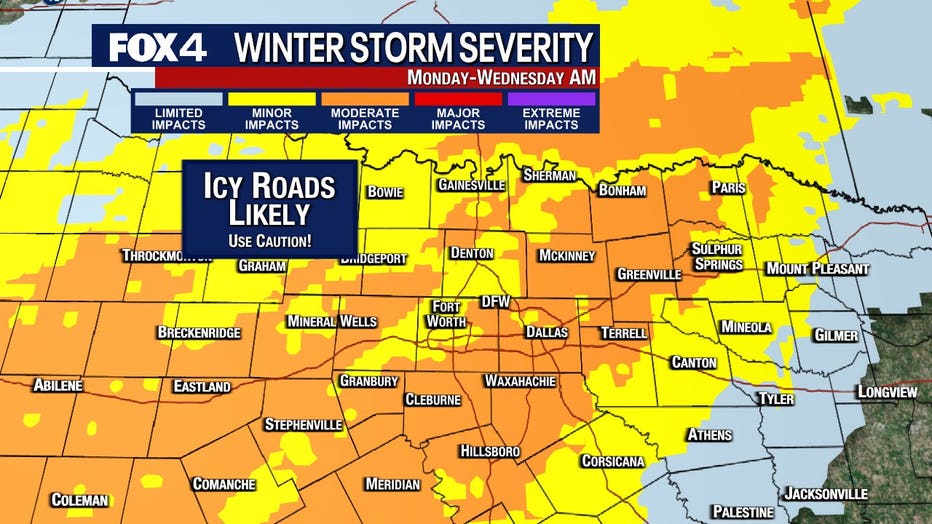 Freezing drizzle early in the morning on Monday led to slick roads and a number of crashes.
That is expected to be the case in many parts of the Metroplex through Wednesday.
The Texas Department of Transportation crews began pre-treating North Texas roads with a brine solution to try to keep the ice and snow from sticking to the roadways over the weekend.
School districts are also monitoring the weather. Several closed on Monday and many others have already made the decision to close on Tuesday.
LIST: School Closings & Delays
Stronger showers developed throughout North Texas on Monday afternoon, producing icy rain and sleet.
MedStar reported 3 people had to be taken to area hospitals on hypothermia-related calls, as of 2:30 p.m. Monday.  
READ MORE: Roads expected to be icy Monday afternoon
Monday evening much of the rain is expected to turn to spotty freezing drizzle.
The temperatures Monday night will still be in the 20s and that could mean some slick spots, especially on bridges and overpasses.
The next wave of rain moves in early Tuesday morning around sunrise. And with temperatures in the 20s for most, the ice potential increases.  Any untreated roads could easily become hazardous, and ice could also build up on trees and power lines.
Hundreds of flights canceled at Dallas Love Field, DFW Airport
While freezing rain could come in waves, it looks as if the most concerning time period is Tuesday through Wednesday morning when surface temperatures will be below freezing.
The arctic air isn't going anywhere, but temperatures should rise above freezing by Wednesday afternoon in most areas. Areas north and west of the metroplex may have to wait until Thursday morning. That's when the bulk of the rain ends, and an upper-level system moves through.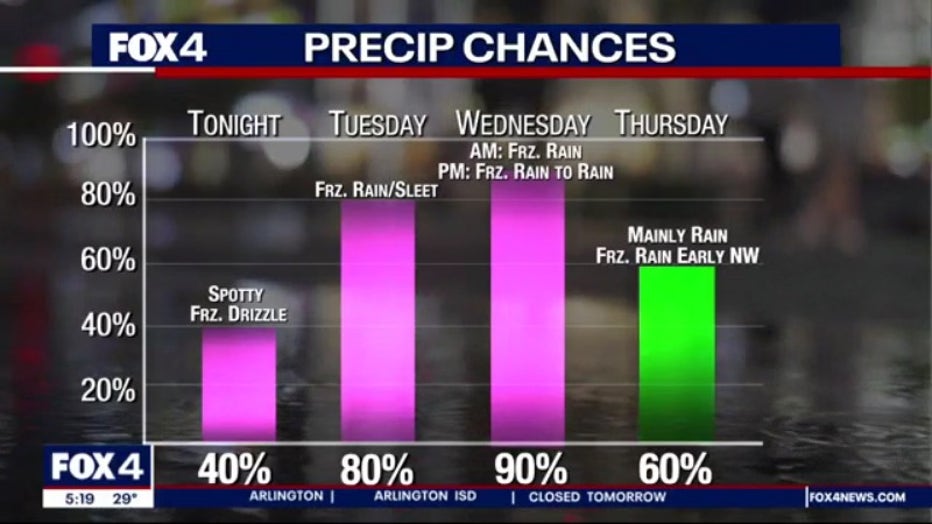 Dallas Zoo closed Monday, Tuesday, Wednesday due to weather
By Friday, the sun returns. The weather should be nice, and temperatures will be in the 50s.
There are no storms in the forecast after that. The highs will get back near 60 Saturday and should be in the low 60s Sunday.
Live Weather Radar
Download the FOX 4 WAPP for updates on severe weather whenever it comes to North Texas. It is free wherever you get your apps.