TAFB shifts hours to help people before the winter storm
FORT WORTH, Texas - The Tarrant Area Food Bank is holding its Wednesday mega mobile event earlier than normal due to the impending weather.
The usual need for food from the TAFB was a bit larger Wednesday.
Families drove to Herman Clark Stadium in Fort Worth for food that will keep them full through the bad weather and beyond
"We live out in the country, and I drove all the way down here, about an hour's drive," Oralia Barnes said.
With temperature dropping, cases of food were being loaded as hundreds of vehicles lined up for food donations just hours ahead of severe winter weather.
Mary Vasquez said she will hunker down.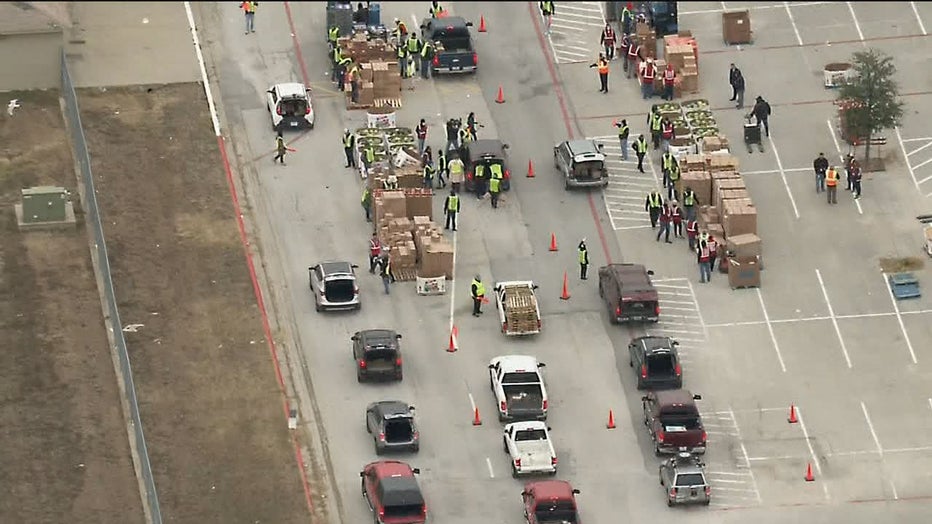 "It's good to prepare because I'm not driving when it's ice. I don't know how to drive in it," she said.
Barnes came to collect food for three families.
"Oh, it's a big blessing because everything is getting so expensive. Can't afford to pay all the bills and have enough for food," she added.
This weekly donation giveaway is usually in the evening hours, but it was moved up because of the winter weather, and that meant an urgent call for volunteers. 
Tarrant Area Food Bank employees are also helping out because the need is that great.
"Prior to the pandemic, we distributed 600,000 meals a week. We are at about 800,000 a week right now, so the need is still incredible," TAFB Spokesman Stephen Raeside said.
"I take care of my mom, I'm her primary caregiver. She has kidney failure. I just feel like this is a big blessing," Cala Cross said.
READ MORE:
Gov. Abbott says ERCOT is well-prepared for winter storm; North Texans brace for the cold
Major school districts closes schools Thursday and Friday due to expected winter weather