Slick roads lead to numerous crashes as winter storm hits Dallas
DALLAS - Dangerous road conditions and continuing precipitation have caused several crashes across the metroplex.
Road crews have been responding to slick spots and are bracing for even bigger problems as a winter storm reaches North Texas.
Hundreds of crashes reported in Dallas
Highways have been a mess all day with hundreds of crashes across Dallas.
The city of Dallas said there weren't enough tow trucks Wednesday afternoon to keep up with all of the crashes. It's only going to get worse Thursday.
Rush hour traffic was filled with sirens and tow trucks. 
The icy conditions will only be worse Thursday, so the advice is to stay home if you can.
For the second time this month, drivers in Dallas County and across the metroplex were met with hazardous roads due to ice.
Temperatures dropped fast Wednesday morning. Just as very light freezing rain and drizzle impacted parts of North Texas. But it was just enough to cause some serious problems on highways, bridges and overpasses. 
Driver Kornelius Jefferson was getting ready to drive to Oklahoma.
"I haven't had any slip or slide yet, but I know there is black ice and stuff and you will catch it," he said. "Checking my oil, about to check my pressure on my tires. So when I hit the road, I won't have anything to worry about."
Between midnight and 5 p.m. Wednesday, Dallas police says there were a total of 364 major and minor crashes. The city of Dallas said there were issues getting them cleared up quickly.
"One of the issues running into is a shortage of tow trucks," said Dallas Emergency Manager Rocky Vaz. "We are working as fast as we can make sure the freeways and the roads are cleared."
The ramp to I-30 West near Riverfront Boulevard was closed. A deputy said drivers were sliding down the ramp backwards while trying to get onto the freeway.
DART also announced its trains won't run again on Thursday. Limited bus service will remain available.
MORE: DART defends decision to shut down rail service during winter storms
Dallas says every DART route was sanded Wednesday morning, and they'll continue sanding through the night.
Across Tarrant County
A pick-up flipped and crashed near Highway 114 and Texas Motor Speedway Wednesday. A driver shared cell phone video showing a good Samaritan pulling free two people inside.
It was just one of multiple accidents on ice-patched roads in across North Texas, sobering to many experienced drivers. 
"Trucks starting to slide all over the place. I told my supervisor I think I better go ahead and leave because I've got to go north to make it there," said driver Keith Echols. "I'm trying to make it there before it comes down even harder."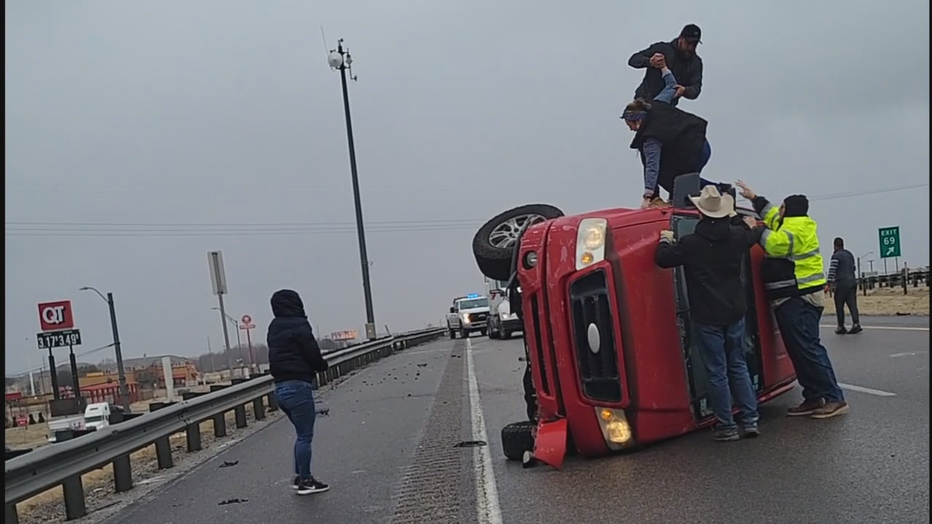 Retired Navy veteran Philip Powell ventured out to get gas.
 "I took all the back roads so I didn't take the highway because I noticed it was backed up and there's a lot of bridges from my house to here. So I said I'm not going to do it," he said. "Even you can tell the ice is accumulating more. It's getting worse. So I just came straight here and I'm gonna go straight back."
Vehicle hauler Cedric Smith says he's never had to negotiate icy bridges with a full load, and he's not going to start now.
"I usually don't unload with the truck being icy because the decks are metal," he said. "I don't know how it's going to react to ice and the wheels being ice, too. It's just something I've never dealt with."
All day, Fort Worth police and the fire department responded to cars sliding into other vehicles or losing control on bridges and overpasses.
While some were eager to get home and stay put, others had to brave the elements for work.
Tiffany Williams is a food delivery driver. She was busy making trips around Fort Worth as the orders kept coming in.
"Probably when it get dark I'll probably stop because I can't see the ice on the road. So I'll probably stop then," she said.
Icy roads in Collin County
It didn't take long to run into problems on roadways in Collin County as well. The freezing rain turned sections of the highway into ice rinks.
A FOX 4 crew was headed northbound on 75 when they came upon a crash in McKinney. Fire trucks and a police cruiser shielded the tow truck driver from traffic.
A few minutes later, they passed another single-car crash in McKinney. The driver was out of the car and walking.
At Buc-ee's in Melissa, motorists stopped to fuel up and scrape the ice on their windshields and headlights.
"It feels icy over the bridges. And in some places, you can see the ice on the bridges," said driver Gene Sears.
One couple came down from Arkansas. The roads were so treacherous that they drove 30 miles per hour the entire way.
"It was very clear with the semis and other cars," said driver Ashley Vann. "We were all just in one lane, and we just kept following after each other."
The worst of the damage was on an access road in McKinney near Wilson Creek. An 11-car pileup forced the closure of the road.
McKinney firefighters were on scene tending to the victims.
Messy morning commute
FOX 4 Traffic reporter Chip Waggoner said there were numerous accidents on the major highways during the Wednesday morning rush hour. 
LINK: Follow Chip Waggoner on Twitter for the latest traffic updates
Traffic cameras captured a scary moment when a box truck started to spin out of control along Loop 820 in Fort Worth. It hit a vehicle that had already crashed and was pulled over.
The video shows someone holding a flashlight and running to get out of the way of the sliding truck. Thankfully, no one was hurt in that crash.
At least half a dozen vehicles including an 18-wheeler were involved in a pileup on southbound Highway 75 at Stacy Road near the McKinney and Allen border. 
In Garland, a 16-vehicle crash blocked all but one lane of the eastbound LBJ Freeway at Garland Road. 
And traffic was backed up on Interstate 30 at FM 1187 because of an early morning crash that involved four 18-wheelers.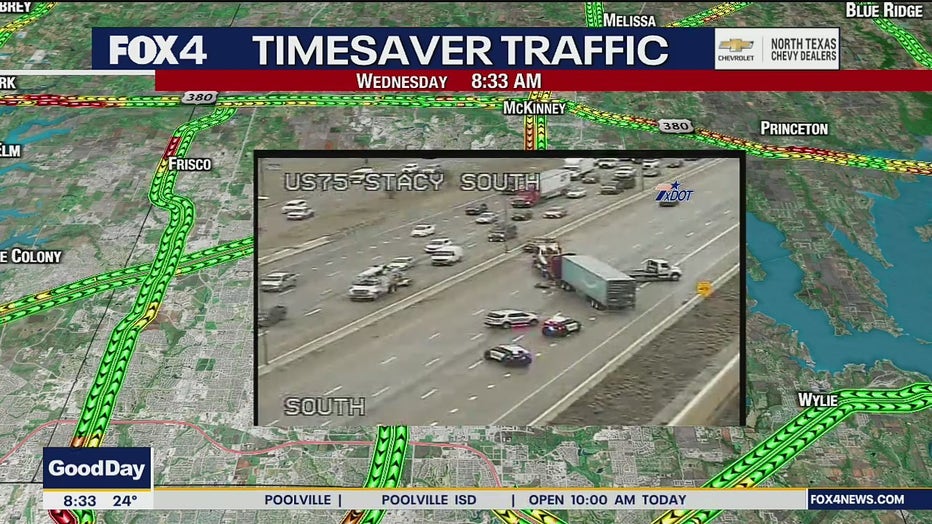 First responders didn't think the road conditions would get so bad so early.
"We really didn't. You know, we all had a little bit of post-traumatic stress from the weather from the last couple of weeks or a couple of weeks ago and then certainly from last year but this was a lot worse than we thought it was going to be this morning," said Medstar Mobile Healthcare spokesman Matt Zavadsky.
Zavadsky said paramedics responding a car crash on southbound I-35W going to Loop 820 on the north Mixmaster had to ask police to shut down the ramp because there were accidents and crashes happening around them.
The Texas Department of Transportation said there are more than 3,000 bridges and overpasses that needed to be pre-treated in Dallas County alone.
RELATED: North Texas school districts monitoring winter storm conditions
Crews spent the day Tuesday preparing the roads in North Texas for the incoming winter weather. Trucks spread brine to limit how much ice develops on the pavement.
TxDOT said it will continually monitor the weather and road conditions, treating area highways, bridges and overpasses as much as it can.
"We've all got one winter storm under our belt. We are ready to get back out. We have crews on standby," said Kenna Mitchell, a spokeswoman for TxDOT's Dallas region. "The big component of safety and winter weather awareness is the drivers on the road."
RELATED: Hundreds of flights canceled at DFW Airport, DART suspends rail service
The agency urged people to consider staying home if possible or plan for a longer commute.
The good news is that ice accumulation on the roads in the metroplex isn't expected to be as problematic as it was during the storm a few weeks ago.
MORE: FOX 4 Weather Coverage