Plano elects new mayor Saturday, while Arlington's mayor race headed to runoff
DALLAS - Plano residents elected a new mayor over the weekend – John Muns.
Muns beat City Council Member Lily Bao and Lydia Ortega by getting 53% of the vote.
He is an investor who was a former school board president and chair of the city's planning and zoning commission.
His father also served as mayor of Plano in the 1990s.
Muns outlined some of his priorities on Good Day Monday morning.
"Our roads are 40 and 50 years old. And so we do have some real priorities in our infrastructure to update that, renovate it and revitalize some of the areas that are quite frankly needing repair," he said.
Muns replaces Mayor Harry LaRossiliere who could not run for re-election due to term limits.
RELATED: Republicans Jake Ellzey, Susan Wright leading in race for 6th Congressional District spot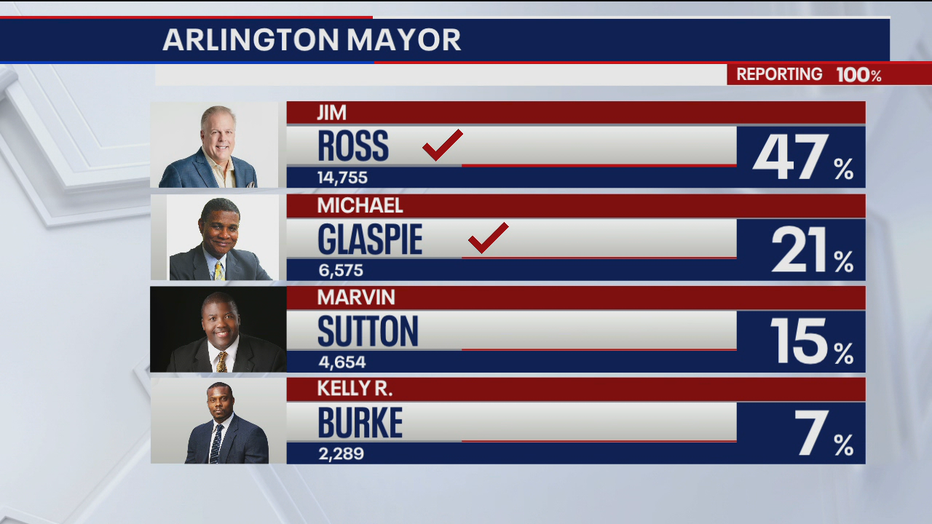 Meanwhile, the Arlington mayoral election is going to a runoff. Mayor Jeff Williams could not run again after serving three terms.
Former police officer Jim Ross just barely missed out on winning outright, getting 47% of the vote.
He finished far ahead of Mayor Pro-Tem Michael Glaspie, who had 21% of the vote in the eight-person contest.
The race for a new mayor in Fort Worth is also headed to a runoff.
RELATED: Deborah Peoples, Mattie Parker lead crowded race to find Betsy Price's replacement for Fort Worth mayor
Tarrant County Democratic Party Chair Deborah Peoples was the top vote-getter with 33% of the vote.
She was followed by Mattie Parker, who had 31% of the vote. Parker is a former aide to outgoing Mayor Betsy Price and had her endorsement.
For complete election results including races for mayor, city council and school board, visit fox4news.com/election.