Susan Wright and Jake Ellzey advance to runoff election for 6th Congressional District
ARLINGTON, Texas - The special election for the 6th Congressional District was one of the major races people kept an eye here in North Texas as people cast their ballots Saturday.
That district covers southeast Tarrant County, as well as Ellis and Navarro counties.
There were 23 candidates on that ballot to fill the seat of late Republican Congressman Ron Wright, who died in February after a battle with cancer and COVID-19.
RELATED: North Texas Congressman Ron Wright dies after contracting COVID-19
Democrats thought they could flip the congressional seat, but now it will be two Republican candidates in the runoff election.
Republican Susan Wright clinched a spot in the runoff, while Jake Ellzey held off Jana Lynne Sanchez for the second spot in the runoff.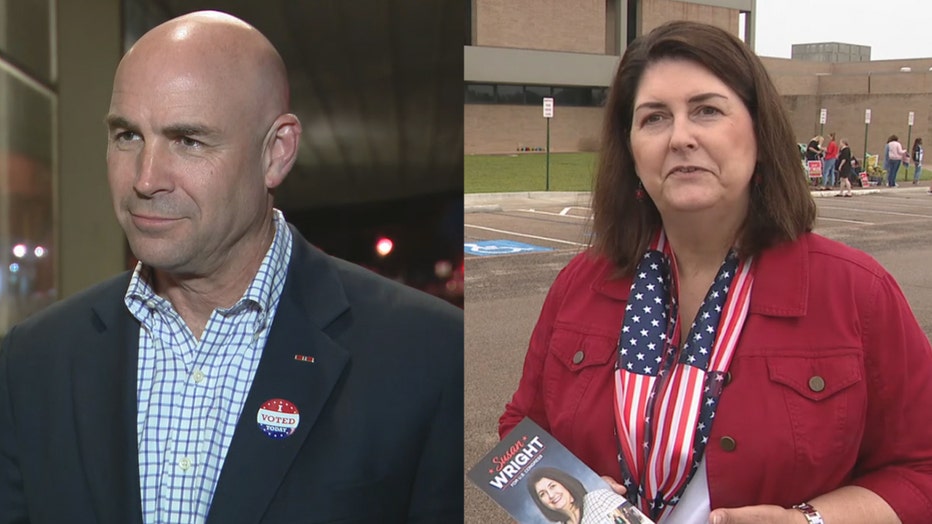 Click here for the latest election results.
"There were two dozen candidates, so it was clear that no one was going to win it, that there would be a runoff," SMU political science professor Cal Jillson said. 
But Democrats were hoping not to be shut out.
Ellzey, whose campaign was well-financed, and Wright, the predicted Republican frontrunner, are now vying for the seat.
"And so that's two Republicans. I really thought it was going to be a Republican and a Democrat," Jillson added.
Jillson said that between the two-dozen candidates, Republicans received a significantly higher percentage of votes.
"It was 62-38, so the Republican turnout was very strong. The Democrat turnout was not strong," he said.
RELATED: Special election Saturday to find out who will succeed Ron Wright for 6th Congressional District
The top vote getter was Wright, who received an endorsement from former President Donald Trump this week. She received 19% of the vote.
The widow of late Rep. Ron Wright made it clear she wanted to continue her husband's legacy.
"It's been challenging at times, but the work goes on and he would want me to do what he did which is engage with voters, hear what they have to say, and talk to them so that is what we are doing," she said. 
In second was State Representative Ellzey, of Waxahachie, who is a freshman in the Texas House. He just assumed office in January, and two months later, announced he would run in the special election. 
He challenged Ron Wright in 2018, but lost in the Republican primary. 
Ellzey earned 15% of the vote, narrowly edging Democratic candidate Jana Lynne Sanchez by less than 400 votes.
"Democrats have to increase their turnout machine, and they've got to figure out how to talk to Texas voters," Jillson said.
Sanchez did place second in Tarrant County, where the vast majority of votes were cast. But Wright won Tarrant and Navarro, while Ellzey carried Ellis County and Sanchez finished far back there in fourth place.
Jillson said the Democrats' loss in an election with relatively low turnout points to a bold-red picture in Texas.
"You've got the diehards on both sides and there are more diehard Republicans in this area than diehard Democrats in the mid-cities area, so I do think that this is one more wake up call for the Texas Democratic party to think about what you're doing and why it's not working," Jillson explained.
Democrats narrowly control the U.S. House and Senate, making races like District 6 in Texas even more important for both parties.
"You lose one seat and you've lost control of the Senate. You lose five or so and you've lost control of the House," Jillson said.
The runoff election will take place in early June.