Russia releases Trevor Reed, US Marine vet from North Texas, as part of prisoner exchange
GRANBURY, Texas - A North Texas Marine veteran, whose health was declining in a Russian prison, is on his way home. 
After nearly three years, Trevor Reed was released in a prisoner swap for a Russian pilot that was brokered by the White House.
Video released by Russian state media Wednesday appears to show a frail Reed being escorted onto a waiting plane in Moscow. Reed slowly made his way onto the plane that would bring the 30-year-old home.
His family fears he has tuberculosis, and said he appears frail and in poor health. 
Reed's parents said they're not sure where he is being taken, but believe he'll end up at a military hospital in the U.S.
Reed's parents said they're waiting on the Department of Defense to let them know where and when they can meet him.
Reed has been in a Russian prison for more than three years. His family said his health has been deteriorating.
RELATED: North Texan Trevor Reed to remain in Russian prison following appeal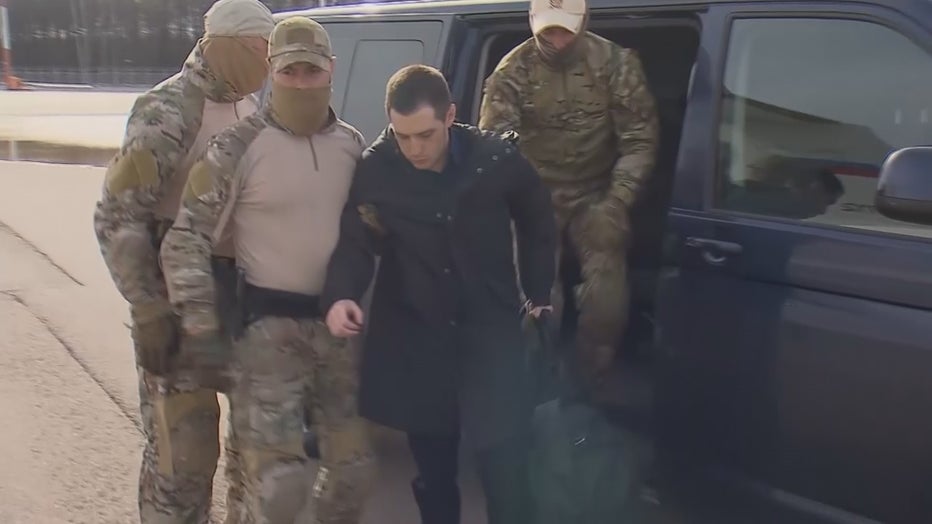 Reed's parents were unsure if this day would come, but while at home in Granbury, a phone call early Wednesday morning connected them to the one person they so desperately needed to hear from.
"It's a bunch of I love you's, and we'll see you soon," Reed's mother, Paula, said. "It's going to really hit us when we get to put our arms around him and hug him."
"It looked strange to us, like someone who was shackled," Reed's father, Joey, added.
Joey spent 14 months in Russia trying to get him out. Now, his son is coming home to his family.
"We said, 'Trevor, we're going to do whatever it costs,'" Paula recalled.
Reed was released as part of a prisoner exchange that was reportedly months in the making.
"Well, first, let me say that it's a huge moment today that speaks to President Biden's commitment to bring home Americans held hostage and wrongfully detained around the world.  And he has been clear since the beginning of this administration that he is committed to doing exactly that, to bringing Americans home," White House Press Secretary Jen Psaki said. "Our over-riding priority here was the safe return of Trevor Reed."
The U.S. agreed to return Konstantin Yaroshenko, a Russian pilot who'd been serving 20 years in a Connecticut prison for after being convicted in 2011 of criminal conspiracy to transport $100 million worth of cocaine to the U.S. and other countries. 
He's the first known Russian citizen to be captured by U.S. Secret Service in a third country, Liberia, and then brought to the U.S.
"Konstantin Yaroshenko is not a good guy, right, I don't think anybody feels good about letting him go, but, he is on the tail end of a lengthy sentence. Trevor is on the front end," the Reeds' family attorney Jonathan Franks said.
"I would emphasize this individual had already served the majority of his prison sentence for a non-violent drug crime," Psaki explained.
The Reeds have been fighting for their son's release since 2019.
At the time, Reed was living in Moscow with his Russian girlfriend.
Russian authorities said he got drunk at a party and assaulted a Russian police officer while he was detained, claims that several U.S. officials called bogus.
In 2020, Reed was sentenced to nine years in a Russian prison.
An appeal earlier this month was denied. 
"Trevor's freedom is the result of months and months of hard, careful work across the U.S. government," Psaki added. 
Leading up to Wednesday' announcement, in February, the Reeds set up post near a VA clinic President  Joe Biden was visiting in North Texas, hoping to get his attention. They did, and were able to speak to him by phone.
RELATED: Family of Trevor Reed, who is detained in Russia, able to meet with President Biden
Three weeks later, the Reeds met with President Biden in the Oval Office in D.C.
"We believe that he probably saved our son's life," Reed's father said.
Reed's parents said President Biden called them Wednesday morning, but they were on the phone with their son and didn't recognize the White House number.
"I hit the button, you know, call you later, right, and so we're still talking to Trevor and her phone rings and she goes, 'It's the President.' So I hung up on the President. I'm sorry Mr. President. Didn't mean to do that," Reed's father said.
With Reed on his way home, his parents said they're ready to make up for lost time.
"And I'm not going to work. I'm going to stay home with Trevor every day and make him anything he wants every day. His favorite meal every day," his mother said.
Reed's parents have put up flags to welcome him home.
"We're happy it's great, obviously, for us and for Trevor, and we're just looking forward to seeing him," Reed's mother said.
Psaki said President Biden continues to fight for the release of other Americans wrongfully detained in countries overseas, though she would not elaborate on what exactly is being done.