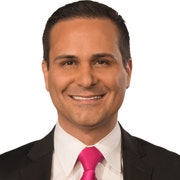 My friends thought I'd be the guy who ended up on a daytime soap. I've always had the gift of gab and modeled a bit when I was a teen.  But ever since I was a little boy I've had a passion for the news. In the morning – instead of watching cartoons – I'd ask my mom to put on Today In Florida (the newscast that airs on the FOX station in Miami). Growing up I excelled at writing, debate and languages -- so it wasn't a difficult decision to study broadcast journalism (and law) in college. 
I'm blessed to come from a diverse background. My mom's side of the family is Dominican and Puerto Rican, and my dad's side is French-American. I'm fluent in Spanish but my French is rusty.  Fun fact, my great uncle is the late Dominican President – Jacobo Majluta. I'm also related to the late French actor Charles Boyér.
I'm from Florida but consider Texas my second home. Prior to moving to Dallas I lived in Austin for several years. Getting the call to join FOX4 was a dream come true. When I'm not working I'm exercising, trying a new coffee shop and restaurant, seeing a movie or exploring Dallas with my husband and our three dogs. Well, that's a little bit about me. I'd love to hear about you and your story ideas. Email me at Alex.Boyer@fox.com.
The latest from Alex Boyer