Rental scooters and e-bikes returning to Dallas in 2023 with restrictions
DALLAS - Electric rental scooters and bikes will return to Dallas in 2023. But this time, there are some regulations designed to prevent what happened a few years ago.
Dallas tried allowing scooters in 2018 but ended up banning them in 2020 because of safety concerns.
According to Kathryn Rush, the chief planner for transportation for the city of Dallas, the goal this time around is to provide a more safe, orderly, and equitable system.
"So, people should see a lot less chaos and a lot less clutter on the streets," Rush said.
Some of the ways the city plans to achieve that are by allowing just three companies – Lime, Bird and Superpedestrian. There will also be fewer scooters on the streets to make things more manageable.
RELATED: Rental scooters, bikes expected to return to Dallas in weeks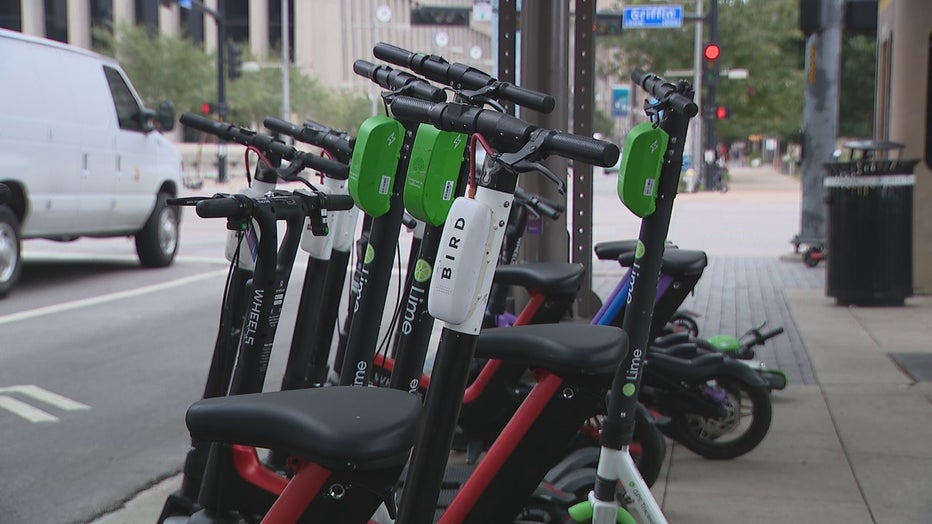 "If the demand is there, though, companies will be able to increase the number of scooters on the streets," Rush said.
The scooters and e-bikes will only be available for rent from 5 a.m. until 9 p.m. Rush said that's to help cut down on some of the joyriding and party use – things that are not intended to be for transportation.
They will also have a maximum speed limit of 20 mph or 10 mph in areas that the city deems slow-ride zones like Deep Ellum. The rental companies can remotely enforce those speed limits and automatically shut the scooters down in Dallas' no-ride zones.
"Sidewalks have always been illegal. It's still illegal. But we are working on providing and installing more bike lanes and more facilities to make it safer for people to ride these devices in the streets," Rush said.
RELATED: Dallas man dies in rental scooter accident
Companies will face tougher penalties for not following the city's regulations and riders could face fines of up to $20 for not parking the scooters correctly when they're done. Riders will actually have to provide a photo of their parking spot.
"There will be education on the devices showing how to do that as well as on our website. But at the end of every ride, before a ride can be ended, riders will have to take a photo showing how they parked the device and if it is not parking correctly they could be fined $20," Rush said.
Dallas also hopes to distribute the scooters more. There will be a limited number available in central Dallas and at least 15% will be located in what the city describes as equity opportunity zones.
"Those are low-income and majority-minority areas. So even though we will have fewer numbers of scooters on the streets, we hope that access to them will be greater than it was before," Rush said.
"We are going to be pushing this much needed transportation mode out into neighborhoods that desperately need them, that maybe didn't get to see them the first round," Dallas city councilmember Omar Narvaez told FOX 4 in December. 
Before the ban in 2020, Dallas also had issues with some of the scooters and bikes ending up in rivers and floodplains.
"We are also being very diligent about putting up signs as well as geofencing around parks and trails so that it's difficult to even get these devices close to kind of these natural and protected areas," Rush said. 
The new scooters and e-bikes are expected to be back on Dallas streets within the next few weeks.