Protest in Fort Worth blocks traffic on West 7th Street Bridge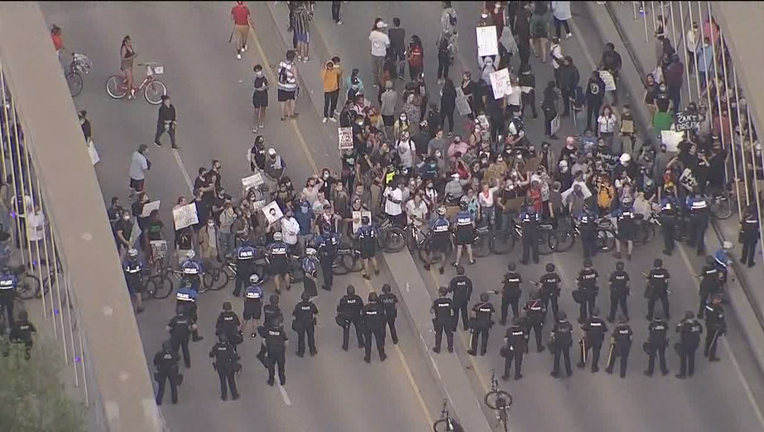 article
FORT WORTH, Texas - A protest in Fort Worth with hundreds of people got out of hand Sunday night.
The group marched from the downtown area toward the West 7th Street shopping district nearby.
Officers blocked the protesters on the bridge and tried to push them back towards downtown after they reportedly "advised that they were going to 7th Street area and do damage."
There was a standoff for several hours.
RELATED: More George Floyd death coverage
Police said agitators threw frozen water bottles and fireworks at officers. At least one person was arrested after they tried to go through the officers after being told to stand back.
SWAT officers eventually used flashbangs, smoke bombs and tear gas to clear out the crowd.
It was just one of several protests and demonstrations across North Texas due to the death of George Floyd in Minnesota.
RELATED: 
Dallas remains mostly quiet Sunday night after curfew order, dozens of demonstrators arrested
Multiple peaceful protests, demonstrations held in Dallas on Sunday
100+ arrests made by Dallas police after Saturday's protest turns violent
Gov. Abbott declares State of Disaster following George Floyd protests