Police release surveillance video image of Galleria Dallas gunman
DALLAS - Police have released an image of the gunman wanted for a shooting at Galleria Dallas on Tuesday night.
The shooting happened Tuesday just after 6:30 p.m. Witnesses say it happened on the third floor at the food court.
Police say there was some kind of altercation between two men in their late teens or early 20s in the food court on the third floor of the mall. That's when one of them pulled out a gun and shot the other person.
Police believe the victim and the shooter knew each other.
The masked shooter fired as hundreds of people were around, including Winta Ahderom, who was there with friends and family.
"And then it was like boom, boom, boom, boom. Five or six more followed after that," Ahderom said. "It was scary. I didn't know what to do, so I just made sure all my girls were behind me. We all ran back into the Forever 21 fitting room."
She described a chaotic scene as people tried to figure out what was going on.
"There was like one woman, she was crying because she said she saw the person, it happened in front of her, she had her baby," she recalled.
Ahderom said they hid in the store for less than an hour before police were able to get them out of the mall.
"We were given the all clear and then the police led us down the escalator and I asked them, 'Did you guys find the shooter?' He was like, no," she said.
After reviewing surveillance video, Dallas police released an image of the gunman.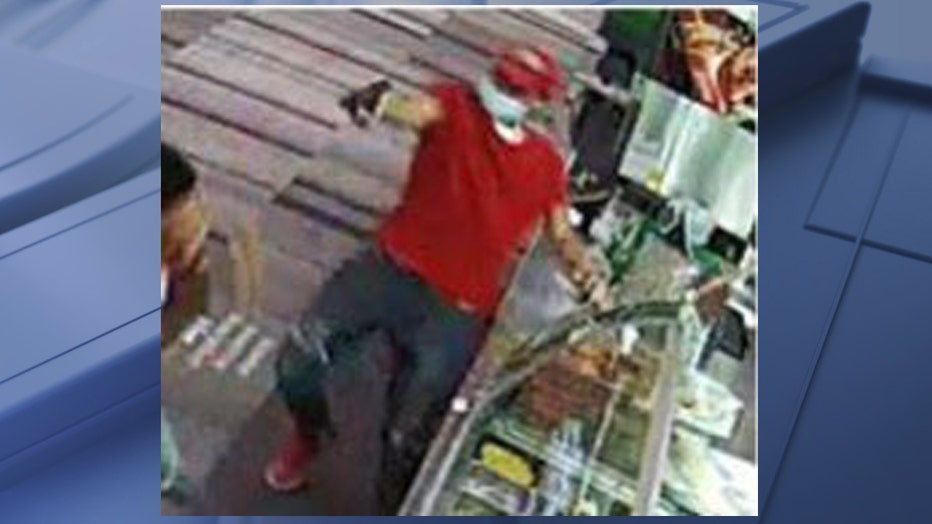 The surveillance image shows a man in a red short-sleeved shirt, red baseball cap, blue jeans, red shoes and a medical mask pointing a gun at the victim.
The person shot was taken to Parkland and his condition is not known, as of 5 p.m. Wednesday.
"But what we try to do is control the chaos as much as possible so that there's a process in place, so that we can," James Hawthorne, who is a retired Arlington PD assistant chief.
Hawthorne has been in law enforcement for more than 30 years, and he spoke to FOX4 about police strategies in a chaotic situation, like the mall, with hundreds of people who could be witnesses or suspects.
Hawthorne said access to surveillance cameras can be a huge help.
"We want to see what happened before the incident actually took, it took place. And then of course, actually see the incident and then where all the people went that were involved, how they got away and that video is invaluable," he said. Because a lot of times we can watch them from inside the mall actually get into a car vehicle and make the exit out of the vehicle."
Hawthorne said these types of incidents are something police train for every year, working with mall security and familiarizing themselves with maps of the property.
"It's a synchronized response, it may appear to be chaotic because of people running, but we fall back to the training," he explained.
No one else was injured in this incident.
People with information are asked to contact DPD Det. Ryan Cordova at 214-671-3625 or ryan.cordova@dallascityhall.com.
Crime Stoppers is offering up to $5,000 for information that leads to an arrest and indictment. Callers can be anonymous at 214-373-TIPS.
RELATED: Gunman at-large after one person shot at Galleria Dallas Mall