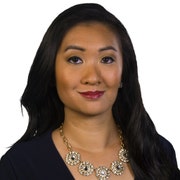 I was a lifelong Midwesterner until the hunt for the next chapter in my own story pulled me South! 
I grew up in Wheaton, IL outside of Chicago and went to Northwestern University for a degree in broadcast journalism. I'd say my love for writing, learning about other people, and sharing their stories has always been there, but I figured out just how I wanted to tell those stories, through video, when I got to college. One of the first broadcast pieces I ever put together was for a final project in one of my journalism classes. It was about a carpenter who traveled thousands of miles to deliver wooden crosses for roadside memorials; they were for people who'd lost loved ones in tragedy, but mostly they went to parents who'd lost children. It's one of those stories a journalist never forgets. I knew I had a knack for storytelling and connecting with people when that piece literally left the entire class speechless. From there, I knew what I was here to do. 
I learned from some of the best during internships at WGN in Chicago and NBC26 in Green Bay, Wisconsin.  Those helped land me my first job at KWQC-TV6 in Davenport, Iowa. As a Northwestern Wildcat & Chicago Bears fan, I was in Iowa Hawkeyes/Iowa State Cyclones territory, but by then I had a lot of practice being "behind enemy lines." After all, I DID spend a winter previously interning in Green Bay, and it happened to be the winter the Packers won the Super Bowl (still a sore subject, lifelong Chicago sports fan here). 
After Iowa, I got the opportunity to move to Memphis, Tennessee, where I continued to share stories, ate more fried chicken and BBQ than any reasonable human being should, and was introduced to the Southern love of sweet tea. Eventually, my path led me from the Bluff City to the Lone Star State, and I couldn't be more excited to make Texas my new home!
When I'm not chasing down a story, I love trying different fitness classes, channeling my inner yogi, and tasting new restaurants! I also love traveling the world, and so far, I have Europe, South America, the Carribbean, the Middle East and Asia all stamped in my passport.  Australia, Greece, Bora Bora and the Maldives are on my bucket list, and I'm always looking forward to my next adventure!
So what's your story? I'd like to hear it, drop me a line at Lynnanne.Nguyen@fox.com!
The latest from Lynnanne Nguyen