Mesquite man holds victim at gunpoint, fires at officers, police say
MESQUITE, Texas - A Mesquite man says a suspect involved in a different police shooting banged on his apartment door with a hammer, forced his way inside and held him at gunpoint hours earlier.       
The victim spoke with FOX 4 about the very strange and violent encounter.
Ladarious Davis, 28, has served prison time for robbery and has been out on bond for firearm charges. In the meantime, he's accused of breaking into an apartment, holding a man at gunpoint and later shooting at officers.                    
The victim, who did not want his face shown, says someone who's been hanging around the Durham Apartments near Town East Mall for a couple weeks has strangely been knocking on doors.
"When I get out of my shower, and I look at my peephole. It's the guy standing here that's been doing all this weird stuff. He's standing here with like an orange hammer in his hand," he recalled. "I'm not the only person that he knocked on. He knocked on this door. He also knocked on the other door. He also knocked on the one downstairs."
The man said he answered his door Monday afternoon.
"He closes my door, and he locks it himself," he recalled.
Police say Davis forced his way into the man's home.
"In his hoodie, he pulls out a black gun," the victim recalled.
He says he'd seen Davis around, but the two never spoke. He says Davis kept saying he was looking for his sister, who lives downstairs.
"He's opening up my closet door. He's looking in my closet. He takes me into the bathroom. He's opened up my bathroom cabinet. He's looking in there," he recalled. "I don't know what his intentions was, but he was claiming the whole time that he was looking for somebody."
But the man says he doesn't know Davis' sister.
"He cocked the pistol. Click, clack," he recalled.
The man felt his life was in jeopardy, but Davis suddenly left.
"He's like breathing all hard, and he's backing up. And all of a sudden, the dude just leaves," he recalled.
The man called police, and then SWAT surrounded the building. 
Neighbors say they saw Davis go inside his sister's unit downstairs.
"Chaos everywhere," recalled neighbor David McKnight. "Police got here. SWAT was here."
After a five-hour standoff, police got inside but quickly realized Davis wasn't there.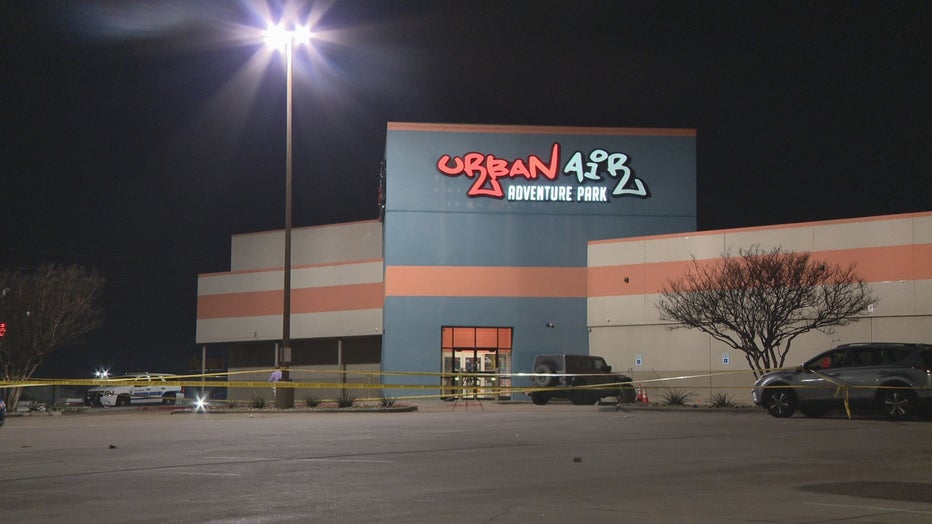 "They end up catching him at the Urban Air across the street — shootout," McKnight said.
Davis was found outside the nearby Urban Air Adventure Park. Two officers arrived. 
"As soon as the officers started making an approach, he immediately opened fire," said Mesquite Police Cpt. Stephen Biggs.
The officers fired back and struck Davis. He's now in custody.
"it's just unfortunate that these incidents are on the rise," Biggs said.
Davis pled guilty to aggravated robbery in 2012 and sentenced to five years. He was recently out on bond for drugs and weapons charges.
"I'm just glad that he's off the streets. That was the main thing," McKnight said. "We can't have people walking around here doing that."
Police and neighbors don't know what initially led to Monday's violence.
"It's taken care of now. Good job to Mesquite PD. Shoutout to all the men who came on behalf of the family that was involved. It's all love," McKnight said.
The man face-to-face with Davis feels fortunate to be alive.
"He cocked the pistol and told me to go in the back room. I was in fear for my life," he said.
Mesquite police say its officers were wearing body camera footage of the officer involved shooting. It hopes to release that next week.
No officers were hurt. Those involved will be placed on leave for a routine investigation.
READ MORE:
Suspect in custody after shootout with Dallas officers
2 teens dead after shooting in Watauga