Ice forms on North Texas roadways, people urged to stay home
DALLAS - Some people listened to pleas to stay home Thursday. Others ran into trouble on the icy North Texas roadways.
A light, but study round of freezing drizzle fell throughout the morning. But it was more than enough to form ice on roads, bridges, overpasses and even sidewalks.
RELATED: Winter Storm Warning issued for Dallas-Fort Worth as forecast shows more icy weather
Dallas Roads
The city of Dallas is working around the clock once again to try to treat the streets to help drivers navigate the roads.
While the streets thawed some Thursday afternoon, all the moisture is expected to re-freeze. City officials are advising people to continue to use caution if they have essential business on the roads. 
Dallas crews worked again to get the city's streets sanded for any refreezing overnight, which could make conditions once again difficult as people head out Friday morning. 
Even as the precipitation moves out, the city is continuing to advise people not to get on the streets. 
"Condition will get worse. Temperatures will drop," warned Ali Hatefi with the city. "It's wise for people to take precautions if they don't need to drive on the roads. "It's not a time to risk it."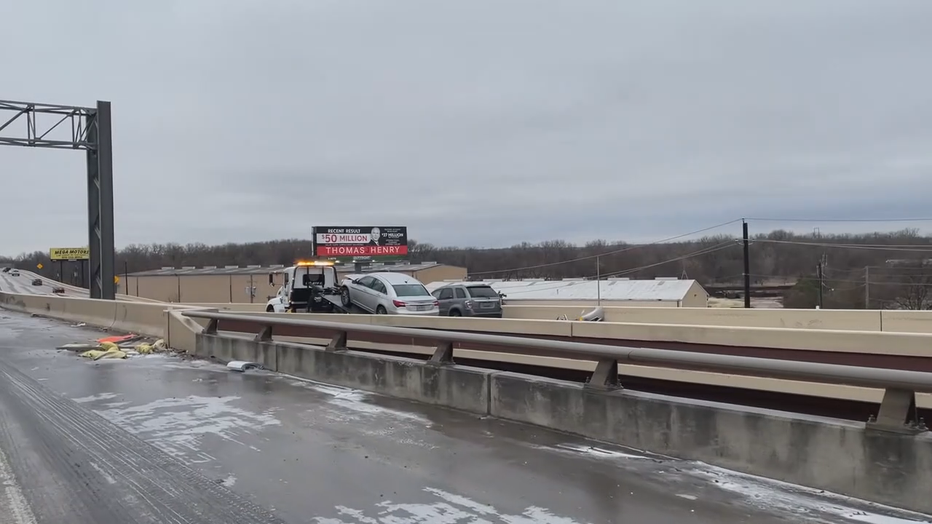 With temperatures in the mid-20s expected overnight, the city is working to open a third shelter for the homeless.
"The current sites are almost at capacity," said Christine Crossley, Office of Homeless Solutions Director. "We are opening third to relieve pressure from partner agencies."
The Dallas Fire Department says it responded to 329 crashes from 7:00 am Wednesday to 7:00 am Friday. The bulk of that was early Wednesday, with noticeably fewer drivers out on Thursday. 
But accident numbers will likely go up if conditions once again worsen overnight with potentially more people hitting the roads in the morning. 
The city does not yet have a cost estimate for the Feb. 2 winter weather or this event. Officials will be briefing the Dallas City Council next week about lessons learned from the weather earlier this month. 
Roads were rough. There were several major accidents in the Dallas-Fort Worth metroplex in the morning, including one where a squad car was hit after the initial crash.
That crash happened on northbound Loop 12 at Illinois Avenue. There was an accident involving an 18-wheeler and when law enforcement arrived, another vehicle hit the officer's cruiser.
Northlake police officers hurt in crash with 18-wheeler
The decision was made to shut down Spur 408 between Interstate 20 and the Loop 12/Walton Walker merge. Sand trucks are headed to that area to help with the ice on the ramps.
In Arlington, police responded to a crash with a flipped vehicle on eastbound Interstate 20 at Bowman Springs. And several crashes were reported on westbound LBJ Freeway at Belt Line Road near Coppell. One truck spun off into the grassy median and an 18-wheeler jackknifed.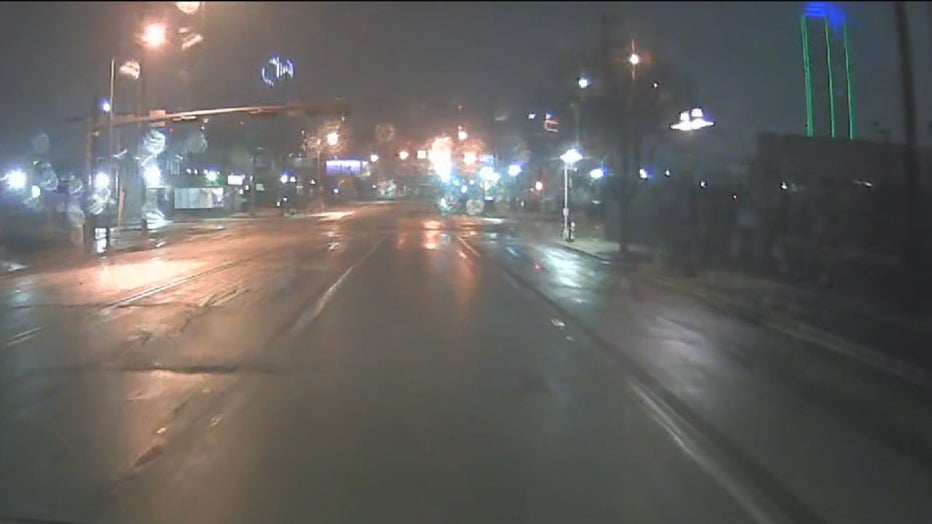 FOX 4 spoke to several people who couldn't stay home and had to be out on the roads.  
"Treacherous! The roads are nothing but solid ice and I've got a light truck so it don't like the ice," said Kenneth Mitchell, who was driving home from work. 
Deangela Lee works a nightshift at a local hotel. She stopped at a gas station for snacks but doesn't think she'll make it all the way home Thursday morning.
"Actually, I'm getting off. I'm getting a few snacks and going back to the hotel. I'm not going to make it back home. I stay 30 minutes out. There's no way I'm going to make it home, no way," she said. "I'm not even going to try. I was sliding just going 15 miles an hour. I'm not going to chance it. Schools out for the kids, everybody just stay in."
"The roads are slick. But you just gotta drive slow and take your time and be courteous of others out here driving," added D'Aundre Doddy Sr. "If you can stay in, just stay in."
The Texas Department of Transportation said during the last round of severe winter weather, it was pleased with the level of compliance when people were asked to stay off the roads. That helped keep the number of accidents down. 
TxDOT is hoping that trend continues with schools closed and more people taking advantage of their ability to work from home.
First responders really had their hands full on Wednesday. 
RELATED: Slick roads lead to numerous crashes as winter storm hits Dallas
The city of Dallas reported a shortage of tow trucks. That meant it took much longer than usual for accidents to clear.
MedStar in Fort Worth responded to 77 crashes Wednesday including nine rollovers and 35 hospitalizations. They also treated 19 people for falls and nine people for cold exposure. 
They expect driving and walking conditions to be worse Thursday and urged people to stay off the roads.
Fort Worth Roads
The city of Fort Worth says paramedics responded to more slips and falls than crashes. 
Drivers started to see some relief from icy roads mid to late morning Thursday, and they continued to improve throughout the afternoon.
Most of the remaining ice was on the grass and some sidewalks.
"I actually fell when I got out the house. But now I'm good," said Lazarus Gomes. "So I think everything is drying up right now. So we should be good."
But Tim Moreno's job with Fort Worth Transportation and Public Works is to be cautious, maybe even overly cautious. He says it's still too soon to drive at normal speeds in some spots.
"Those areas that didn't get a lot of traffic and were in the shade most of the day, they're gonna have ice on them yet again," he said.
Moreno says Fort Worth city crews have continued to spread sand and are still operating 24/7 for now.
"In this particular event so far, we have checked over 1,000 locations. We have about 300 locations that we consider hotspots," he said. "We'll send out scouts, and we'll continue to monitor those locations And as they start to refreeze or not become effective with the sand we put down previously, then we'll re-sand again."
Out on the highways, TxDOT says it's had crews working continuously since Monday, treating roads and monitoring conditions across the region.
Both TxDOT and public works are now primarily on the lookout for wet spots that could refreeze overnight.
DART, Trinity Railway Express services limited
Dallas Area Rapid Transit's light rail service is suspended again Thursday. DART buses are operating on a Sunday schedule until 9 p.m.
Riders are urged to stay home if possible or expect lengthy delays.
DART has not yet said if it will resume normal services on Friday.
The Trinity Railway Express connecting Dallas and Fort Worth will also operate on its Saturday schedule. And Trinity Metro buses in Fort Worth will be on a limited Saturday schedule as well.
TEXrail and the Denton County Public Transportation Authority plan to operate on their normal schedules.
RELATED: DART defends decision to shut down rail service during winter storms
1000+ flights canceled at Dallas airports
DFW and Love Field topped all other airports for the most cancellations and delays Thursday.
Thousands of flights have been canceled over the last couple of days because of winter weather.
Cancelations continued Thursday, and airlines have been working to get back on track.
American Airlines said it canceled about 1,000 flights nationwide Thursday.
DFW Airport has reported thousands of flight cancellations over the past few days. 
Now, airlines are working to get the schedule back on track.
DFW International Airport was packed Thursday with travelers hoping their flight is on time, no thanks to North Texas winter weather. 
Jerry Arnold arrived early to Terminal A after a nightmare just 24 hours ago. 
"My first flight was canceled. Rebooked me on a second flight, and it was canceled," he said.
Arnold hopes the third try is the charm. 
Thursday, Fort Worth-based American Airlines reported around 1,000 system-wide weather cancelations. 
DFW International Airport had 60% of its departures canceled, which was the most in the country. 
Officials at DFW say they have crews working in frigid conditions to keep roads and runways treated. 
More runways were reopened Thursday afternoon. And winter precipitation is now long gone, giving airlines a chance to catch up.
It was a similar situation at Dallas Love Field.
Southwest Airlines canceled hundreds of flights Thursday.
Southwest officials tell FOX 4 they hope for a largely normal operation Friday.
Both Southwest and American both say they canceled the majority of these flights in advance.