H-E-B announces plans for 3 new North Texas stores, opening date for Allen location
Texas grocery chain H-E-B is planning to add 3 more new stores in North Texas.
On Tuesday, the chain announced plans to open stores in Melissa, Prosper and Rockwall.
The location in Melissa will be located at the northeast corner of US 75 and Highway 121, the Prosper store will be at the southeast corner of Frontier Parkway and the Dallas North Tollway and the Rockwall H-E-B will be on the southwest corner of John King Boulevard and I-30.
Construction will begin on the three stores early next year, according to the chain.
The announcement also included the opening date for the much-anticipated location in Allen.
The 117,000-square-foot Allen store on E Exchange Parkway will open at 6 a.m. on Wednesday, October 4.
The store will be open 7 days a week from 6 a.m. to 11 p.m.
The Texas-based grocery chain, which has spent most of its 100+ year history in south and central Texas, has expanded north in recent months, with several locations in the works.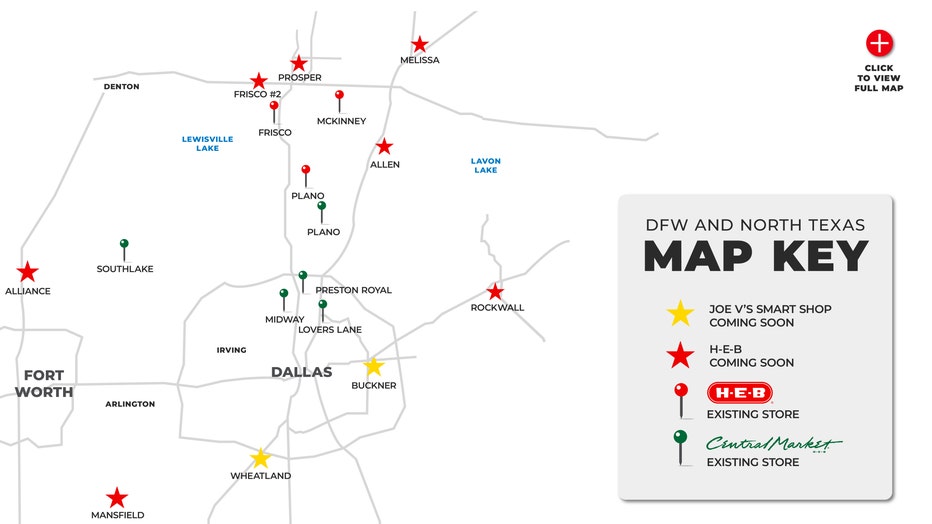 Stores opened in Frisco, Plano and McKinney to long lines and lots of fanfare.
Other H-E-B locations are planned to open in Alliance and Mansfield in the near future. Dallas is also expected to get the lower-priced Joe V's Smart Shop by H-E-B in two locations.
The store on W. Westland Road is set to open in summer 2024 and another Joe V's on S. Buckner Boulevard is set to open in spring 2025.