Frisco realtor Jenna Ryan sentenced to 60 days for role in Capitol riot
A Frisco real estate agent got 60 days in prison for her role in the Jan. 6 attack on the U.S. Capitol by fellow Trump supporters.
Jenna Ryan appeared in court in Washington D.C. Thursday to be sentenced. This came after she bragged online that she was "definitely not going to jail."
In addition to the sentence, she'll also have to pay a $500 fine.
RELATED: Capitol riot coverage
Earlier this year, she pleaded guilty to a single misdemeanor charge of illegally demonstrating inside the Capitol.
She flew from North Texas to Washington on a private plane and posted photos and videos on social media. Surveillance photos showed her entering the Capitol building.
Ryan has said on camera and on social media she doesn't believe she did anything wrong.
"I do not feel as if I did anything wrong. In fact, I felt that I did something noble and I'm proud of being there," she said in an interview with FOX 4 News previously.
She even tweeted it was one of the best days of her life.
RELATED: Frisco realtor Jenna Ryan pleads guilty to misdemeanor charge for role in Capitol riot
She posed for several pictures in front of the Capitol and posted video of herself in the crowd.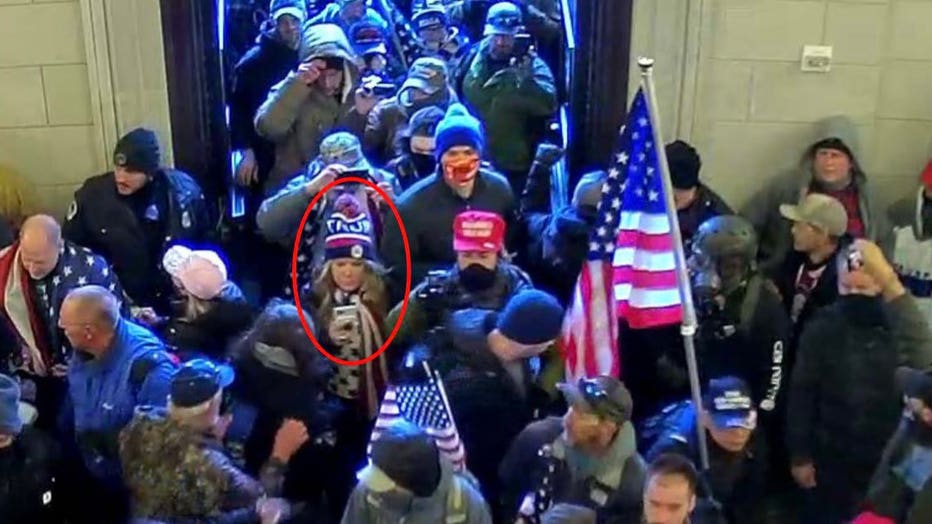 "They said someone in there was shot in the face. I don't care. Shoot me in the face. I will freaking fight for our country," she said in a video tweeted during the attack on the Capitol.
Ryan faced up to six months in prison. Federal prosecutors only asked for 60 days but her lawyers wanted probation.
Prosecutors argued her lack of remorse proved why she needed to spend some time in prison.
According to reporters who were in the courtroom, U.S. District Judge for the District of Columbia Christopher Cooper doubted Ryan's apology for her role in the riot, claiming that there were too many actions she took afterward that showed she has no remorse.
On January 15, Ryan was arrested while FBI agents collected evidence from her home in Carrollton.
And on March 26, she tweeted: "Definitely not going to jail. Sorry I have blonde hair white skin a great job a great future and I'm not going to jail. Sorry to rain on your hater parade. I did nothing wrong."
"What we've seen with her blatant disregard for our democratic process, is that this is somebody who might re-engage in this type of conduct and that's dangerous," former prosecutor for the Dallas County District Attorney's Office Bree West said.
In court documents, prosecutors cite the March tweet as evidence that she "holds herself above the law."
"This is, in the grand scheme of things, quite frankly, a light sentence," West said. "What doesn't seem appropriate is there's no term of supervised release because what that means ultimately is that nobody can monitor her."
West said this case may impact future similar cases around the country.
"I think that the government and judges alike will look at her case as a baseline to try to ensure that they don't have insane sentencing discrepancies that could generate appeals and things like that," she added.
RELATED: 
Frisco realtor Jenna Ryan faces two additional charges for alleged role in Capitol riot
Frisco realtor who flew on private plane to Capitol riot can no longer raise funds on PayPal
Frisco realtor Jenna Ryan arrested, charged for role in U.S. Capitol riot