Fair Park vaccine site to close through Monday
DALLAS - Frigid temperatures have caused cancellations at several COVID-19 vaccine sites, but organizers are working to get back on track.
Dallas County vaccinations at Fair Park got a late start Friday due to cold weather conditions. The site will be closed through the weekend and on Monday because of the upcoming storm.
RELATED: Find the COVID-19 vaccine
The Fair Park site only administered second doses for people who were due earlier this week.
The county also had a smaller drive thru site running for those with mobility issues who couldn't get out of their cars.
This time around, many say the process was more efficient than when they got their first dose.
Dallas ISD school buses were used to take people from the parking lot to the building where vaccinations are being distributed.
"I'm glad I didn't have to ride that cart like I did last time," said Annie Rhodes, who got her COVID vaccine. "I thought I was gonna die on that thing."
"It's working great. That'll probably be a new thing that we'll do a lot on these cold days when DISD is closed," said Dallas County Judge Clay Jenkins. "I called Michael Hinojosa last night probably at 8:30. They got on this deal and got it done for us this morning, and they're great partners and doing a great job."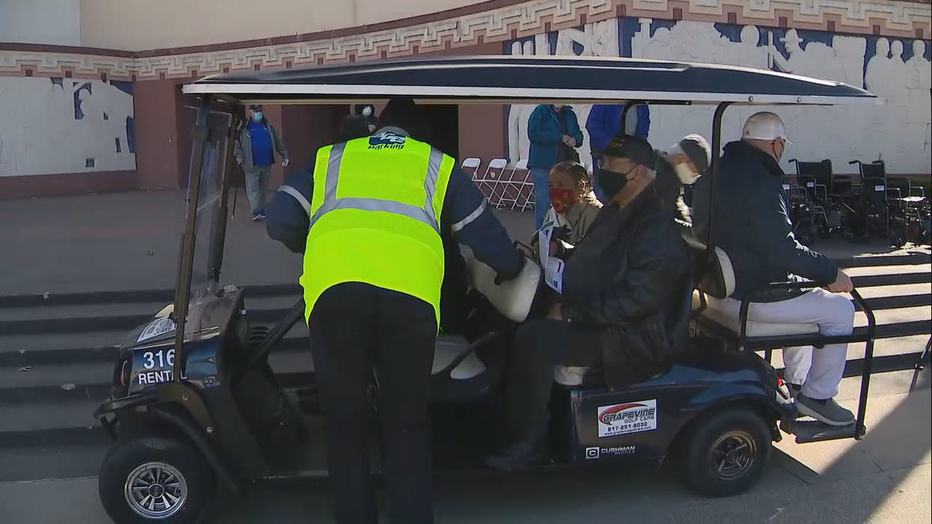 Many say the process took about three to four hours Friday. Most of that time spent waiting in the car line to get into the site.
"I like this process better. I thought it went very smoothly," said Stan Spitler. "Once we got on the bus, we were practically there."
Judge Jenkins says the site needs more volunteers to help things run more efficiently. This weekend's closure may put the county several days behind.
"If you haven't gotten your second shot and it's your time to get it or if it's your time to get it next week, don't worry," Jenkins said. "We're going to be focusing on second shots, getting to those with the earliest date the fastest."
People who got their shot Friday are just relieved they were able to get their second dose on time and start getting back to normal.
"We were just talking here that next time we get together, let's have a glass of wine," Spitler said.
RELATED: Many North Texas COVID-19 vaccination sites closed due to weather; Tarrant Co. sites still open
The site will be closed this weekend and on Monday because of the forecasted winter storm. The county says they'll continue to monitor conditions and there may be additional closures past Monday.