Many North Texas COVID-19 vaccination sites closed due to weather; Tarrant Co. sites still open
DALLAS - The weather forced the majority of mass vaccinations sites in North Texas to close, but Parkland and Tarrant County kept their clinics open Thursday.
A spokesman for Tarrant County said that with 600,000 people on their wait list, the stakes were just too high to close.
Dallas County, on the other hand, did not want people to risk their lives driving on potentially icy roads to keep their appointments.
Some people did not hear the news that Dallas County's Fair Park vaccination site would be closed Thursday.
Oscar Turner tried calling the county, but could not find out if they would open later in the day or not.
"Had an appointment at 9:30 this morning, but no one was here," he said. "They should have notified me they were going to close."
Abraham Sarwari drove 15 miles, with four other senior citizens, only to be met by an empty vaccination site.
"I would say it is irresponsible. They should let us know why they closed, when they are open, and when we can come back. I came with four old people, no one is here," Sarwari said.
Dallas County Health Director Dr. Philip Huang said the county tried to send messages out about the cancellation, but the county did not have phone numbers for many of the people scheduled for second shots.
"Their initial registration was by paper, hand entered, so we had limited contact information. Only phone numbers for half of them," Dr. Huang said.
Dallas County Judge Clay Jenkins explained why he made the call to close.
"Turned out it would not be safe for people to travel to get in line for a shot, because we deal with the most vulnerable, seniors, that is particular concern to have them on the roads," he said.
Jenkins also said there are issues with keeping the doses at the right temperature outdoors.
"It has to be at 27 degrees. We can't keep it warm enough on the tables," he added.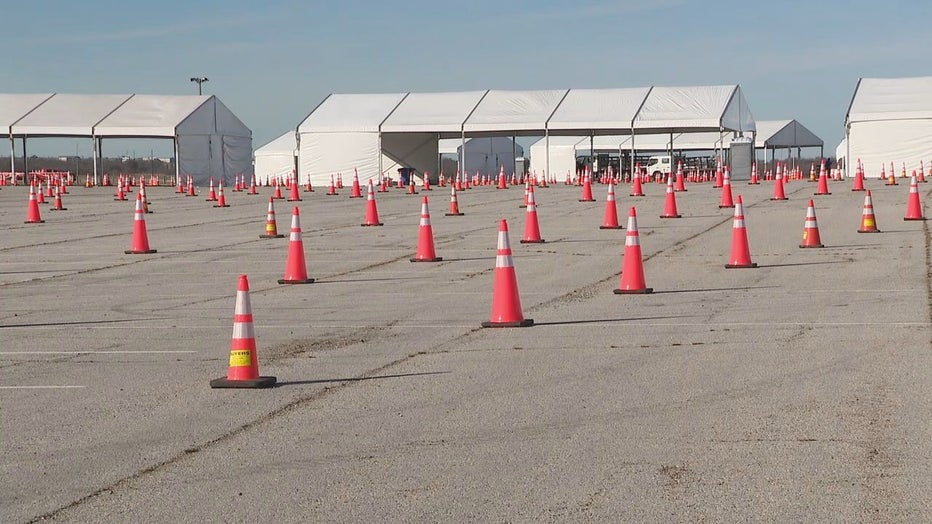 Parkland Hospital and Tarrant County both kept their vaccination sites open Thursday.
A Tarrant County spokesman said all of the appointments were for those critical second shots, and 80 percent of the people showed up.
For Dallas County, Jenkins said the hope is to open for a limited time on Friday.
"The plan for [Friday] is we will open two hours after it gets above freezing, and we will try to stay open for six hours," he said.
If Dallas County has a phone number for those set to get a vaccine, they will get a call about when they can return for your second shot.
If they don't receive a message, Dr. Huang said they can come the next time they are open.
Jenkins said, according to the forecast, it is unlikely that they will be open Sunday or Monday.