Former Los Angeles Angels staffer Eric Kay found guilty in Tyler Skaggs overdose death trial
FORT WORTH, Texas - A Tarrant County jury convicted a former Los Angeles Angels employee for providing pitcher Tyler Skaggs drugs that led to his overdose death.
Eric Kay, the former Angels communications director, was convicted on both counts in the case. Prosecutors said he gave Skaggs oxycodone laced with fentanyl. 
Kay was charged with distribution of controlled substances resulting in death and conspiracy to possess with intent to distribute controlled substances.
The jury came back with a unanimous verdict in about three hours. Kay had no visible reaction to the verdict and was taken immediately into custody by U.S. Marshals immediately following the verdict, which was read Thursday afternoon in a federal courtroom in Fort Worth.
RELATED: Tyler Skaggs overdose trial: 4 Major League Baseball players testify about drug usage
Skaggs' body was found in a Southlake hotel room in 2019. The Angels were in town to play the Texas Rangers. 
"It's a tragedy. There's no winners in any of this," said defense attorney Reagan Wynn after the verdict was read. "Eric Kay is getting ready to do minimum 20 years in federal penitentiary, and it goes up from there, and Tyler Skaggs is gone."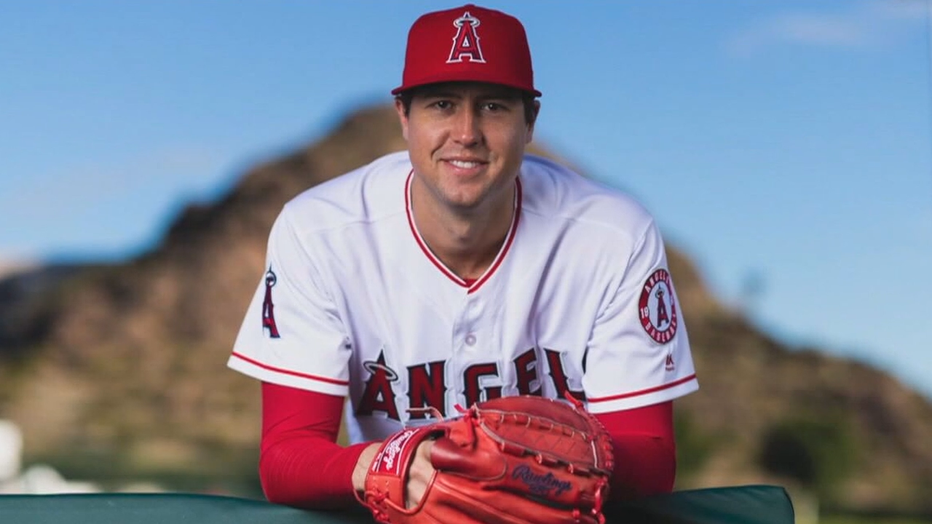 In closing arguments Thursday morning, U.S. Attorneys said Kay was Skaggs' drug dealer and called Kay a 'pill pusher.' They said Kay was the one person Skaggs texted that night and invited to his hotel room. 
U.S. Attorneys said Kay looked at places like offer up for drugs and had customers. During the trial, jurors heard from five former Angels players that got oxycodone from Kay. U.S. Attorneys said he intentionally distributed the drugs to Skaggs knowing they could contain fentanyl.
But the defense accused U.S. Attorneys of misrepresenting evidence and argued there could have been other drug suppliers outside of Kay. They pointed at others kay was communicating with about drugs and referring to testimony from Skaggs' drug dealer in California. 
Defense attorneys also argued Skaggs could've been given the pills somewhere else -- in the clubhouse, at the airport, or on the plane.
Ultimately, in a case that brought widespread attention to painkiller abuse among MLB players, that argument was not enough to convince the jury.
"We are obviously disappointed in the verdict, we thought there were many reasons to doubt the government's case," Wynn said.
Paul Coggins is a former federal prosecutor who is not part of the case. In the end, he says the prosecution was stronger.
"I think the prosecution was able to show sort of a pattern here," he said. "There was a pattern of dealing. There was a pattern of transactions, and this just fell in that pattern."
Coggins tried to pinpoint where the defense went wrong.
"I think you have to start by the realization that the defense didn't have a lot of great cards to play," he said. "They weren't able to overcome the fact that Kay was the go-to provider for the team."
Coggins was not surprised Kay didn't testify and says if he had, it would have been a Hail Mary for the defense.
"I know the prosecutor pretty well, and my guess is that Lindsay Beran would have probably beaten the defendant like a piñata on the stand," he said.
Skaggs' family was crying and hugging in the courtroom after the verdict was read. They left the courthouse without speaking to reporters.
In a statement, Angels President John Carpino said, "the players' testimony was incredibly difficult for our organization to hear, and it is a reminder that too often drug use and addiction are hidden away."
Months after Skaggs died, Major League Baseball announced mandatory drug tests for opioids and cocaine.
It's unclear how this trial may impact the league moving forward.
"I don't know if it will have a long term impact," Coggins said. "But you saw that it had a long term impact on the lives of some of those teammates."
The Skaggs family released a statement expressing relief the verdict, though they continue to grieve. The family attorney adds they're looking forward to the upcoming civil cases filed against the Angels and holding the team accountable.
Kay will be sentenced on June 28, 2022. Any potential appeal by Kay's attorneys would come after the sentence is announced.
RELATED: 
Defense rests after testimony from 3 ex-teammates in Tyler Skaggs overdose trial
Drug deals, social media apps discussed in Tyler Skaggs overdose death trial
Tyler Skaggs' mom testifies at trial of man accused in overdose death
Eric Kay's trial underway after overdose death of Angels pitcher Tyler Skaggs