Dallas Zoo won't rule out inside job in endangered vulture's suspicious death
DALLAS - The Dallas Zoo says it is looking at all possibilities internal and external after one of it's endangered vultures was found dead of an intentional injury in its habitat Saturday morning.
The zoo said one of its endangered vultures died under suspicious circumstances on Saturday. A necropsy confirmed that the vulture, named Pin, died under suspicious circumstances.
The zoo would not release any details around the vulture's death citing the pending investigation, only saying the bird had a "wound."
At this point the zoo we do not know how it was inflicted or by whom.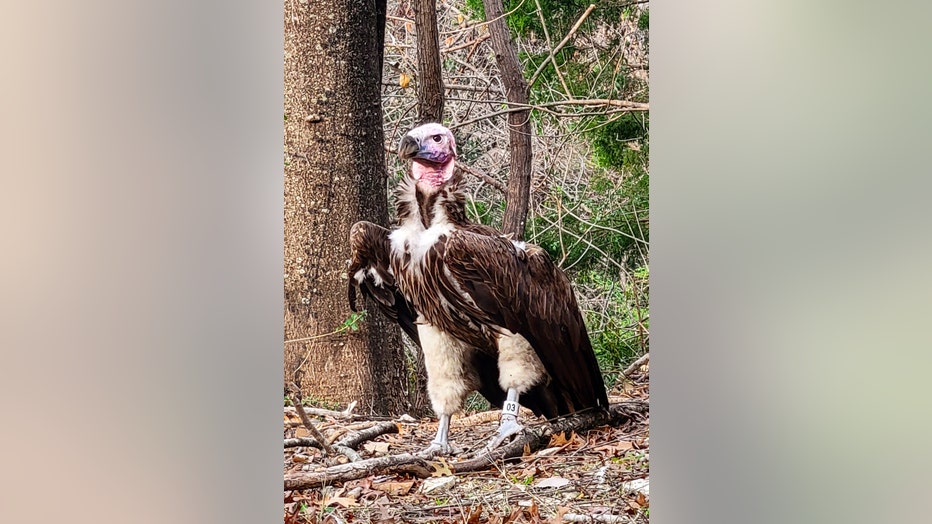 Pin (Courtesy: Dallas Zoo)
Dallas PD was called to investigate the death on Saturday.
U.S. Fish and Wildlife are also assisting in the investigation.
"We are extremely concerned about it. That's why we called in all the resources that we can," said Greg Hudson, the president and CEO of the Dallas Zoo.
Pin, the lappet-faced vulture, was at least 35 years old and had been at the Dallas Zoo for 33 years.
The Dallas Zoo says it is looking into whether the perpetrator is someone working for the zoo or from someone outside.
"Everything is being looked at," said Hudson. "It is totally unprecedented and very, very unfortunate."
No other birds were injured in the incident.
There are likely only 6,500 of the lappet-faced vultures in the world, according to zoo. Only 27 are in U.S. zoos. The Dallas Zoo has two other males and one female lappet-faced vultures.
The Dallas Zoo has stepped up security after a clouded leopard escaped from its enclosure earlier this month. 
It was later discovered that there was an intentional cut in the fencing of the clouded leopard habitat and in the Langur habitat. 
PREVIOUS COVERAGE: Dallas Zoo: Clouded leopard doing fine; hole in monkey enclosure being investigated
Neither the clouded leopard, nor any Langurs were injured.
The Dallas Zoo said there was not any sign of tampering with the vulture habitat.
"They would have had to go through our barriers," said Hudson.
Dallas police say at this time they are working to determine if the incidents are connected.
"If this is related to anything with the clouded leopard before, it definitely crosses some sort of barrier. It really goes from malicious to criminal intent. That is dangerous," said Hudson.
The zoo is offering a $10,000 reward for information that can help lead to an arrest of people responsible for any of the incidents.
The zoo has added more cameras, security patrols and overnight zoo staff.
Dallas police also loaned portable solar tower units, which provide additional camera coverage.
The Dallas Zoo says it has also limited the number of animals that are allowed to go out at night.
Dallas police are asking anyone with information to call their tip line at 214-670-7694.