Clouded leopard that escaped Dallas Zoo enclosure back with sister, police continue investigation
DALLAS - The Dallas Zoo and Dallas police are still trying to figure out who cut a tear in the mesh around the clouded leopard enclosure, leading to Friday's search for Nova.
Thankfully, Nova was found safe, and the zoo reopened Saturday with Nova back in her home and cared for.
Nova, a 3-year-old clouded leopard, was the talk of the Dallas Zoo Saturday.
"Not many people, before yesterday, even knew what a clouded leopard was," Dallas Zoo conservation interpreter David Smallwood said. "Now, today, everybody seems like they're an expert on clouded leopards."
It's just one day after the 25-pound cat escaped her habitat, before being rescued hours later in the zoo.
RELATED: Missing clouded leopard found safe at Dallas Zoo; criminal investigation ongoing
"I thought, maybe somebody stole it," said Theran Johnson, who was visiting the zoo Saturday.
"I didn't want nothing bad to happen to the cat because, you know, I know they're really rare," added Celina Cantu, who was visiting the zoo Saturday.
Smallwood is telling zoo-goers the facts.
"I know you might have seen a few memes or a few people saying, 'I saw that cat in my backyard,'" he said. "No, you didn't see that cat in your backyard. She was here the whole day."
It's still not known who is responsible for Nova's escape, which led to the zoo canceling normal operations Friday. 
"This was not something the cat did, it wasn't something a keeper did in error, and it wasn't a failure of the mesh," said Harrison Edell, executive vice president of animal care and conservation for the Dallas Zoo.
Edell said he believes someone purposely cut through an area of Nova's habitat.
"And it was pretty obvious when we looked at the cut itself that this was something that someone had done intentionally. We asked DPD for their opinion and they agreed with that," he explained.
The zoo believes the clouded leopard got out after someone cut through the heavy duty compressed coil mesh, which is intended to keep certain animals in their habitat. Now, Dallas police are investigating.
"We'll leave it up to DPD to do their investigation and we'll continue to support them as best as we can," Edell said. "We have cameras throughout the zoo in various locations."
Nova is safe after being found about 100 yards from her habitat late Friday afternoon.
She was sedated during the rescue and has had a medical examination, according to the zoo.
"Physically, she looks great," Edell said. "We tried to think like a cat, yesterday afternoon, and we predicted she would climb a tree, stay close to home territory, stay close to her sister, and that is pretty much what she did."
Nova's sister, Luna, was moving around Saturday, while Nova was catnapping after a wild Friday.
"They spend a lot of time in the trees," Smallwood said.
"I figured the cat was probably more scared than anything," Johnson said.
"Very calm, like, they don't even pay attention to any of this that's going, they're just like minding their own businesses," Cantu said.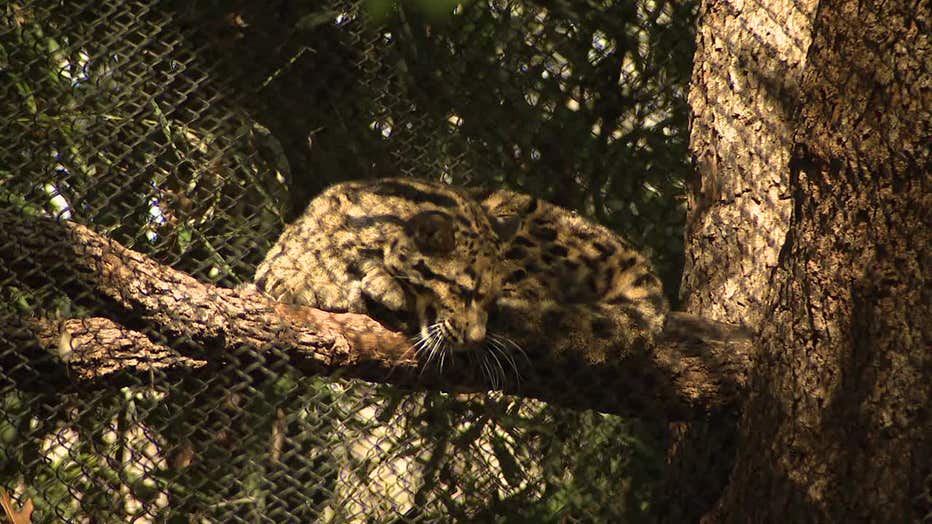 Dallas Zoo officials said Nova was nervous while being rescued because she wasn't in a space she knew well.
"Everything about their body is built for them to be in trees," Smallwood said. "I say that they move through the trees better than some people walk on the ground."
Now, she's back in her comfort zone.
"They can also hang underneath of the branches like a sloth," Smallwood said.
The zoo is examining safety measures and hoping police find out who's responsible for Nova's escape.
At this point, Dallas police have not identified a suspect.
It's not clear whether the person who tore the mesh was caught on camera.