Dallas weather: Power outages possible as ice builds across North Texas
Power crews across North Texas are expecting to stay busy on Wednesday as a buildup of ice could cause issues with power lines and take down tree branches.
Steady freezing rain is expected to fall Wednesday afternoon and night.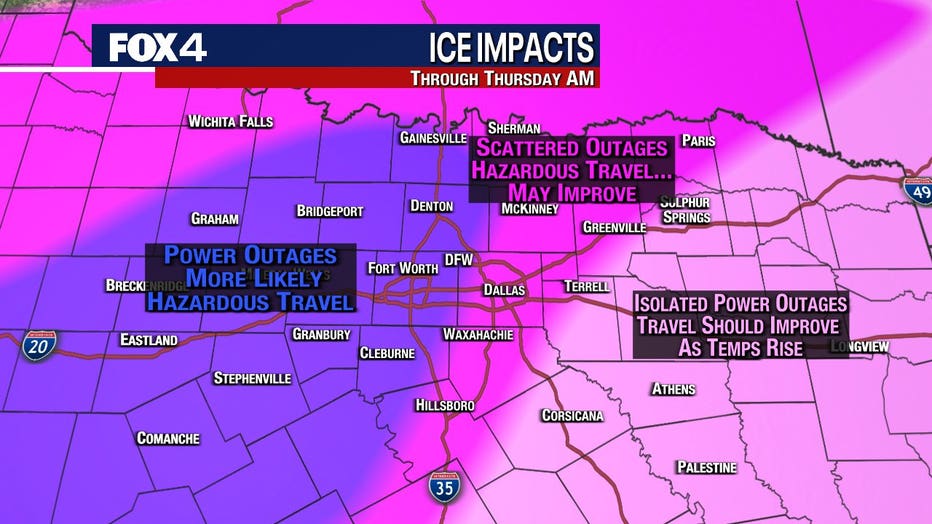 Ice Storm Warning for Dallas-Fort Worth brings more traffic, infrastructure concerns
"The risk today and tonight is for increasing ice-related hazards," said FOX 4 meteorologist Evan Andrews. "We all tend to focus on the ground, but this is going to trees and power lines as the major players in this, and it is going to take some of those down."
The National Weather Service predicts up to a half an inch of ice along the I-35 corridor and west.
"The trees and the power lines will continue to build up ice so later today and tonight the icing problems will grow," Andrews said. "We may, I might even say we will, see power outage problems." 
Some areas to the east have already seen problems caused by the ice.
As of 3:20 p.m. on Wednesday, Oncor is reporting more than 2,500 outages affecting more than 105,000 customers.
Oncor says crews worked through the night and are working to restore power this morning.
They say if you see power lines down to call 911.
These outages are not due to an issue with the Texas power grid, as was the case in the deadly winter storms of 2021.
ERCOT's dashboard shows its supply is expected to outpace demand on Wednesday.
On Tuesday, the head of the ERCOT said he did not expect emergency conditions due to this round of severe weather and no requests for people to conserve power.