Dallas City Council votes to tear down Kay Bailey Hutchison Center, build a new facility
DALLAS - City council members approved a plan to build a new $4 billion convention center in Downtown Dallas.
A recent report showed the existing Kay Bailey Hutchison Convention Center is outdated and not on the same level with other large-city convention centers.
The council met Wednesday to discuss whether to improve it or tear it down and start from scratch.
Councilman Omar Narvaez argued the city needs to move forward with the plan to demolish the convention center and build a new development. He used a colorful description of the current convention center's disrepair.
"The transformation of Downtown Dallas is what this is about. It's not just a building," he said. "A building we are literally holding together with Band-Aids, paperclips and diapers."
They ultimately voted to in favor of a $2 billion plan to build a new convention center west of Lamar Street. An additional $2.2 billion will be spent on redevelopment projects in and around the convention center.
RELATED: Kay Bailey Hutchison Convention Center opens to shelter homeless people
"I am a little concerned there is some confusion with our taxpayers," said Councilman Gay Donnell Willis. "They may see the shiny new object and think, 'I don't want to pay this. I have potholes and streets to deal with.'"
It will be paid for with a 2% increase in hotel taxes and a new state designation that allows Dallas to keep all of that tax money.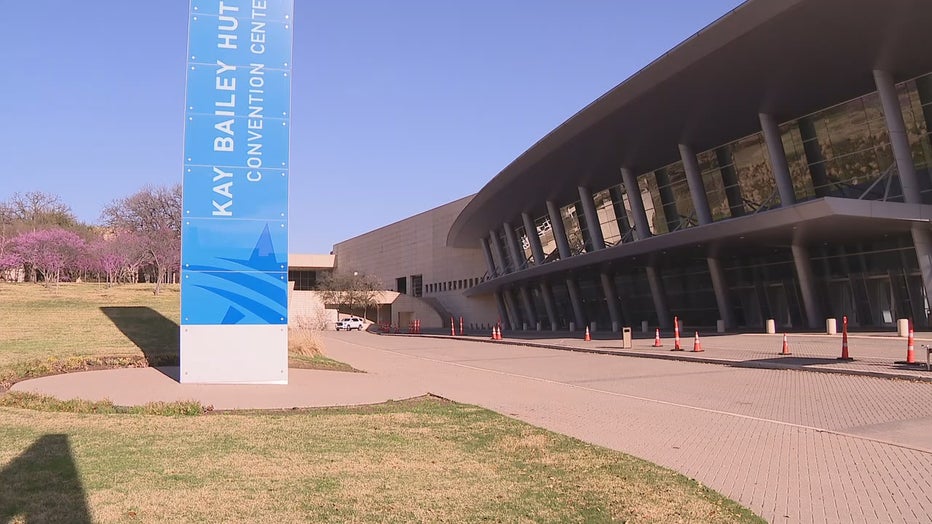 The money to fund the convention center would come from increasing the Dallas hotel occupancy tax by 2%, which would then total 15% between city and state proceeds, a provision that would allow the city to keep the state's 6% portion and another provision that would allow the city to keep a portion of hotel, sales and alcohol taxes.
"This is a potential game-changer that can bring vibrancy to a dormant section of Downtown Dallas. Now, we can move forward and dig into the details. We must ensure the final plans reflect our desire to serve both our visitors and our residents," Mayor Eric Johnson said on Twitter.
The vote was nearly unanimous, but one Dallas City Council member expressed concerns with numbers she viewed as too hypothetical. 
Councilmember Cara Mendelsohn argued the city should take a more measured approach until it can get more concrete numbers on cost and demand. She wanted to see more details about the funding plan and proposed location of the new convention center. 
"Convention centers before COVID were not growing."
Then, there's the historic Pioneer Park Cemetery just outside the convention center. The city does not yet know how that will fit into the new plans, and city staff has indicated a casino could be added on if Texas legalizes gambling. 
Regardless, Mendelsohn says the city needs a better plan for maintenance this time around.
"We are the Big D. Big D in debt," she said. "We need greater clarity on finances."
Councilman Adam Bazaldua argued the city needs to invest if it wants economic growth. And with a 14-1 vote, his colleagues agreed. 
"We want to provide something new and shiny," he said. "Some may call it a vanity project, but the truth is it will bring growth and revitalization to the southern sector."
The debate was cut off early so that the council could attend a ceremony. 
Mendelsohn did not get to explain her case for the city to take a more measured approach to the planning process before the vote.
Construction of the new facility is expected to take about six years.
The city plans to keep 30% of the current convention center. The cost to demolish the rest of it is estimated at roughly $20 million.
RELATED: Migrant teen shelter at Kay Bailey Hutchison Convention Center closes