Dallas St. Patrick's Parade & Festival: What you need to know
DALLAS - St. Patrick's Day is Friday, March 17, but there are many celebrations happening this weekend.
The Dallas Mavericks St. Patrick's Parade & Festival, which is the largest St. Paddy's Day celebration in the southwestern United States, is happening this Saturday.
The event on Greenville Avenue features a 5K run, a huge parade and a festival for more than 100,000 people looking to celebrate.
This year is the 42nd edition of the parade and the Grand Marshal will be Dallas Mayor Eric Johnson.
Last year, Dallas Mavericks legend Dirk Nowitzki served as the parade's Grand Marshal.
"I have quite literally some very big shoes to fill," Johnson joked at a news conference Thursday. "I assure you this, I am at least as Irish as Dirk Nowitzki is."
The parade starts at 11 a.m. on Blackwell Street and then moves to SMU Boulevard where it ends at 2 p.m.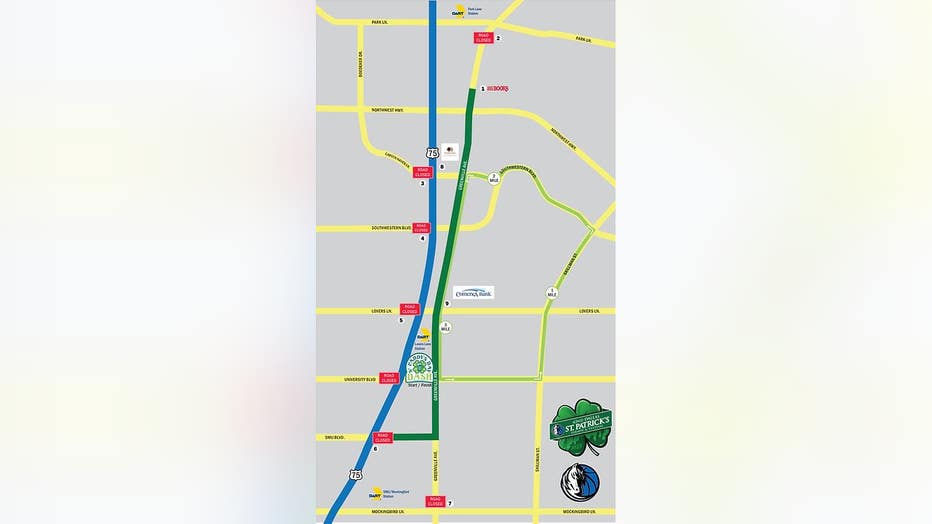 Expect to see bagpipers, marching bands, more than 60 elaborate floats and plenty of Jell-O shots.
Mayor Johnson said Dallas police will be out along the route to make sure that everyone gets home safely.
"We're going to have fun, but we're not going to tolerate any foolishness," Johnson said. 
For parents, there will be kid-friendly areas near the Comerica Bank on Greenville Avenue and at the Mavs Zone at the corner of Greenville and Lovers. The areas will have crafts and more for the whole family.
In addition to the parade, the St. Paddy's Day Dash, a 5K race, starts at 8 a.m. from Energy Square on Greenville Ave. and University Blvd.
Plenty of bars and restaurants in the area will have deals on things like green beer.
If you want to keep the party going, Lower Greenville will be roped off for the St. Patrick's Day Block Party.
Blue Goose Cantina on Greenville Avenue closing in March
The celebration costs $20 to get in and you must be 21 or older.
Weather
Street Closures
There will be several street closures down Greenville Avenue on Saturday.
All of Greenville Avenue will be shut down from Park Lane to Mockingbird Lane.
Caruth Haven Lane, Southwestern Boulevard, Lovers Lane, University Boulevard and SMU Boulevard will all be closed at Greenville.
Streets will start closing at 10 a.m.
DART says it will have extra trains running on the day of the event.
You can get dropped off at Park Lane Station, Lovers Lane Station or Mockingbird Station to be close to the action.