Dallas judge sides with Clay Jenkins, allows Dallas County to reinstate mask mandate
DALLAS - Dallas County's mask mandate will stand, for now, after a Dallas judge ruled in favor of Dallas County Judge Clay Jenkins in the legal battle over Governor Greg Abbott's mask mandate ban.
The judge said the evidence presented in Tuesday's hearing shows the county will suffer "probable imminent and irreparable injury" if Jenkins is kept from exercising his authority with a mask mandate. 
The ruling is just a small victory in a long road of legal challenges ahead.
The governor's office already stated an appeal is coming, and there are several more legal challenges likely to happen as this case likely makes its way to the Fifth Court of Appeals in Dallas and then the Texas Supreme Court. 
RELATED: Court ruling to determine if Dallas County can reinstate mask mandate
"Although this is a court victory, it's really not a victory against a person or an entity. It's a victory for humans who live in Dallas County against the virus," Jenkins said. "I am very pleased with the court's ruling. It means that the order that we have in place will remain in effect."
A few weeks ago, Judge Jenkins issued an emergency order requiring masks at county buildings, schools, and businesses.
It initially imposed a fine on businesses that didn't require masks.
The Texas Supreme Court removed that fine, and it's unclear when or whether Jenkins will impose it again. 
But Wednesday's legal victory is one step in Jenkins' fight to keep his countywide mask mandate in place. 
"We should not personalize this as us against them. It is all of us against the virus, not the vaccinated against the unvaccinated or the Democrats against the Republicans," he added.
Gov. Abbott has advocated for people to get vaccinated and to wear masks voluntarily, but put an executive order in place with a ban on mask mandates.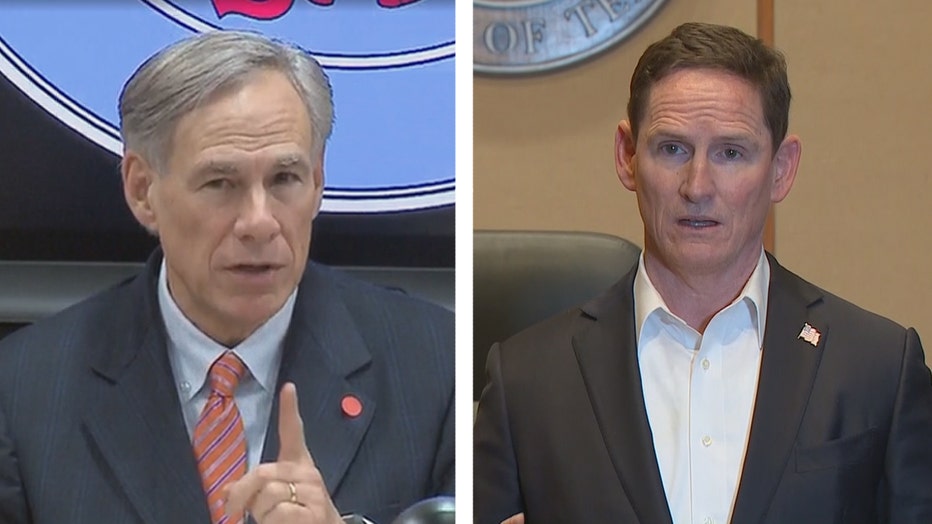 Attorneys for the state argued the governor has the overriding legal authority in times of disaster.
Melissa Griffith was among the parents who joined Jenkins in the lawsuit. Her 7-year-old daughter, Ellis, has an extremely rare genetic disorder which limits her mobility.
"I understand the realities of the road that we have to go down. But I'm here for it. I'm here for it. All along the way, I feel that today is a huge victory for us," she said.
Griffith testified in Tuesday's court hearing that respiratory illnesses could have severe consequences for her daughter, who's been in the ICU with RSV in the past, and virtual schooling is not an option for her.
"She had to go to school, so trying to figure out what we were going to do if this went forward and there was no mask mandate was, honestly, agonizing," Griffith said.
Jenna Royal represents Griffith and several other parents. 
"This is such a an important topic to so many parents, but especially parents like Melissa, who have medically fragile and medically complex children, who require services from the public schools that they go to that cannot be provided virtually," Royal said.
After the district court ruling, a spokesperson for Gov. Abbott said: "The office of the attorney general has successfully defended the governor's executive orders in the past, and we are confident they will do so again."
"I think, ultimately, the Supreme Court's going to find in favor of the governor. The law is clear, the scope of power of the governor is broader than that of the county judge," Texas Republican Party Chairman Matt Rinaldi said.
The fight over masks comes at a time when the 19-county North Texas region has nearly 3,200 COVID-19 patients.
And the region ran out of staffed pediatric ICU beds again Wednesday.
RELATED: For 2nd time this month, no staffed pediatric ICU beds left in North Texas region
Gov. Abbott also made it clear that FDA approval of the COVID-19 vaccine does not mean local governments, state universities, or public hospitals can require the COVID-19 vaccine.
Both Parkland and JPS hospitals planned to require vaccines for employees as soon as the FDA approved them.
Current state law already prevents private businesses from requiring vaccination for customers. 
Jenkins, in response, questioned Republicans support of local control on almost every other issue, except for the pandemic.
"It is just a bizarre situation that currently the governor and no one in his party is challenging this is saying we don't want there to be local control. We want everything to be decided by big government in Austin, a one-size-fits-all situation," Jenkins said.
Rinaldi had a different argument.
"Democrats talk about local control. The most local of control is the individual. And that's what Republicans want to do. We want to empower individuals to make their own health choices and not have governments make their health choices for them," he said.
There's currently no enforcement in place for businesses or school districts that don't have mask mandates in place, and those with mask mandates can continue on as this case and many others make their way through the court system.
Earlier this month, the Texas Supreme Court issued stay orders which temporarily blocked the mask mandate Jenkins issued in Dallas County until the entire case could be heard.
The court then dismissed a request by Gov. Abbott to rule on the case, until it goes through the proper channels first. 
RELATED STORIES:
Texas Supreme Court to start hearing cases on Gov. Abbott's mask mandate ban next week
Texas Supreme Court temporarily allows school mask mandates to remain
Texas Supreme Court sides with Gov. Abbott, temporarily blocking Dallas County mask mandate
Dallas ISD to keep mask mandate in place despite Texas Supreme Court ruling
Court rules against Gov. Abbott in legal battle over Dallas County mask mandate
Dallas County mask mandate starts Thursday due to COVID-19 Delta variant outbreak