Cleanup underway for Dallas businesses vandalized after Friday night's George Floyd protest
DALLAS - Cleanup efforts are underway in Downtown Dallas and Deep Ellum after several businesses were vandalized and looted Friday night after a protest was held over the death of George Floyd.
What started out as a peaceful protest, with thousands of protestors gathering at the Dallas Police Department headquarters building in the wake of Floyd's death by a Minneapolis PD officer, ended with some in that group damaging and looting some businesses in Downtown Dallas.
The protestors marched through downtown. Then at about midnight, things started getting violent when a small group broke off and surrounded a police vehicle, taunting police.
Vandals used items, like bricks, to bust out the front store windows of the Neiman Marcus store downtown.
Trash bins and dumpsters were also set on fire in the middle of Commerce Street.
Galleria Dallas will be closed Saturday "in order to preserve public safety," and NorthPark Center closed at 2 p.m. "out of an abundance of caution."
"I didn't want the last images that everybody saw of Dallas being what happened last night," business owner David "Chowda" Berkowitz said.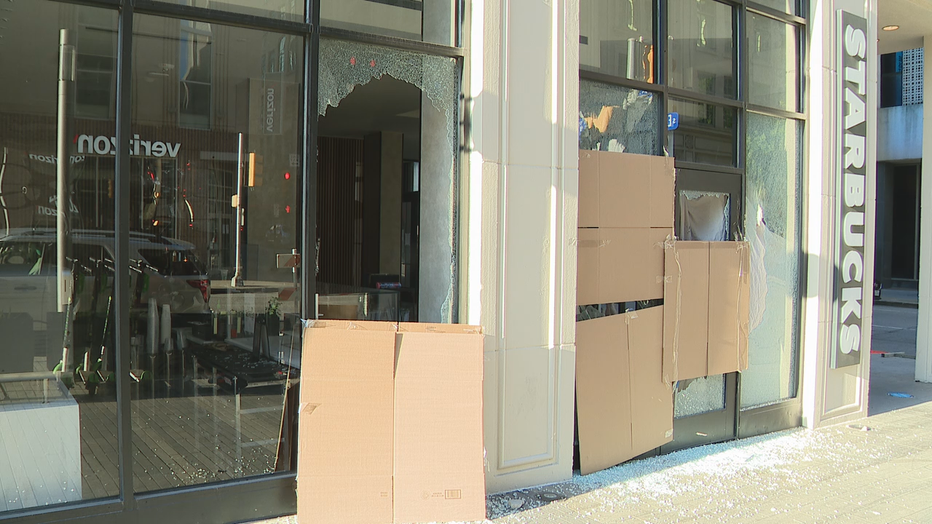 Berkowitz organized a crew of people to help clean up, and there were plenty who need it.
Kellen Daniel, who manages Sneaker Politics, said he respects the protest message, but doesn't respect the fact that looters cleaned out his store room.
"It's in the six-figures, honestly," he said.
The looters only left with what was on display, a bunch of left-footed sneakers.  
At Picole, a gourmet popsicle shop, windows were smashed out.
"This is kind of like one of those heartbreaking moments where it's not fair," Adrian Lara said.
They're already hurting financially from the COVID-19 pandemic.
"At this point, it's kind of like kicking you while you're down," Lara added. 
F45 Fitness was set to reopen on Monday, but now that's not happening.
"We've fought and scratched and clawed, and we've had a great community around us to get us to this point," said Taylor Cummins, owner of F45 Fitness. "We got the hate message with rocks thrown through our window."
Cummings said he respects the protests, just not the damage.
"Do it respectfully, and do it as a community," he said.
Many protestors are seeking justice for George Floyd.
"And they want positive change for our community, and I think we all want that," Father Jonathan Austin said.
And as a man of faith, Austin wonders which protestors threw rocks through the front glass of Saint Jude Catholic Chapel in Downtown Dallas, and why?
"They probably didn't even know this was a church," he said. "And that's just some glass. Who cares."
He's choosing to brush it off, adding that he's down for their initial cause.
"I'm with them 100 percent," he said.
What started as peaceful protests didn't end that way.
Leaving some in Dallas to do what they can to chip in and help those affected pick up the pieces.
"Let us be of service to you," Berkowitz said.
RELATED: 
Chaos erupts overnight in Downtown Dallas following protests over George Floyd's death
Dallas mayor condemns those who vandalized, looted in downtown after George Floyd protest