Dallas mayor condemns those who vandalized, looted in downtown after George Floyd protest
DALLAS - Dallas Mayor Eric Johnson has condemned those who looted and vandalized parts of Downtown Dallas Friday night after a protest was held over the death of George Floyd.
Thousands of protestors initially started out at the Dallas Police Department headquarters building Friday evening, taking a stand against police in the wake of Floyd's death by a Minneapolis PD officer.
RELATED: Chaos erupts overnight in Downtown Dallas following protests over George Floyd's death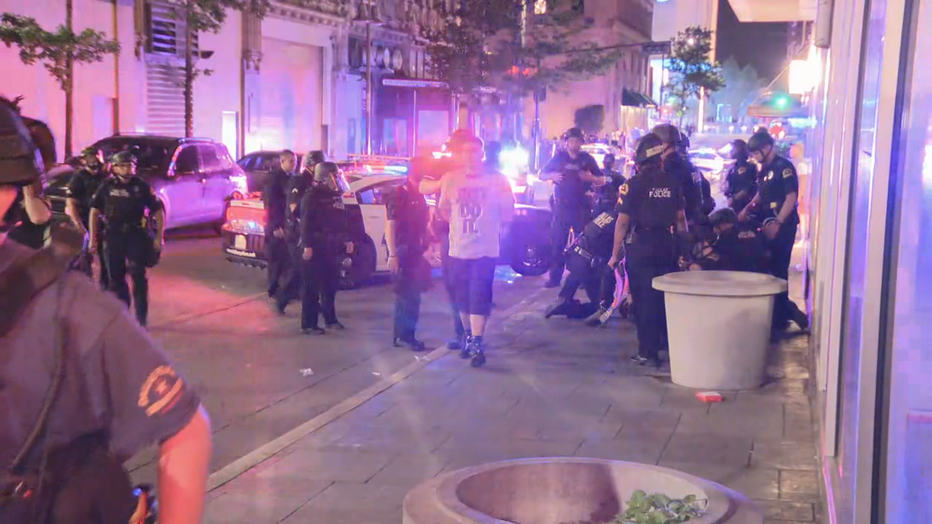 Some broke off from the protest, before looting several stores and setting fires trying to get the attention of the police.
Johnson tweeted that those who looted had "ulterior motives" from the others who took part in the peaceful protest.
"Last night, we saw a very large peaceful demonstration that reflected the Dallas I know," Johnson said during a press conference Saturday afternoon. "We unfortunately saw some wreckless behavior whose agenda had nothing to do with human rights or civil rights."
"They chose to destroy things at a time where we should be building each other up," Johnson said. "To those looking to take advantage of our community in these unprecedented difficult times, you need to stay at home."
Video shows the aftermath of vandalism at the Neiman Marcus store downtown. Vandals used items, like bricks, to bust out the front store windows.
It was just one of several stores that were hit overnight.
Trash bins and dumpsters were also set on fire in the middle of Commerce Street.
There were arrests made at the scene.
During the protests, Dallas police say one officer was injured. However, his injuries were not life-threatening.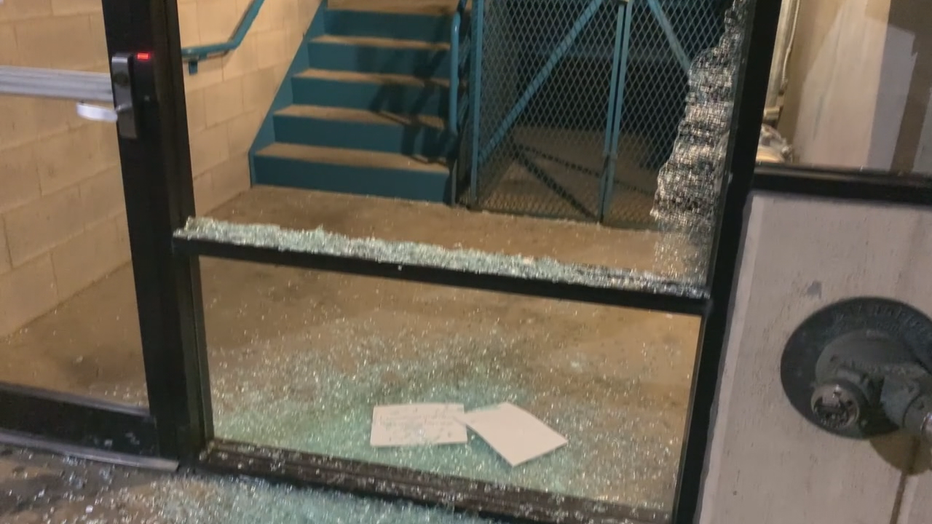 People who walked through the streets of Downtown Dallas Saturday were shocked to see the aftermath of what began as a peaceful protest over Floyd's death.
But city leaders believe the crisis can be overcome by working together.
As we continue struggling with the COVID-19 crisis, another crisis shook the Dallas community.
"To destroy your own town, you know, your own people's hard work, that's not the way to handle this. There's a better way to do it," said Albert Ibarra.
Many stopped to take pictures and videos, and were not proud of the way things ended, with fires, looting, and vandalism.
"Kind of like devastated, you know. Like I said, it's not fair to the business owner," Dallas resident Darryl Jackson said.
Dallas leaders said the behavior had nothing to do with human or civil rights.
The initial intent was in response to the killing of George Floyd by a Minneapolis police officer. 
Mayor Eric Johnson said people shouldn't be destroying things and stealing property, because that honors no one.
"We want people to be able to express themselves, but we have to have people do that in a way that keeps them safe and keeps our first responders safe," he said.
He added that everyone has to work together, in all situations.
That was on display Saturday morning, at an event helping North Texas families struggling from the effects of the coronavirus pandemic.
Thousands of boxes of groceries were distributed as part of the mayor's milk initiative, along with multiple organizations and faith leaders.
It's a sign of hope, that as we work to overcome one crisis, we can work to overcome the next.
"We certainly believe in free speech and protesting, but at the point that it becomes riots, I think it distracts from the message that America needs to be discussing. How we can set up the proper programs, that we can have a policing for the police," Bishop T.D. Jakes added.
As protests continue, city leaders and many people in the community want to move forward in a positive direction.