Richland Hills police say grandfather is sole suspect in stabbing death of 8-year-old
RICHLAND HILLS, Texas - Wednesday afternoon, Richland Hills police held a news conference to address the death of Brenym McDonald, the 8-year-old stabbed and killed in his grandfather's home on New Year's Day.
Richland Hills police chief Kimberly Sylvester said the boy's grandfather, 62-year-old Phillip Hughes, is the sole suspect in the killing.
"There is true evil in this world and our community has experienced that with Brenym's death," Sylvester said. "Brenym had his whole life ahead of him. He was a smart and talented young boy who loved to sketch and draw."
The chief said it was a parent who found Brenym stabbed to death just before 8 a.m. New Year's Day.
Police did not say if they believe the murder happened around that time or overnight. 
It wasn't announced if the child's parents heard a commotion before finding him, or if they found him while not suspecting anything was wrong.
The weapon used was only described as "sharp-edged," and it was found next to the boy.
READ MORE: New information released in stabbing death of North Texas 8-year-old
That parent called 911 and named Brenym's grandfather as the suspect.
Hughes left the home, but later surrendered to an officer who was going to the crime scene.
His arrest outside a school down the street was captured on a neighbor's doorbell camera.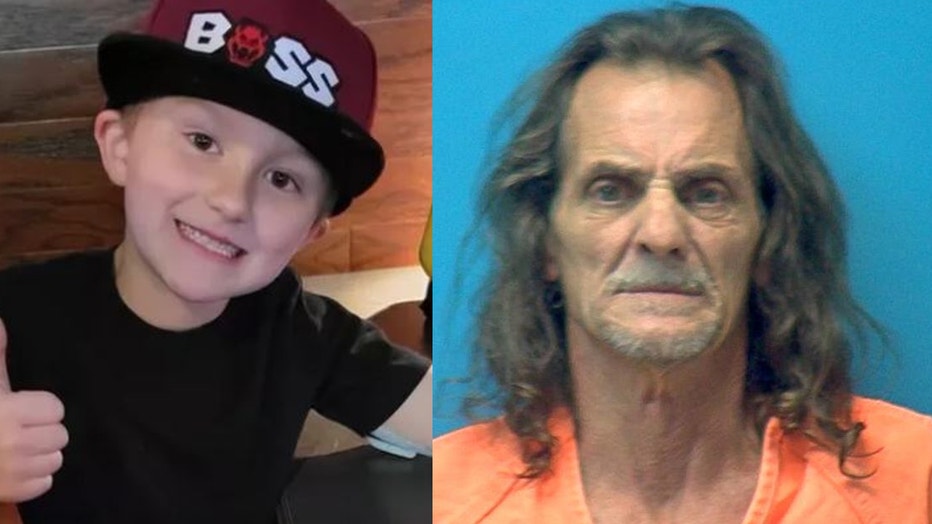 "He happened to be driving down that road on the way to that area when he was flagged down by the suspect," said Sylvester.
In speaking with Brenym's parents Tuesday, Sylvester said the family had been living with Hughes for about two years.
The boy's great-grandmother told FOX 4 on Monday it was supposed to be a temporary situation.
"They were staying here with the grandfather until they could get him another place to live," said Linda Hubbard. "They kind of stayed away from him. I can't say much about that."
Hubbard lives in Missouri and said she last saw McDonald, who was an only child, when he and his parents visited for Thanksgiving and he helped cook dinner.
"He was just a beautiful little boy. He didn't deserve this at all," she added. "Just a normal little 8-year-old boy. Full of life."
The chief says investigators still have some interview to conduct, but are confident Hughes is the one and only suspect in Brenym's murder.
"We can say that the investigation thus far has revealed only one suspect, and that suspect remains in custody," Richland Hills Police Department public information officer Sheena McEachran said.
It is not clear if he is cooperating with investigators or made any statements after his arrest.
The case will be filed with the Tarrant County District Attorney's Office by Friday.
"As a first responder, you pray that you never have to respond to a call like this," Sylvester said.
Police said they have never responded to criminal incidents about Hughes in the past. 
They did not say if anyone is now reporting any sort of "tension" or erratic behavior regarding Hughes during the days leading up to the murder.
The chief would not talk about a possible motive, citing the active investigation, but said the case will be filed with the Tarrant County DA's office by the end of the week.
Brenym's family did not attend the news conference.
A moving van was parked outside the home where the murder took place.
Hughes, meanwhile, has been transported to the Tarrant County Detention Center, where he is being held on $2 million bond and charged with capital murder.